Welcome to Shakari Connection
What Do YOU Need To Know About African Hunting Safaris?
African big game hunting has existed since the mid 19th century when a few intrepid adventurers hunted for meat and trophies by themselves and for themselves.
It wasn't until the turn of the 20th century that equally intrepid hunters started to hire 'professional' hunters to accompany them on their African hunting safaris. East Africa was the place to hunt and large safari companies sprang up to outfit these long hunting safaris and manage their stables of famous Professional 'White' Hunters.
Today, African hunting trips with a Professional Hunter are the norm and are even more popular than ever, even if on a somewhat smaller scale. Now big game hunting battles against general public disapproval, unscrupulous operators and red tape which can make arranging an African hunt a major and complex mission - finding a hunt suitable for you, trying not to get ripped off, getting the paperwork right - the list goes on....
This is where Shakari Connection steps in to be your online African hunting safari information source....
You can look up information on general African hunting topics from planning a hunt and trophy shipping to specifics on hunting and travel in any of 13 different African hunting countries.
So our aim is to provide accurate, unbiased, up-to-date information on all aspects of an African hunting safari.
Shakari Connection is an African hunting guide written by real African hunters
Everything we have learned and discovered over the years of living, hunting and travelling in Africa is contained in Shakari Connection.
and that is just the start.....
Whether you are just dreaming about hunting Africa or already planning your hunt, you will find all the help you need here.
It is the experience that matters...always
A word of warning though....When you do arrive in Africa on your first hunting safari, you will fall hopelessly under it's spell and will be committed to return time and time again - all you need is enough information and a little common sense to make your African hunting safari career a huge success.
Enjoy roaming around Shakari Connection and contact us anytime about anything to do with African trophy hunting.
Important News For African Hunters
As of 2nd July 2015, no EU member states will allow the import of elephant hunting trophies from Mozambique, Tanzania or Zambia. The EU Scientific Review Group have now issued negative determinations for the elephant populations of these countries. Read more
As of 23rd April 2015, US hunters will NOT have to register their firearms/ammo prior to international travel. The usual US Customs Form 4457 will suffice "while CBP works with the Department of State on an appropriate long-term solution". Read full announcement
As of 4 April 2015, US hunters taking firearms and ammunition overseas to hunt, are required to register their firearms/ammo prior to international travel. Most international hunters may be exempted if they are carrying three or less rifles and less than 1000 rounds of ammunition. The new ruling also prohibits travelling with firearms over .50 calibre. You will still need US Customs Form 4457 (ownership of personal property) for re-entry into USA with firearms taken on international trips. Read more from US Immigration & Customs Enforcement
As of 13 March 2015, Australia has imposed a blanket ban on the import of all African lion products including hunting trophies "in response to Australian public concerns about 'canned hunting' of African lions." Read more
As of 5 February 2015, the EU has effectively banned imports of lion hunting trophies into all EU countries from several west African countries, including Burkina Faso, Benin and Cameroon. The EU now requires CITES I import permits for African lion from all African countries, polar bear, African elephant, Southern white rhinoceros, hippopotamus and argali sheep as part of the EU's 'stricter domestic measures'. Read more
As of 4 February 2015, you will no longer have to produce proof of yellow fever vaccination on arrival in South Africa from a 'low risk' country, as defined by the WHO. Low risk yellow fever countries include Zambia, Tanzania, Eritrea, Somalia, Sao Tome and Principe. This is good news for hunters return transiting from Zambia or Tanzania via South Africa. Read more
Transiting With Firearms In the Netherlands. As from 19 May 2014 a new 6 page 'Application Consent For Weapons And Ammunition' form must be submitted in advance to transit with firearms through the Netherlands. The single page form is no longer accepted.Go to Transiting With Firearms to download the new application form.
Zululand Leopard Hunt: A Lesson Learned is the tale of a truly unbelievable leopard hunt by Jason van Aarde.
In another great article by PH Jason van Aarde, find out how Murphy's Law interferes with a Cape buffalo hunt in Murphy's Buffalo Hunt
As of 19th April 2014, USF&W made a revision on the suspension - elephant trophies legally taken from Zimbabwe from January 1, 2014 until April 4, 2014 will be allowed to be imported. The hunter will just need to be able to demonstrate to USF&W Office of Law Enforcement that the hunt occurred before that date in order to import the trophy.
As of the 4th April 2014, USF&W announced a suspension on imports of sport-hunted African elephant trophies taken in Tanzania and Zimbabwe during calendar year 2014. The Service will reevaluate this suspension for calendar year 2015 or upon receipt of new information that demonstrates an improved situation for elephants in these countries.
.550 Magnum Season 3 is the latest report by Jason van Aarde about his third hunting season with his beloved big bore. Read how the .550 Magnum performs on more buffalo and hippo.
South African Airways will now allow an additional piece of sporting equipment, not exceeding 23kg, free of charge per passenger. This includes firearms and ammunition, subject to correct transport and safety procedures being followed. Click here for full details.
With effect from 1 March 2013, Comair will no longer be accepting firearms for carriage on any domestic or regional flight operated by both the British Airways and Kulula. This includes all hunting rifles, or any weapon requiring special handling, that may not be carried as either hand luggage or checked baggage. Note this only applies to flights within southern African and does not apply to British Airways international flights between London and South Africa.
As of 10 January 2013 the Zambian Government decided to ban hunting during this year. There will be a permanent ban on the hunting of leopard and lion. The Government has decided that it needs to take stock of its wildlife areas by proper counts of species before it can issue licences for hunting. Hunting on private wildlife farms can continue under certain conditions.
NEW African Hunter Magazine has just released the beautifully illustrated African Hunter Shot Placement Guide App which you can download from here
Hot off the press....550 Magnum Season 2 a new report by Jason van Aarde about his second hunting season with his beloved big bore. Yes, the .550 Magnum is still alive and well in Africa!
Two new collections of DVDs are now featured on the Bookshelf....African Hunting DVDs and African Bow-Hunting DVDs. Hope you enjoy them.
The latest Bookshelf addition is a large selection of Indian tiger hunting books. It is a fascinating collection of books on the rituals of tiger hunting, many wriitten by military officers serving in India at the time of the Raj.
BRITISH AIRWAYS FIREARM REGULATION : 5 Sept 2012 Update BA lifts recent firearm restriction. Sporting firearms above 11mm calibre WILL be accepted for carriage as passenger hold baggage, (subject to them meeting all other conditions for carriage of firearms and ammunition).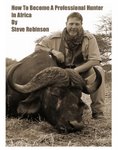 How To Become A Professional Hunter In Africa by Steve Robinson, is a practical guide and comprehensive training manual for anyone wanting a career in the African hunting safari industry. To buy...
Hardback Book | pdf eBook | Kindle eBook