African Taxidermy Mounts
African taxidermy mounts include the traditional shoulder mount which is far by far the most popular choice for African hunters. For some animals, especially the cats, nothing short of a full mount will do justice to the animal and the hunt memories.
The the decision on which type of African taxidermy mount to have is one usually based on personal taste, space available to display the trophies and budget. More hunters are deciding to forgo trophy taxidermy altogether as the cost of the taxidermy work and shipping often works out to be a significant amount that could go towards their next African hunt. They are happy to rely on their trophy photographs for the wonderful memories.
Assuming you do want to retain your trophies.....as you take each of your African animals, you will be asked which mount you would like and the skin will be cut appropriately. As this is a more or less 'do or die' decision because it is nearly impossible to convert a skin to different mount style once it has been cut, some prior thought on the matter would be good. See the skinning diagrams here. Of course, you may make your final decision based on the quality of the stalk and animal you take at the time.
Taxidermy Mounts
The choices for African taxidermy mounts include:
If you are unsure of what you want to keep as a trophy at the time of skinning, have the skinning done to cover your possibilities. Remember, you can take skin away but not add it and some cuts cannot be adjusted to make different mounts. For example, a flat skin cannot be turned into a full mount but a full mount could be reduced to a shoulder mount.
Other Trophy Parts
Back skin - the remaining skin after a cape has been cut. These can be tanned (with fur) or leathered to make leather items, rugs etc
If you decided on a skull mount only, you may want to keep the whole skin to be a rug or leathered.
Feet/Hooves - antelope, buffalo, zebra hooves make interesting bookends or lampstands. Elephant feet are commonly made into footstools or umbrella holders.
Tails - as a separate item. Tails with long hairs at the tip can make an ornamental fly-swat.
Skin panels - usually of elephant or hippo. These can be used to upholster furniture like stools, footstools.
Elephant tail hairs - make the popular knotted bracelets.
Elephant ears - made into a painted wall ornament due to the shape resembling the outline of Africa.
Some examples of accessory, furnishing or decorative items.
Once Decided On The Mount
The trophy parts will be tagged as soon as possible to prevent them being mixed up with any other similar trophies and the PH will keep a taxidermy register up to date with all your species and the taxidermy instructions.
At the end of the hunt you can review the taxidermy instructions and sign the register, keeping a copy for yourself.
A copy of the taxidermy register will also go to the taxidermist who will review and finalise everything with you before work starts on the trophies.
Recommended Reading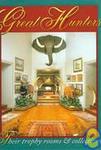 Great Hunters Vol 1: Their Trophy Rooms And Collections. World-famous hunters from this century share some of the most dazzling rooms ever photographed.
For all the other volumes of
Safari Press Great Hunters Series
Related Topics