Central African Republic Travel
Central African Republic Travel - As the name implies, Central African Republic lies in the tropical zone of Central Africa. CAR is landlocked and bordered by Chad in the north, Sudan in the east, Zaire and Congo in the south and by Cameroon in the west. Despite a reputation and history of political brutality, this country has magnificent forests, waterfalls and national parks that teem with wildlife.

Central African Republic Travel Facts
Formerly: French Equatorial Africa
Capital: Bangui
Area: 622,984 km2
Population: 4,303,356
Language: French and tribal languages
Currency: CFA Franc
Electricity: 220V/50Hz Plugs - 2 round pins
Central African Republic Map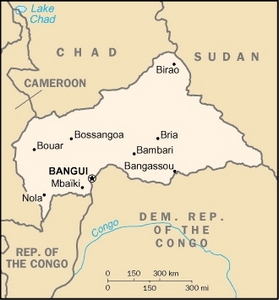 Getting To Central African Republic

Air France operates from Paris to Bangui, CAR.

Afriqiyah Airways operates from many European cities to Bangui, CAR via Tripoli.
Central African Republic Travel Health
Vaccinations/boosters are strongly recommended for:
Prophylactic precautions are strongly recommended for:
Other health hazards:
Central African Republic Visa
Central African Republic visa and passport information includes all application instructions and visa application form downloads.
Visa and Passport Requirements For US & UK Citizens
Submit your Passport, must be valid at least 6 months beyond intended stay
2 Visa Application Form, fully completed and signed
2 recent passport-type photographs - scanned photos will be rejected
Copy of round trip airline tickets, or itinerary, or letter of confirmation from travel agent
Booking confirmation accepted in place of air tickets as long as it shows onward/return travel.
Copy/Original hotel confirmation
Invitation to CAR is advisable but not compulsory
Consular Fee: $150.00 per tourist visa
Consular Fee: £42.00 per tourist visa
Note, UK and other nationalities must apply for a CAR tourist visa via their nearest French Embassy. The required application forms are as for a short-stay Schengen Visa.
Application Forms
Central African Republic Embassies
CAR Embassy in US
1618 22nd Street NW, Washington, DC 20008
Tel: (202) 483-7800, 7801
Fax: (202) 332-9893
CAR Embassy in UK
There is no representation in the UK. There is a CAR Embassy in Paris:
30, rue des Perchamps, Paris, France 75116
Tel: +33-1-42244256
Fax: +33-1-46510021 or +33-1-42889895
US Embassy in CAR
Avenue David Dacko, Bangui
Tel: [236] 61 02 00 or 61 25 78 or 61 02 10
Fax: [236] 61 44 94
UK Embassy in CAR
There is no British representation in the CAR. The British Embassy in Yaounde, Cameroon is responsible for CAR matters
British High Commission
Avenue Winston Churchill, Yaoundé, Cameroon
Tel: (237) 2222 05 45 or(237) 2222 07 96
Fax: (237) 2222 01 48
Email: BHC.yaounde@fco.gov.uk
Website: British High Commision: UK In Cameroon
Central African Republic Travel Resources