Ethiopia Travel
Ethiopia Travel - Ethiopia is in North Eastern Africa bordering Sudan in the north and north-west, Eritrea in the north and north-east, Djibouti in the east, Somalia to the east and south east and Kenya in the south. Ethiopia has some of the highest and most stunning mountains on the African continent - the Simien mountains, and the lowest flats - the Danakil depression. However, the most distinctive feature is the Great Rift Valley, which runs through the entire length of the country.

Ethiopia Travel Facts
Formerly: Abyssinia
Capital: Addis Ababa
Area: 1,127,127 km2
Population: 74,777,981
Language: Amharic, Oromo, Tigrinya Guaragigna, Somali, Arabic, other local languages, English
Currency: Birr (ETB)
Electricity: 220V/50Hz (European & Italian plugs)
Ethiopia Map
Getting To Ethiopia

Air France operates from Paris to Addis Ababa.
British Midland operates from UK to Addis Ababa, Ethiopia.
Ethiopian Airlines operates to/from many international & domestic destinations.
Lufthansa operates from Frankfurt to Addis Ababa.

United Airlines operates from New York to Addis Ababa.
KLM operates from Amsterdam to Addis Ababa. Remember you will need the Dutch Consent document for transit in Amsterdam.
Ethiopia Travel Health
Vaccinations/boosters are strongly recommended for:
Prophylactic precautions are strongly recommended for:
Other health hazards:
Ethiopia Visa
Ethiopia visa and passport information includes all application instructions and visa application form downloads.
Visa and Passport Requirements For US & UK Citizens
Submit your Passport, must be valid at least 6 months beyond intended stay
2 Visa Application Forms, fully completed and signed
Forms must be completed in BLOCK capitals and in black or blue ink only.
1 Recent passport-type photographs - Passport size, (45mm x 35mm), in colour, signed by the applicant on the back in block capitals, full face, without sunglasses, hat or other head covering, (unless for ethnic or religious reasons)
Paper-clip photograph to the form
Copy of round trip airline tickets, or itinerary, or letter of confirmation from travel agent
Consular Fee: $70.00 per tourist visa
Consular Fee: £18.00 per tourist visa
Application Forms
Ethiopia Embassies
Ethiopia Embassy in US
3506 International Dr., NW, Washington, DC 20008
Tel: 202-364-1200
Fax: 202-587-0195
Website: http://www.ethiopianembassy.org Currently the website not working.
Ethiopia Embassy in UK
17 Prince's Gate, London, SW7 1PZ
Tel: 020 7838 3897/98
Email: info@ethioembassy.org.uk
Website: http://www.ethioanembassy.org.uk
US Embassy in Ethiopia
Entoto Street, Addis Ababa
Tel: 251/11/517-40-00
Fax: 251/11/517-40-01
Website: http://ethiopia.usembassy.gov
UK Embassy in Ethiopia
Fikre Mariam Abatechan Street Addis Ababa
Tel: (251) (1) 612354
Fax: (251) (1) 610588
Email: BritishEmbassy.AddisAbaba@fco.gov.uk
Website: http://ukinethiopia.fco.gov.uk
Recommended Reading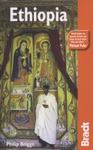 The Bradt Travel Guide to Ethiopia is the most thorough guide available to this country rich in culture, history and dramatic scenery and has been highly praised by both travel press and readers.
Ethiopia Travel Resources