Firearms Multimedia Guide
Firearms Multimedia Guide is the first digital era firearms, ammo and air guns reference guide. It is extremely fast and easy to use. It's so extensive, we couldn't fit it in a book, so we put it on a double-layer DVD for your computer.
If you want to find out more about all of the newest rifles, shotguns, pistols, revolvers, black powder guns, air guns and ammunition from all around the world, you must own this DVD.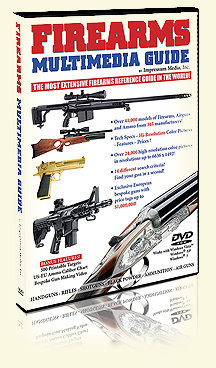 About Firearms Multimedia Guide DVD
14 different search criteria! Find your gun in a second!
Presents over 41,000 models of Firearms, Airguns and Ammo from 345 manufacturers
Presents models with Tech Specs - Hi-Resolution Color Pictures - Features - Prices
Over 24,000 high-resolution color pictures in resolution up to 6636 x 1492
Guns are presented in different finishes, stock types and stock materials
Exclusive European bespoke guns with price tags up to $1,000,000
See the stopping power of each gun
BONUS FEATURES: 500 Printable Targets, US-EU Ammo Caliber Chart, Bespoke Gun Making Video
For Windows 98, Windows XP, Windows Vista and Windows 7
On the main screen of the Firearms Multimedia Guide DVD, all pictures are sized to fit your screen. You will be able to browse through the pictures by clicking the front and back arrows on the right side of the screen. To zoom in to see the smallest details of the gun, click on the picture. To zoom out, click on the zoomed picture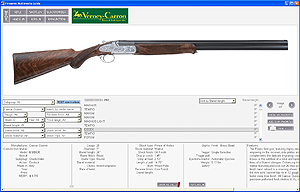 Only in the Firearms Multimedia Guide can you see custom-built double rifles in high-resolution pictures like never before. You will be able to see the entire gun and the smallest details of gold engravings and checkering that the best artisans were working on for 18 months.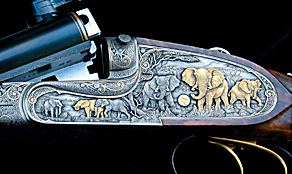 Order the Firearms Multimedia Guide for just $29.99 and in just a few days this unique firearms, ammo and air guns reference guide will be delivered to your address. Be the first to own one!