Hunting Botswana
Hunting Botswana - Recently there have been rumours about the possible closure of hunting in the Okavango region of Botswana. At present hunting will continue in the Controlled Hunting Areas and Botswana remains a prime hunting destination particularly for great trophy elephants.
October 2012 Update On Hunting In Botswana
A Statement From The Botswana Wildlife Management Association
The Botswana Wildlife Management Association (BWMA) welcomes the recent decision by the Government of the Republic of Botswana to extend concession leases for multi-purpose (photo and hunting) use for a further year for the following concessions:
CT1 : Destination South Safaris
CT2 : Johan Calitz Safaris
CT3 : Chobe Fish Eagle
NG42 : Nemesis Safaris
NG43 : Kgori Safaris
NG47 : Safaris Botswana Bound
CH12 : Bottle Pan Safaris
This extended period will allow for continued dialogue with the Ministry of Environment Wildlife and Tourism (MEWT) on national conservation strategies and to facilitate the transition of these areas from multiple use (hunting and photographic) to non-consumptive tourism. A verbal statement was made at a recent meeting with tourism authorities that all hunting in Government concessions would cease by the year 2014: however, the BWMA do not have this statement officially - our Government has continually stated that areas with existing leases will not be affected until lease expiry, so community-based concession areas,NG41 (Mababe) and CH1/2 (Chobe Enclave), which are operated by Johan Calitz Safaris and Butler & Holbrow Safaris respectively, should not be affected by the statement made in respect of the 2014 cut-off. The BWMA has been in negotiations with the MEWT since 2008 in an effort to rationalize the change in land use : consumptive tourism plays a critical role in securing remote wildlife areas against poaching, human and livestock encroachment, fire and supporting community-based livelihoods. With these pivotal factors in mind, the BWMA will continue to collaborate and lobby Government to recognize how hunting succeeds in maintaining wildlife functionality and habitat conservation in Botswana.
For any further information contact the BWMA Secretariat, email debbie@mochaba.net
Botswana has evolved into one of the world's best hunting destinations for the discerning sportsman. With over 23% of the country dedicated to wildlife conservation, Botswana provides unparalleled wilderness hunting of dangerous and plains game. Vast hunting concessions and very comfortable to luxurious hunting camps provide hunters with a unique big game adventure.
Lion, elephant, leopard and buffalo are common sightings when hunting in Botswana's pristine concessions, with one of the world's lowest human population densities these wilderness areas provide superb fair chase hunting. Conservative hunting quotas and well managed wildlife areas lead to excellent trophy quality.
Botswana boasts hunting opportunities from desert to delta - from boating to walking with Kalahari Bushman. Although many prime hunting areas have converted to photographic safaris, there remains the best elephant hunting in the world. With a estimated elephant population of over 150,000 animals, trophy quality remains the best in Africa. The chance at a big tusker remains high - as recently as 2010, a bull with 104 pounds of ivory was harvested. In the same season more than a dozen bulls with ivory over 75 pounds were taken.
A taster of hunting Botswana from Graeme Pollock of Safaris Botswana Bound.
Botswana Hunting Season
From 6th April until 14th September
In a private hunting areas, such as game ranches in Tuli Block or Kalahari regions, the stipulated hunting season does not apply.
Botswana Weather
The peak hunting period is May through to September as the climate is most comfortable - dry, cool days and cold nights.
Daytime temperatures generally reach 20°C and can drop as low as 5°C at night.
From November, the temperature rises and can reach 38°C during the day.
Botswana Map
This map may be enlarged and moved in all directions. You may also select satellite and terrain views.
Botswana Game Laws
All trophy hunting to take place between 6 am and 6 pm
No hunting is allowed at night
No hunting is allowed with artificial light.
Minimum number of days for a hunting safari based upon the species being hunted.
Hunting of female, young and/or immature animals is not permitted.
Shooting from a vehicle is not permitted, though the vehicle can be used to reach the area from where hunting on foot can begin.
Clients are only permitted to hunt animals for which a permit is issued.
All animals are subject to quota availability.
Hunt permits must be issued prior to the hunt commencing.
A separate permit must be issued for each individual hunting client.
Minimum calibre for dangerous game is .375
Minimum calibre for any game, excluding dangerous game, is .222
Maximum calibre for any game is .577 Nitro Express
Botswana Hunting Species
As of October 24th, 2007 the Wildlife Department of Botswana has suspended the hunting of lion until further notice.
Recommended Reading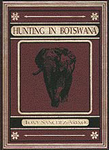 Hunting In Botswana by Tony Sanchez-Arino (1994) is an anthology of big game hunting in Botswana with contributions from numerous famous sportsmen including Oswell, Leyland, Holub, Gillmore, Baldwin, Farini, Stevenson-Hamilton, Bryden, Chadwick, Selby and many others.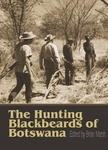 The Hunting Blackbeards Of Botswana edited by Brian Marsh (2007) is the story of three generations of Blackbeards who have hunted and guided in Botswana.
Hunting Botswana Resources