Hunting Ethiopia
Hunting Ethiopia - this hunting country has a large number of indigenous species, with the Mountain Nyala in pride of place - a great place for experienced trophy collectors.
Ethiopia Hunting Season
There is no fixed hunting season. Optimal time is October until June
Ethiopia Weather
The temperatures vary according to altitude
The central plateau region is cool and rarely gets above 26°C
Lowland and desert regions have more variable temperatures and can very hot and humid
Ethiopia Map
This map may be enlarged and moved in all directions. You may also select satellite and terrain views.
Ethiopia Game Laws
All trophy hunting to take place between 6 am and 6 pm
No hunting is allowed at night
No hunting is allowed with artificial light.
Minimum number of days for a hunting safari based upon the species being hunted.
Hunting of female, young and/or immature animals is not permitted.
Shooting from a vehicle is not permitted, though the vehicle can be used to reach the area from where hunting on foot can begin.
Clients are only permitted to hunt animals for which a permit is issued.
All animals are subject to quota availability.
Hunt permits must be issued prior to the hunt commencing.
A separate permit must be issued for each individual hunting client.
The licences for all species that the client wishes to hunt must be paid for and purchased in advance. These fees are non-refundable
There in no mimimum calibre requirement for any game.
Ethiopia Hunting Species
Please note: Leopard is available to hunt in Ethiopia with a 500 animal 2010 CITES quota but the US Fish & Wildlife Service 'has never issued a permit for leopard from Northern or Central Africa.'
Recommended Reading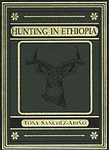 Hunting In Ethiopia by Tony Sanchez-Arino (1995). Writings on big game hunting adventures in Ethiopia (formerly Abyssinia) by Harris, Baker, Neumann, Wellby, Powell-Cotton, Pease, Maydon, Baum and many others.
Where The River Runs Dry by Michael Mason is a hunting travelogue about the Sudan and Ethiopia. Mason returns to the Nile region after a nine-year absence and proceeded to hunt roan, reedbuck and buffalo near Bahr-el-Dinder, continuing into the Abyssinian interior after elephant and lion.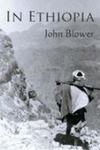 In Ethiopia: A Game Warden's Adventures In Haile Selassie's Medieval Empire is John Blower's account of his four years as the first senior warden of the Ethiopian National Parks and Nature Reserves and advisor to the emperor, Haile Selassie.
Recommended Viewing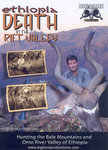 Ethiopia: Death In The Rift Valley DVD. Five years and two trips in the making, this DVD gives a super picture of the country and most of its game animals including mountain nyala, lesser kudu, Nile buffalo and more.
Hunting Ethiopia Resources