Lion hunting had not been fraught with any great hardships or dangers up to this time. The Mediterranean was as smooth as a mill-pond, the Suez Canal was free from any tempestuous rolling, and the Red Sea was placid and hot. After some days we were in the Indian Ocean, plowing lazily along and counting the hours until we reached Mombasa. Perhaps after that the life of a lion hunter would be less tranquil and calm.
The Adolph Woermann was a six-thousand-three-hundred-ton ship, three years old, and so heavily laden with guns and ammunition and steel rails for the Tanga Railway that it would hardly roll in a hurricane. There were about sixty first-class passengers on board and a fair number in the second class. These passengers represented a dozen or so different nationalities, and were bound for all sorts of places in East, Central, and South Africa. Some were government officials going out to their stations, some were army officers, some were professional hunters, and some were private hunters going out "for" to shoot.
There were also a number of women on board and some children. I don't know how many children there were, but in the early morning there seemed to be a great number.
These Indian Ocean steamers are usually filled with an interesting lot of passengers. At first you may only speculate as to who and what they are and whither they are bound, but as the days go by you get acquainted with many of them and find out who nearly everybody is and all about him. On this steamer there were several interesting people. First in station and importance was Sir Percy Girouard, the newly appointed governor of British East Africa, who was going out to Nairobi to take his position. Sir Percy is a splendid type of man, only about forty-two years old, but with a career that has been filled with brilliant achievements. He was born in Canada and was knighted in 1900. He looks as Colonel Roosevelt looked ten years ago, and, in spite of a firm, definite personality of great strength, is also courteous and kindly. He has recently been the governor of northern Nigeria, and before that time served in South Africa and the Soudan. It was of him that Lord Kitchener said "the Soudan Railway would never have been built without his services."
The new governor was accompanied by two staff officers, one a Scotchman and the other an Irishman, and both of them with the clean, healthy look of the young British army officer. There would be a big reception at Mombasa, no doubt, with bands a-playing and fireworks popping, when the ship arrived with the new executive.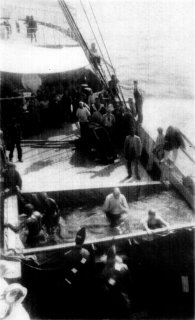 "Crossing the Line" Ceremonies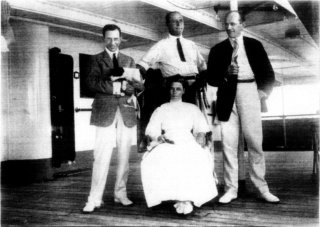 Mr. Stephenson, Mr. and Mrs. Akeley and Mr. McCutcheon. Courtesy of Boyce Balloonagraph Expedition
There were also several officials with high-sounding titles who were going out to their stations in German East Africa. These gentlemen were mostly accompanied by wives and babies and between them they imparted a spirited scene of domesticity to the life on shipboard. The effect of a man wheeling a baby carriage about the deck was to make one think of some peaceful place far from the deck of a steamer.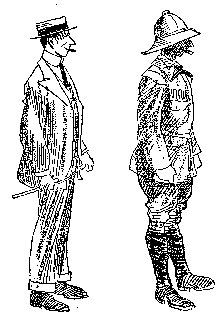 Before and After Outfitting
Little Tim was the life of the ship. He was a little boy aged eighteen months, who began life at Sombra, in Nyassaland, British Central Africa. Just now he was returning from England with his father and mother. Little Tim had curly hair, looked something like a brownie, and was brimming over with energy and curiosity every moment that he was awake. If left alone five minutes he was quite likely to try to climb up the rigging. Consequently he was never left alone, and the decks were constantly echoing with a fond mother's voice begging him not to "do that," or to "come right here, Tim." One of Tim's chief diversions was to divest himself of all but his two nearest articles of wear and sit in the scuppers with the water turned on. A crowd of passengers was usually grouped around him and watched his manœuvers with intense interest. He was probably photographed a hundred times and envied by everybody on board. It was so fearfully hot in the Red Sea that to be seated in running water with almost no clothes on seemed about the nicest possible way to pass the time.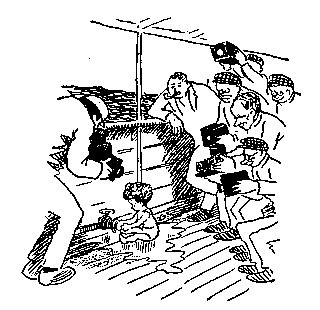 Little Tim
There was a professional elephant hunter on board. He was a quiet, reserved sort of man, pleasant, and not at all bloodthirsty in appearance. He had spent twenty years shooting in Africa, and had killed three hundred elephants. On his last trip, during which he spent nearly four years in the Congo, he secured about two and one-half tons of ivory. This great quantity of tusks, worth nearly five dollars a pound, brought him over twenty thousand dollars, after paying ten per cent. to the Congo government. The Belgians place no limit upon the number of elephants one may shoot, just so they get their rake-off. In British territory, however, sportsmen are limited to only two elephants a year to those holding licenses to shoot. Our elephant hunter friend was now on his way back to shoot some more.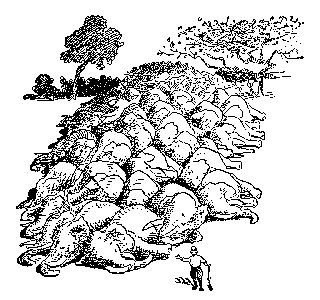 The Elephant Hunter and His Bag
There was another interesting character on board who caused many of us to stop and think. He was a young British army officer who was mauled by a lioness several months ago in Somaliland. He now walked with a decided limp and was likely to lose his commission in the army because of physical infirmities. He was cheerful, pleasant, and looked hopefully forward to a time when he could have another go at a lion. This is the way the thing happened: Last March he was shooting in Somaliland and ran across a lioness. He shot her, but failed to disable her. She immediately charged, chewed up his leg, arm and shoulder, and was then killed by his Somali gunbearer. He was days from any help. He dressed his own wounds and the natives tried to carry him to the nearest settlement. Finally his bandages were exhausted, the natives deserted, and it was only after frightful suffering that he reached help. In three weeks blood poisoning set in, as is usual after the foul teeth of a lion have entered the flesh, and for several months he was close to death. Now he was up and about, cheerful and sunny, but a serious object lesson to the lion hunters bound for the lair of the lion.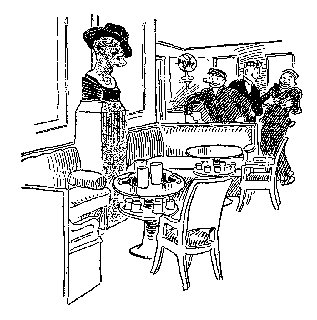 Having Fun with Mr. Woermann
In the smoking-room of the Adolph Woermann was a bronze bust of Mr. Woermann presented by himself. Whether he meant to perpetuate his own memory is not vital to the story. The amusing feature lies in the fact that some irreverent passenger, whose soul was dead to the sacredness of art, put a rough slouch hat on Mr. Woermann one night, with side-splitting results. Mr. W. is a man with a strong, intelligent German face, something like that of Prince Henry, and in the statue appears with bare neck and shoulders. The addition of a rakish slouch hat produced a startling effect, greatly detracting from the strictly artistic, but adding much to the interest of the bust. It looked very much as though he had been ashore at Aden and had come back on board feeling the way a man does when he wants his hat on the side of his head. Still, what can a shipowner expect who puts a nude bust of himself in his own ship?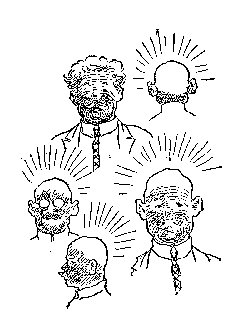 An African Hair-Cut
The ship's barber was the Associated Press of the ship's company, and his shop was the Park Row of the vessel. He had plenty of things to talk about and more than enough words to express them. Every vague rumor that floated about was sure to find lodgment in the barber shop, just as a piece of driftwood finally reaches the beach. He knew all the secrets of the voyage and told them freely.
One day I went down to have my hair trimmed. He asked if I'd have it done African style. "How's that?" I inquired. "Shaved," said he, and "No," said I. A number of the Germans on board were adopting the African style of hair-cut, and the effect was something depressing. Every bump that had lain dormant under a mat of hair at once assumed startling proportions, and red ears that were retiring suddenly stuck out from the pale white scalp like immense flappers. A devotee of this school of tonsorial art had a peeled look that did not commend him to favorable mention in artistic circles. But the flies, they loved it, so it was an ill wind that blew no good.
The Red Sea has a well-earned reputation of being hot. We expected a certain amount of sultriness, but not in such lavish prodigality as it was delivered. The first day out from Suez found the passengers peeling off unnecessary clothes, and the next day found the men sleeping out on deck. There wasn't much sleeping. The band concert lasted until ten-thirty, then the three Germans who were trying to drink all the beer on board gave a nightly saengerfest that lasted until one o'clock, and then the men who wash down the decks appeared at four. Between one and four it was too hot to sleep, so that there wasn't much restful repose on the ship until we got out of the Red Sea.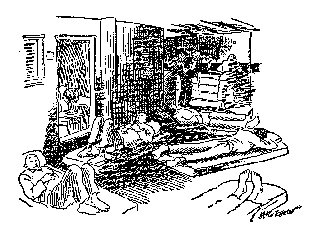 We Slept on Deck in the Red Sea
Down at the end of the Red Sea are the straits of Bab-el-Mandeb. In the middle of the straits is the island of Perim, a sun-baked, bare and uninviting chunk of land that has great strategic value and little else. It absolutely commands the entrance to the Red Sea, and, naturally, is British. Nearly all strategic points in the East are British, from Gibraltar to Singapore. A lighthouse, a signal station, and a small detachment of troops are the sole points of interest in Perim, and as one rides past one breathes a fervent prayer of thanksgiving that he is not one of the summer colony on Perim.
They tell a funny story about an English officer who was sent to Perim to command the detachment. At the end of six months an official order was sent for his transfer, because no one is expected to last longer than six months without going crazy or committing suicide. To the great surprise of the war office a letter came back stating that the officer was quite contented at Perim, that he liked the peace and quiet of the place, and begged that he be given leave to remain another six months. The war office was amazed, and it gladly gave him the extension. At the end of a year the same exchange of letters occurred and again he was given the extension.
I don't know how long this continued, but in the end the war office discovered that the officer had been in London having a good time while a sergeant-major attended to the sending of the biannual letter. I suppose the officer divided his pay with the sergeant-major. If he did not he was a most ungrateful man.
The Adolph Woermann is a German ship and is one of the best ones that go down the east coast. Its passengers go to the British ports in British East Africa, to the German ports in German East Africa, and to several other ports in South Africa. Consequently the passengers are about equally divided between the English and the Germans, with an occasional Portuguese bound for Delagoa Bay or Mozambique.
When we first went aboard our party of four desired to secure a table by ourselves. We were unsuccessful, however, and found it shared by a peaceful old gentleman with whiskers. By crossing with gold the palm of the chief steward, the old gentleman was shifted to a seat on the first officer's right. Later we discovered that he was Sir Thomas Scanlon, the first premier of South Africa, the man who gave Cecil Rhodes his start.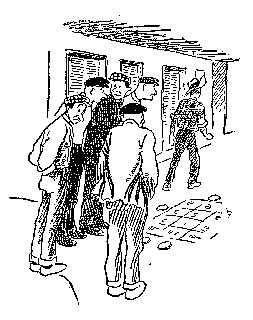 Mauled by a Lion
There were many interesting elements which made the cruise of the Woermann unusual. Mr. Boyce and his party of six were on board and were on their way to photograph East Africa. They took moving pictures of the various deck sports, also a bird's-eye picture of the ship, taken from a camera suspended by a number of box kites, and also gave two evenings of cinematograph entertainment.
There were also poker games, bridge games, and other forms of seaside sports, all of which contributed to the gaiety of life in the Indian Ocean. In the evening one might have imagined oneself at a London music-hall, in the daytime at the Olympian games, and in the early morning out on the farm. There were a number of chickens on board and each rooster seemed obliged to salute the dawn with a fanfare of crowing. They belonged to the governor and were going out to East Africa to found a colony of chickens. Some day, years hence, the proud descendents of these chickens will boast that their ancestors came over on the Woermann, just as some people boast about their ancestors on the Mayflower.
When we crossed the equator, a committee of strong-arm men baptized those of the passengers who had never before crossed the line. Those who had crossed the line entered into the fun of the occasion with much spirit and enthusiasm.
On the hottest day of the trip, just as we left Suez, when the mercury was sputtering from the heat, we heard that the north pole had been discovered. It cooled us off considerably for a while.