Our cook was a dark-complexioned man between whom and the ace of spades there was considerable rivalry. He was of that deadly night shade. He was the darkest spot on the Dark Continent. After dark he blended in with the night so that you couldn't tell which was cook and which was night.
His name was Abdullah, his nature was mild and gentle, and his skill in his own particular sphere of action was worthy of honorable mention by all refined eaters. He was about fifty or sixty years of age, five feet tall, with a smile varying from four to six inches from tip to tip. It was a smile that came often, and when really unfurled to its greatest width it gave the pleasing effect of a dark face ambushed behind a row of white tombstones.
When Abdullah joined our safari it was freely predicted that he would do well for the first month or so, after which he would fade away to rank mediocrity; but, strangely enough, he became better and better as time went on, and during our last two weeks was springing culinary coups that excited intense interest on our part. He had a way of assembling a few odds and ends together that finally merged into a rice pudding par excellence, while his hot cakes were so good that we spoke of them in rapt, reverential whispers. There wasn't a twinge of indigestion in a "three by six" stack of them, and when flooded with a crown of liquid honey they made one think of paradise and angels' choruses.
Quite naturally, in my wanderings of nine months there were moments when my thoughts dwelt upon such material things as "vittles," and it was instructive to compare the various kinds of food served on a dozen ships, a score of hotels, and a hundred camps. Some were good and some were bad, but as viewed in calm retrospect I think that Abdullah excelled all other chefs, taking him day in and day out.
Upon only three occasions was he vanquished, but these were memorable ones. As food is a pleasant topic, perhaps I may be pardoned if I dwell fondly upon these three red-letter days in my memory.
One was in Paris. The night that we started for Africa a merry little company dined at Henry's. That distinguished master was given carte blanche to get up the best dinner known to culinary science, and he had a day's start. Everything was delicious. The dinner was a symphony, starting in a low key and gradually working up in a stirring crescendo until the third course, where it reached supreme heights in climacteric effect. That third course, if done in music, would have sent men cheering to the cannon's mouth or galloping joyously in a desperate cavalry charge.
One of Our Askaris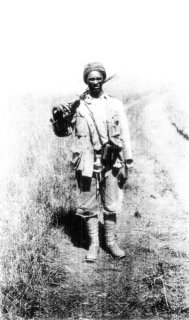 Hassan Mohammed
The dish was called "poulet archduc," although I should have called it at least poulet archangel. In this divine creation Henry reached the Nirvana of good things to eat. I beseeched him for the recipe, which he cheerfully wrote out, so now I am happy to pass it along that all may try it. It really ought to be dramatized.
I transcribe it in M. Henry's own verbiage:
The chicken must be well cleaned inside. Next put in it some butter, salt and pepper, a little paprika, and into full of sweet corn, then close the chicken. Next put it in a saucepan with other more sweet corn, against butter, salt, pepper, a little whisky; cook about half of one hour.
The best sweet corn is the California sweet corn in can.
The sauce is done with white of chicken. Squeeze two yolks of eggs and butter like for a sauce mousseline and finish it with a little whisky.
And there you are.
The second occasion came some months later. We had been on safari for several weeks and had returned to Nairobi for two or three days. It was the "psychological moment" for something new in the way of food. The stage was all set for it, and it came in the form of a pudding that would have delighted all the gastronomes and epicures of history. We called it the Newland-Tarlton pudding, because it was the joint creation of Mrs. Newland and Mrs. Tarlton. One wrote the poetry in it and the other set it to music. We ate it so thoroughly that the plates looked as clean as new. Cuninghame was there, dressed up for the first time in months, and the way that pudding disappeared behind his burly beard was suggestive of the magic of Kellar or Herrmann.
The recipe of this pudding is worthy of export to the United States, so here it is. It really is a combination of two puddings, served together and eaten at the same time.
THE NEWLAND BANANA CUSTARD

Boil three large cupfuls of milk. Mix a tablespoonful of corn flour with a little cold milk just to make it into a paste. Add four eggs well beaten and mix together with three tablespoonfuls of sugar. Put into the boiled milk and stir until it thickens, but don't let it boil. When taken off add one teaspoonful of vanilla essence. Cut up ten bananas and put in a dish. Pour custard on when cool.
PRUNE SHAPE (A LA TARLTON)

Stew one-half pound prunes until quite soft. Remove stones and cut prunes small. Dissolve one-half ounce gelatin and add to one-quarter pound sugar, prunes, and kernels. Pour into wetted mold to cool, first adding one-half glass of sherry. Must be served with banana cream (the Newland).
The third occasion made memorable by a delicious epoch-making dish I shall not specify, as we have dined with many friends during the last nine months. Let it be sufficient if I say that it was at one of these dinners or luncheons.
In our varied gastronomical experiences we found that the cooking on the English ships was usually bad, while that on the German ships was good, excepting the ship that took us from Naples to Mombasa. The Dutch ships were the best of all and the Dutch hotels in Java were the best we struck outside of Paris and London. In comparison with the Hotel des Indes, in Batavia, all the rest of the hotels of the Orient can be mentioned only in a furtive way. It was a revelation of excellence, in perfect keeping with the charm and beauty of Java as a whole.
But we were speaking of things to eat.
At the Hotel des Indes they served us a modest little dish called rice tafel, or "rijs-tafel." You have to go to luncheon early in order to eat it before dinner time. It was served by twenty-four waiters, marching in single file, the line extending from the kitchen to the table and then returning by a different line of march to the kitchen. It was fifteen minutes passing a given point. Each waiter carried a dish containing one of the fifty-seven ingredients of the grand total of the rice tafel. You helped yourself with one arm until that got tired, then used the other. When you were all ready to begin your plate looked like a rice-covered bunker on a golf course.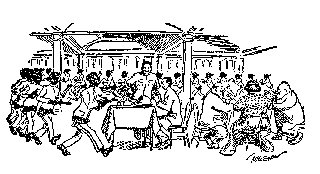 The Rice Tafel in Java
Rice tafel is a famous dish in Java. It is served at tiffin, and after you have eaten it you waddle to your room in a congested state and sleep it off. After my first rice tafel I dreamed I was a log jam and that lumber jacks with cant hooks were trying to pry me apart.
As the recipe for rice tafel is not to be found in any cook book on account of its length, we give it here even if you won't believe it. To a large heap of rice add the following:
MEAT AND FISH

Spiced beef, deviled soup meat, both fried with cocoanut shreds.
Minced pork, baked.
Fried fish, soused fish, and baked fish.
Fried oysters and whitebait.

SPICES

Red fish.
Deviled shrimps, chutney.
Deviled pistachio nuts.
Deviled onions sliced with pimentos.
Deviled chicken giblets.
Deviled banana tuft.
Pickled cucumbers.
Cucumber plain (to cool the palate after hot ingredients).

FOWL, FRUIT, ETC.

Roast chicken, plain.
Steamed chicken with chilis.
Monkey nuts fried in paste.
Flour chips with fish lime (called grapak and kripak).
Fried brinjals without the seeds.
Fried bananas.

JUICES

Yellow—(One) of curry powder with chicken giblets and bouillon.
Brown—(Two) of celery, haricot beans, leeks and young cabbage.
One quart of American pale ale to drink during the "rice tafel."
Our cook Abdullah was not the only interesting type in our safari. Among our dusky colleagues there were thirteen different tribes represented. It was a congress of nations and a babel of tongues. Some of the porters became conspicuous figures early in the march, while some were so lacking in individuality that they seemed like new-comers even after four months out.
The "Chantecler" of Our Safari
Of this latter class Hassan Mohammed was not one.
Hassan was my chief gunbearer, and for pious devotion to the Mohammedan faith he was second to none. He was the "Chantecler" of our outfit. Every morning at four o'clock, regardless of the weather, he would crawl out of his tent, drape himself in a white sheet, and cry out his prayers to Mecca. It was his voice that woke the camp, and the immediate answer to his prayers was sometimes quite irreverent, especially from the Wakamba porters, who were accustomed to sit up nearly all night gambling.
Hassan was a Somali, strictly honest and faithful. He had the Somali's love of a rupee, and there was no danger or hardship that he would not undergo in the hope of backsheesh. It is the African custom to backsheesh everybody when a lion is killed, so consequently the Somalis were always looking for lions. Perhaps he also prayed for them each morning.
When we started we had four Somali gunbearers, each of whom rose at dawn to pray. As we got up in the high altitudes, where the mornings were bitter cold, the number of suppliants dwindled down to one, and Hassan was the sole survivor. No cold or rain or early rising could cool the fierce religious ardor that burned within him.
Long before daybreak we would hear his voice raised in a singsong prayer full of strange runs and weird minors. The lions that roared and grunted near the camp would pause in wonder and then steal away as the sound of Hassan's devotions rang out through the chilly, dew-laden dawn. And as if fifteen minutes of morning prayer was not enough to keep him even with his religious obligations, he went through two more long recitals in the afternoon and at night.
I sometimes thought that behind his fervent ardor there was a considerable pride in his voice, for he introduced many interesting by-products of harmony that sounded more or less extraneous to both music and prayer. Nevertheless, Hassan was consistent. He never lied, he never stole, and it was part of his personal creed of honor to stand by his master in case of danger. Somali gunbearers are a good deal of a nuisance about a camp, partly because they are the aristocrats of Africa and demand large salaries, but chiefly because they require certain kinds of food that their religion requires them to eat. This is often difficult to secure when far from sources of supplies, and in consequence the equilibrium of camp harmony is sorely disturbed.
They are avaricious and money loving to a deplorable degree, but there is one thing that can be said for the Somali. He will never desert in time of danger and will cheerfully sacrifice himself for his master. He has the stamina of a higher type of civilization, and in comparison to him the lately reclaimed savage is not nearly so dependable in a crisis.
I sometimes suspected that Hassan was not really a gunbearer, but was merely a "camel man" who was tempted from his flocks by the high pay that African gunbearers receive. Notwithstanding this, he was courageous, faithful, willing, honest, good at skinning, and personally an agreeable companion during the months that we were together. I got to like him and often during our rests after long hours afield we would talk of our travels and adventures.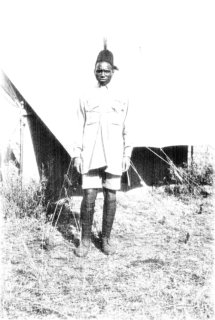 Jumma, the Tent Boy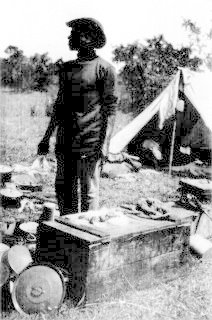 Abdullah, the Cook
One day we stopped at the edge of the Molo River. A little bridge crossed the stream and I remembered that the equator is supposed to pass directly across the middle of this bridge. It struck me as being quite noteworthy, so I tried to tell Hassan all about it. I was hampered somewhat because he didn't know that the world was round, but after some time I got him to agree to that fact. Then by many illustrations I endeavored to describe the equator and told him it crossed the bridge. He got up and looked, but seemed unconvinced as well as unimpressed. Then I told him that it was an imaginary line that ran around the world right where it was fullest—half way between the north pole and the south pole. He brightened up at this and hastened to tell me that he had heard of the north pole from a man on a French ship. As I persevered in my geographical lecture he gradually became detached from my point of view, and when we finished I was talking equator and he was talking about a friend of his who had once been to Rotterdam.
The lecture was a "draw." But I noticed with satisfaction that when we walked across the bridge he looked furtively between each crack as if expecting to see something.
It was rather a curious thing, speaking of Hassan, to observe the respect with which the other natives treated his daily religious devotions. He was the only one in camp who prayed—at least openly—and as he knelt and bowed and went through the customary form of a Mohammedan prayer there was never the slightest disposition to make fun of him. In a camp of one hundred white men I feel sure that one of them who prayed aloud three times a day would hardly have escaped a good deal of irreverent ridicule from those about him. The natives in our camp never dreamed of questioning Hassan's right to worship in any way he pleased and the life and activities of the camp flowed along smoothly as if unconscious of the white-robed figure whose voice sang out his praises of Allah. The whole camp seemed to have a deep respect for Hassan.
Abdi, our head-man, was also a Somali, but of a different tribe. He was from Jubaland and had lived many years with white men. In all save color he was more white than black. He was handsome, good-tempered, efficient, and so kind to his men that sometimes the discipline of the camp suffered because of it. It was Abdi's duty to direct the porters in their work of moving camp, distributing loads, pitching camp, getting wood for the big camp-fires, punishing delinquents and, in fact, to see that the work of the safari was done.
One night after we had been most successful in a big lion hunt during the day Abdi came to the mess tent, where we were lingering over a particularly good dinner. Abdi asked for his orders for the following day and then, seeing that we were in a talkative mood, he stopped a while to join in the stories of lion hunting.
After a time he told two of his own that he had brought from his boyhood home in Jubaland. They were so remarkable that you don't have to believe them unless you want to.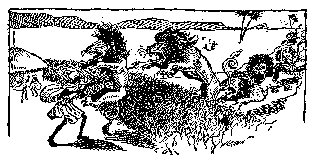 Abdi's Uncle and the Man-Eaters
ABDI'S STORY ABOUT HIS UNCLE AND THE LIONS

"Once upon a time my uncle, who was a great runner, encountered six man-eating lions sitting in the road. He took his spear and tried to kill them, but they divided, three on each side of the road. So he took to his heels. To the next town it was twelve hours' march, but he ran it in ten hours, the lions in hot pursuit every minute of the time. When he reached the town he jumped over the thorn bush zareba, and the lions, close behind him, jumped over after him and were killed by his spear, one after the other."
ABDI'S STORY ABOUT THE WILY SOMALI AND THE LION

"Once upon a time there was a Somali who was warned not to go down a certain road on account of the man-eating lions. But he started out, armed with knife and spear. For a week he marched, sleeping in the trees at night and marching during the day. One day he suddenly came upon a big lion sitting in the road. He stopped, sharpening a little stick which he held in his left hand. Then he wrapped his 'tobe' or blanket around his left hand and arm. He then advanced to the lion and when it opened its mouth to bite him he thrust the sharp stick inside, up and down, thus gagging the lion. Then with his two hands he held the lion by its ears for three days. He couldn't let go because the lion would maul him with its heavy paws. He was thus in quite a fix.

He Hastily Cut a Stick

"Finally another Somali came along and he asked the new-comer to hold the lion while he killed it with his spear. The other Somali consented and seized the lion by the ears. Then the first Somali laughed long and loud and said, 'I've held him three days, now you hold him three days.' Then he strolled down the road and disappeared. For seven days the second Somali held the lion and then by the same subterfuge turned it over to a third Somali. By this time the lion was pretty tired, so after one day the Somali shook the lion hard and then took out his knife and stabbed it to death."
---
Sulimani was my second gunbearer. His name wasn't Sulimani, but some one gave him that name because his own Kikuyu name was too hard to pronounce and impossible to remember. Sulimani was quite a study. He had the savage's love of snuff, and when not eating or sleeping he was taking pinches of that narcotic from an old kodak tin. In consequence he had the chronic appearance of being full of dope. He walked along as though in a trance. He never seemed to be looking anywhere except at the stretch of trail directly in front of him. His thoughts were far away, or else there were no thoughts at all. I often watched him and wondered what he was thinking about.
Sulimani was really one of the best natural hunters in the whole safari. He had a native instinct for tracking that was wonderful; he had courage that was fatalistic, and he seemed to know what an animal would do and where it would go under certain conditions. Beneath that dopy somnolence of manner his senses were alert and his eyes were usually the first to see distant game.
He had originally been a porter when we started out, but I gave him a new suit of khaki and promoted him to the position of second gunbearer. As long as we were in touch with civilization he kept that khaki suit in a condition of spotlessness, but when we got out in the wilds, away from the girls, it soon became stiff with blood-stains and dirt. The natural savage instinct became predominant; he reverted to type.
His jaunty red fez was replaced by a headgear made of the beautiful skin of a Uganda cob. Ostrich and maribou feathers stuck out from the top, while upon his feet were sandals made from the thick skin of a waterbuck. A zebra tail was fashioned into a sheath for his skinning-knife, so that, little by little, he resolved himself back into a condition of savage splendor. He usually did most of my skinning, and that being dirty work, I was disposed to be tolerant with the disgraceful condition of his khaki suit.
Finally we approached civilization once more, and I told Sulimani that he'd have to clean up, otherwise the girls wouldn't like him. I gave him half a day off to wash his clothes, and he dutifully disappeared from society for that period. When he once more turned up he was resplendent in his clean clothes. As we marched along toward Nairobi he broke his long silence by bursting into song. For a day or two it was the wonder of the camp, but he was quite unconscious of it. Music was in his soul and the germ of love was churning it up. And so he sang as he marched along, and his thoughts were racing ahead of him to the "sing sing" girls who wait in Nairobi for returning porters with rupees to spend.
The general average of health in the safari was high. Only one porter died in the four months or more that we were out. But in spite of the low mortality there were many cases that came up for treatment. Akeley, with his long experience as a hunter and explorer, acted as the health department of the camp. His three or four remedies for all ills were quinine, calomel, witch-hazel, and zinc oxide adhesive plaster. And it was simply amazing what those four things could do when applied to the naturally healthy constitutions of the blacks. He cured a bowed tendon with witch-hazel and adhesive plaster in three or four days. A white man would have gone to a hospital for weeks.
There were two common complaints. One was fever, but the fiercest fever took to its heels when charged by General Quinine and General Calomel. The other and more common complaint rose from abrasions and cuts. There was always a string of porters lined up for treatment and each went away happy with large pieces of adhesive plaster decorating his ebony skin. A simple piece of this plaster cured the worst and most inflamed cut, and it was seldom that a man came back for a second treatment. The plaster remained on until, weeks afterward, it fell off from sheer weariness.
And once in a while there would be knife wounds, for whenever we killed a zebra as meat for the porters there would be a frenzied fight over the body. Each man, with knife out, was fighting for the choice pieces. It was like a scrimmage of human vultures—fighting, clawing, slashing and rending, with blood and meat flying about in a horrifying manner. I used to marvel that many were not killed, because each one was armed with a knife and each one was frenzied with savage greed. However, only once in a while did we have to treat the injured from this cause. Two men could fight for ten minutes over a piece of meat or a bone, but when finally the ownership was settled the victor could toss his meat to the ground with the certainty that no one else would take it.
Jumma was my tent boy—a Wakamba with filed teeth. Jumma is the Swahili word for Friday and is about as common a name in East Africa as John is in white communities. I suppose I ought to call him "my man Friday," but he was so dignified that no one would dream of taking such a liberty with him. Jumma's thoughts ran to clothes. He wore a neat khaki suit—blouse and "shorts," a pair of blue puttees, a pair of stout shoes, and a dazzling red fez, from which sprang a long waving ostrich feather. My key ring hung at his belt, while around his wrist a neat watch was fastened. The longest march, through mud and rain and wind and sun, would find him as trim and clean at the finish as though he had just stepped out of a bandbox. Jumma had the happy faculty of never looking rumpled, a trick which I tried hard to learn, but all in vain. He was as black as ebony, yet his features were like those of a Caucasian; in fact, he strikingly resembled an old Chicago friend.
Sulimani—Second Gunbearer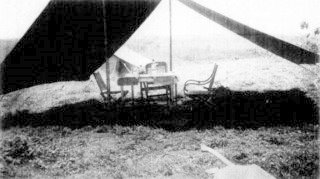 The Mess Tent
Where the Equator Crosses the Molo
Among our porters there were many types of features, and in a curious way many of them resembled people we had known at home. One porter had the eyes and expression of a young north-side girl; another had the walk and features of a prominent young Chicago man; and so on.
Saa Sitaa was one of our brightest porters. His name means "Six O'clock" in Swahili, six o'clock in the native reckoning being our noon and our midnight. Just why he was given this significant name I never discovered. Perhaps he was born at that hour. It always used to amuse me to hear Abdi calling out, "Enjani hapa, Saa Sitaa"—"Come here, Six O'clock."
Baa Baa was a porter who always used to sing a queer native chant in which those words were predominant. He would sing it by the hour while on the march, and before long his real name was replaced by the new one. Henceforth he will, no doubt, continue to be Baa Baa. He was promoted from porter to camera-bearer, but one day he could not be found when most needed, and he was reduced back to the ranks. I never heard him sing again. His heart was broken.