Down on the Tana River the rhinos are more common than in any other known section of Africa. In two weeks we saw over one hundred—perhaps two hundred—of them—so many, in fact, that one of the chief diversions of the day was to count rhinos. One day we counted twenty-six, another day nineteen, and by the time we left the district rhinos had become such fixtures in the landscape as to cause only casual comment. Perhaps there were some repeaters, ones that were counted twice, but even allowing for that there were still some left. We saw big ones and little ones, old ones and young ones, and middle-aged ones; ones with long ears, short horns, double horns, and single horns; black ones and red ones—in fact, all the kinds of rhinos that are resident in British East Africa. One had an ear gone and another had a crook in his tail. If we had stayed another week we might have got out a Tana River Rhino Directory, with addresses and tree numbers. We studied them fore and aft, from in front of trees and from behind them, from close range and long range, over our shoulders, and through our cameras, every way whereby a conscientious lover of life and nature can study a prominent member of the Mammalia. We called the place Rhino Park because the country looks like a beautiful park studded with splendid trees and dotted with rhinos.
A Morning Walk on the Tana River
When I went to Africa I was equipped with the following fund of knowledge concerning the rhinoceros: First, that he is familiarly called "rhino" by the daring hunters who have written about him; second, that he is a member of the Perissodactyl family, whose sole representatives are the horse, the rhino, and the tapir; third, that he savagely charges human beings who write books about their thrilling adventures in Africa, and, finally, that he looks like a hang-over from the pterodactyl age. The books and magazine stories that have come out since Mr. Roosevelt made African hunting the vogue invariably describe the rhino as being one of the most dangerous of African animals. A charging rhino, a wounded lion, a cape buffalo, and a frenzied elephant are the four terrors of the African hunters. All other forms of danger are slight compared with these, and I was full to the guards with a vast and fearful respect for the rhino. I fancied myself spinning around like a pinwheel with the horn of a rhino as a pivot, and the thought had little to commend itself to a lover of longevity—such as myself, for instance.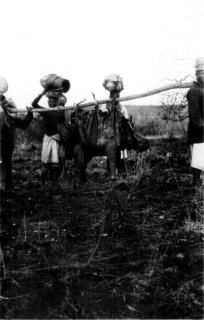 A Comfortable Hammock of Zebra Skin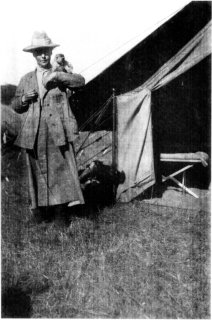 Mrs. Akeley and Her Tana River Monkey
After going to Africa and meeting some of the best members of the rhino set I was able to form some conclusions of my own, chief of which is the belief that he is dangerous only if he hits you. As long as you can keep out of his reach you are in no great danger except from the thorns.
The prevailing estimate of the rhino is that he is an inoffensive creature who likes to bask under the shade of a tree and watch the years go parading by. His thick skin and fierce armament of horns seem to make of him a relic of some long-forgotten age—the last survivor of the time when mammoths and dinosauruses roamed the manless waste and time was counted in geological terms instead of days and minutes. His eyes are dimmed and he sees nothing beyond a few yards away, but his hearing and sense of smell are keen, and he sniffs danger from afar in case danger happens to be to windward of him. His sensitive nose is always alert for foreign and, therefore, suspicious odors, and when he smells the blood of an Englishman, or even an American, his tail goes up in anger, he sniffs and snorts and races around in a circle while he locates the direction where the danger lies—and then, look out. A blind, furious rush which only a well-sped bullet can prevent causing the untimely end of whatever happens to be in the way. That is the popular estimate of the rhino.
Popular Conception of Rhino
Here are some of the conclusions I have formed: If the hunter carefully approaches the rhino from the leeward he may often come within a few yards of the animal and might easily shoot him in a leisurely way. The rhino can see only at close range and can smell only when the wind blows the scent to him. Consequently he would be defenseless and at the mercy of the hunter if it were not for one thing. Nature, in her wisdom, has sent the little rhino bird to act as a sentinel for the great pachyderm. These little birds live on the back of the rhino and, as recompense for their vigilance, are permitted to partake of such ticks and insects as inhabit the hide of their host. Whenever danger, or, in other words, whenever a hunter tries to approach their own particular rhino from any direction, windward, leeward, or any other way, the ever alert and watchful rhino birds sound a tocsin of warning. The rhino pricks up his ears and begins to show signs of taking notice. He doesn't know where or what the danger may be, but he knows the C.Q.D. code of danger signals as delivered to him from the outposts on his back and hastens to get busy in an effort to locate the foe. As a general thing the little birds, on sight of danger, begin a wild chatter, rising from the back of the rhino and flying in an opposite direction from the danger. Then they return, light on the rhino's back, and repeat, often several times, the operation of flying away from the danger. If the rhino is a wise rhino he learns from the birds which is the safe way to go and soon trots swiftly off. In a measure the habits of the rhino bird are as interesting as those of the rhino itself, and as an example of the weak protecting the strong, the Damon and Pythias relationship between bird and beast is without parallel in the animal kingdom.
Before and After the Rhino Birds Give the Alarm
The rhino is a peaceful animal. He browses on herbs and shrubs and dwells in friendly relationship with the rest of the animal kingdom. Perhaps once or twice a day he ambles down to some favorite drinking place for a drink, but the rest of the time he grazes along a hillside or stands or lies sleepily under a tree. At such times as the latter he may be approached quite near without much danger. Each day he also goes to a favorite wallowing place, where he rolls in the red dirt and emerges from this dirt bath a dull red rhino. In the rhino country dozens of these red dirt rolling places may be found, each one trampled smooth for an area of fifteen or twenty feet in evidence of the great number of times it has been used by one or more rhinos. This dirt bath is a defensive measure against the hordes of ticks that infest the rhino. It is a subject for wonder that the six or eight tick birds do not keep the rhino free of ticks, and it has even been argued by some naturalists that the rhino bird does not eat ticks, but merely uses the rhino as a convenient resting-place. Also perhaps they enjoy the ride. We had planned to get a rhino bird and perform an autopsy on him in order to analyze his contents, but did not do so.
The Ford of Tana River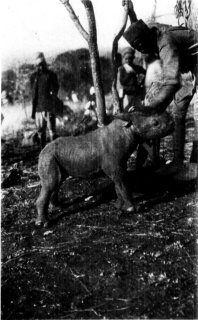 The Baby Rhino
After the rhino has taken his dirt wallow, and looks fine in his new red coat, he then slowly and painstakingly proceeds to kill time during the rest of the day. If danger threatens he becomes exceedingly nervous and excited. His anxiety is quite acute. In vain he tries to locate the danger, rushing one way for a few yards, then the other way, and finally all ways at once. His tail is up and he is snorting like a steam engine. When he rushes toward you in this attitude it looks very much as though he were charging you with the purpose of trampling you to flinders. As a matter of fact, or, rather, opinion, he is merely trying to locate where you are in order that he may run the other way. He looks terrifying, but in reality is probably badly terrified himself. He would give a good deal to know which way to run, and finally becomes so excited and nervous that he starts frantically in some direction, hoping for the best. If this rush happens to be in your direction you call it a charge from an infuriated rhino; if not, you say that he looked nasty and was about to charge, but finally ran away in another direction. In most rhino charges it is my opinion that the rhino is too rattled to know what he is doing, and, instead of charging maliciously, he is merely trying to get away as fast as possible. And in such cases the hunter blazes away at him, wounds him, and the rhino blindly charges the flash.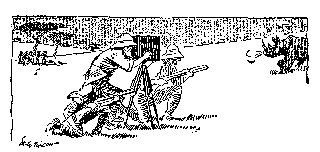 Trying to Provoke a Charge
It was our wish to get moving pictures of a rhino charge. Mr. Akeley had a machine and our plan of action was simple. We would first locate the rhino, usually somnolent under a thorn tree or browsing soberly out in the open. We would then get to the leeward of him and slowly advance the machine; Mr. Akeley in the middle and Stephenson and I on each side with our double-barreled cordite rifles. In case the charge became too serious to escape we hoped to be able to turn him or kill the rhino with our four bullets. If we were unsuccessful in doing so—well, we had to manage the situation by jumping.
Our first experience was most thrilling, chiefly because we expected a charge. We thought all rhinos charged, as per the magazine articles, and so prepared for busy doings. A rhino cow and half-grown calf were discovered on a distant hillside. We stopped in a ravine to adjust the picture machine and then crept cautiously up the hill until we were within about seventy yards of the unsuspecting pair. Then the rhino birds began to flutter and chatter and the two beasts began to sniff nervously. Finally they turned toward us, with tails erect and noses sniffing savagely. Now for the charge, we thought, for it was considered an absolute certainty that a rhino cow accompanied by its calf would always attack. We moved forward a few yards, clapped our hands to show where we were, and their attitude at once became more threatening. They rushed backward and forward a couple of times and faced us again.
By this time we knew that they saw us and our fingers were within the trigger guards. It was agreed that, if they charged, they should be allowed to come within forty feet before we fired, thus giving the picture machine time to get a good record. The situation was intense beyond description, and seconds seemed hours. When they started trotting toward us we thought the fatal moment had come, but instead of continuing the "charge," they swung around and trotted swiftly off in an opposite direction. As far as we could see them they trotted swiftly and with the lightness of deer, sometimes zigzagging their course, but always away from us. The charge had failed in spite of all our efforts to provoke it. The whistling and hand-clapping which we had hoped would give them our location without doubt had merely served to tell them the way not to go.
The moving picture record of a "charging rhino" would have been a brilliant success but for one thing—the rhino refused to charge.
During the following ten days we made many similar attempts to get a charge and always with nearly the same results. Once or twice we got within thirty yards before they finally turned tail after a number of feints that looked much like the beginning of a nasty charge. It was always intensely thrilling work because there was the likelihood that we might get a charge in spite of the fact that a dozen or so previous experiences had failed to precipitate one.
In several cases the first rush of the rhino was toward us, but instead of continuing, he would soon swing about and make off, four times as badly scared as we were. It seemed as though these preliminary rushes toward us were efforts to verify the location of danger in order to determine the right direction for escape. In all, we made between fifteen and twenty different attempts on different rhinos to get a charge, but with always practically the same result, yet with always the same thrill of excitement and uncertainty.

The End of the Charge
Comprehensive statistics on a rhino's charges are hard to obtain. The district commissioner at Embo told me that he had been ordered to reduce the number of rhinos in his district in the interest of public safety and that he had killed thirty-five in all. Out of this number five charged him. That would indicate that one rhino in seven will charge. Captain Dickinson, in his book, Big Game Shooting on the Equator, tells of a rhino that charged him so viciously that he threw down his bedding roll and the rhino tossed it and trampled it with great emphasis, after which it triumphantly trotted away, elated probably in the thought that it had wiped out its enemy. A number of fatalities are on record to prove that the rhino is a dangerous beast at times, and so I must conclude that the rhino experiences we had were exceedingly lucky ones, and perhaps exceptional ones in that respect.
In only one instance was it necessary for us to kill a rhino and even then it was done more in the interest of photography than of urgent necessity. On our game licenses we were each allowed to kill two rhinos, and as I wanted, one of the Tana River variety it was arranged that I should try to get the first big one with good horns. After a hunt of several hours we found two of them together out on the slope of a long hill. Our glasses showed that one of them was quite large and equipped with a splendid front horn nearly two feet long and a rear horn about a foot long. At the lower slope of the hill were two or three trees that screened our approach so that we were easily enabled to get within about one hundred and fifty yards of them without danger of discovery. From the trees onward the country was an open prairie for two or three miles.
Armed with a double-barreled cordite rifle and the comforting reflection that the chances were seven to one that the rhinos would not charge, I slowly advanced alone toward the two rhinos. Behind me about fifty yards was the long range camera and a second gun manned by Mr. Stephenson. When fifty yards from the rhinos I stopped, but as no offensive tactics were apparent in the camp of the enemy, I slowly walked forward to thirty-five yards. Then they saw me. They faced me with what seemed like an attitude of decided unfriendliness. Their tails were up and they were snorting like steam engines. When the big one started toward me I fired and it fell like a log. The other one, instead of thundering away, according to expectations, became more belligerent. It ran a few steps, then swung around, and I felt certain that it was going to avenge the death of its comrade. The camera brigade rushed forward, clapping their hands to scare it away, as there was no desire to kill both of the animals. But it refused to go. It would sometimes run a few steps, then it would turn and come toward us. It was evidently in a fighting mood, with no intention of deserting the field of action. Finally by firing shots in the air and yelling noisily it turned and dashed over the side of the hill. The photograph, taken at the instant the big rhino was struck, was remarkably dramatic and showed one rhino in an aggressive attitude and the other just plunging down from the shot of the big bullet.
The front horn of the dead rhino was twenty and three-quarters inches long and in many places the animal's hide was over an inch thick. Strips of this were cut off to make whips, and a large section was removed to be made into a table top. These table tops, polished and rendered translucent by the curing processes, are beautiful as well as extremely interesting. The rhino's tongue is even more delicious to eat than ox tongue and rhino tail soup is a great luxury on any white man's table; while the native porters consider rhino meat the finest of any meat to be had in Africa. The conscience of one who slays a rhino is somewhat appeased by the fact that a hundred native porters will have a good square meal of wholesome meat to help build up their systems.
A Real Rhino Charge
Our expedition sustained only one real rhino charge. One day Mr. Stephenson stumbled on a big cow rhino that was lying in the grass. The meeting was as unexpected to him as to her, and before he could count five she was rushing headlong toward him. He clapped his hands, whistled, and shouted to turn her course, but she came on, snorting loudly and with head ready to impale everything in its way. Stephenson did not want to kill her, neither did he desire to be killed, so when all other means had failed he fired a soft nose bullet into her shoulder in the hope that it would turn her away without seriously hurting her. The bullet seemed to have no effect and she did not change her course in the slightest degree. By this time she was within a short distance of Stephenson, who was obliged to run a few feet and take refuge behind a tree.
The Sultan Looked Like an American Indian
In the Thorn Brush on the Tana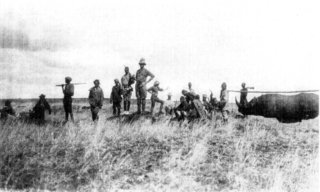 The Dummy Rhino
The gunbearers and porters, who had fled in all directions, thought that Stephenson was caught, but the rhino, passing him with only a small margin of five feet, continued thunderously on her way. In a few yards she slowed down, and when last seen was walking. She had evidently been hit very hard by the soft nose bullet and was already showing signs of sickness. Suddenly a terrific squealing made the party aware that the cow rhino had been accompanied by a little rhino calf. The calf, only a couple of weeks old, charged savagely at every one in sight and every one in sight took refuge behind trees and bushes. Instead of trying to escape, the animal turned and continued to attack in all directions whenever a man showed himself. When a man leaped behind a tree the calf would charge the tree with such force that it would be hurled back several feet, only to spring up and charge again. His squealing could be heard for a mile. After a long time the porters succeeded in capturing it and they conveyed it back to camp strung on a pole. If that little rhino was any criterion of rhino pugnacity, then surely the rhino is born with the instinctive impulse to charge and to fight as savagely as any animal alive.
We fed our little pet rhino on milk and then swung it in a comfortable hammock made of zebra skin. In this more or less undignified fashion it was carried by eight strong porters to Fort Hall, two marches away, where it lived only a week or ten days and then, to our sorrow and regret, succumbed from lack of proper nourishment.
Retiring in Favor of Rhino
Sometimes, when the safari is marching through bush country, the rhino becomes an element of considerable anxiety; An armed party must precede the caravan and clear the route of rhinos, otherwise the porters are likely to be scattered by threatened charges. It is no uncommon sight to see a crowd of heavily laden porters drop their loads and shin up the nearest tree in record time. Consequently, strong protective measures are always demanded when a long train of unarmed natives is moving through bush or scrub country where there are many rhinos.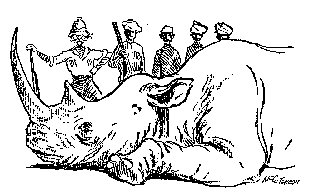 Favorite Way of Being Photographed
The lower Tana River country is admirably adapted to the life habits of the rhinos. Formerly the district was well settled by natives, but now, owing to the fever conditions prevailing there, the natives have all moved away to more wholesome places and only the forlorn remains of deserted villages mark where former prosperity reigned. The country has been abandoned to game, with the result that it has been enormously increasing during the last few years. In addition to the great numbers of rhinos there are big herds of buffalo, enormous numbers of hippo in the river, and many small droves of eland. Waterbuck, bushbuck, steinbuck, impalla, hartebeest and zebra dwell in comparative immunity from danger and may be seen in hundreds, grazing on the hills or in the woods that fringe the river. It is a sportsman's paradise, if he manages to escape the fever, and we enjoyed it tremendously, even though we shot only a hundredth part of what we might easily have shot. The charm of hunting in such a region lies in what one sees rather than in what one kills.