Kevin Robertson Books
Kevin Robertson (b.1961) is a South African veterinarian and professional hunter, renowned for his books on African animal shot placement.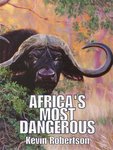 Africa's Most Dangerous by Kevin Robertson (2007) is about hunting the Cape or southern buffalo. The book discusses anatomical features, differences between bulls and cows in the field, distribution and natural history, favorite calibres, what constitutes a good trophy, when a buffalo should not be shot, the African tracker, bow hunting, selecting rifle sights, trophy evaluation, hunting accessories and more. He also gives his views and insights as to the suitability of the various bullet and rifle types.

The Perfect Shot: Shot Placement For African Big Game by Kevin Robertson (2000). Africa has more varieties of big game than any other continent and almost all these animals have very different 'kill zones'. Each animal is shown in a colour field picture as well as a colour 'ghost view' that illustrates the shoulder bones, heart, lungs and brain so you will know precisely where to place your shot.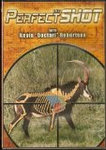 The Perfect Shot by Kevin Robertson. DVD (2 hours) from Amazon.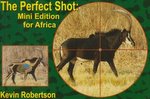 The Perfect Shot: Mini Edition For Africa by Kevin Robertson (2005) is a pocket-sized abridged version of Robertson's 'The Perfect Shot: Shot Placement for African Big Game'.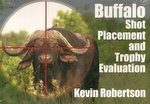 Buffalo: Shot Placement And Trophy Evaluation by Kevin Robertson (2008) is a handy pocket-sized guide on shot placement and trophy evaluation focusing solely on the Cape buffalo.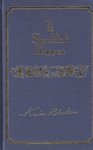 It Shouldn't Happen: Light-Hearted African Adventures by Kevin Robertson (2008). Over the years Robertson has had a number of funny, interesting and sad encounters. Now he has committed these stories to paper and we get to read some of the silly things he, his friends and his clients have done.
Nyati: The Art Of Hunting The African Buffalo by Kevin Robertson (1996) is one of the most comprehensive works ever compiled on buffalo hunting and takes the reader on an adventure which does not feel like you are reading some scientific research data but a story which is filled with humour, fact files, natural history of the buffalo, rifle and calibre choices, tracking and all kinds of advice for novice and experienced hunters.
Nyati: A Guide To Hunting Zimbabwe's Most Dangerous Big Game The Southern Buffalo by Kevin Robertson (1996) covers everything you need to know about buffalo hunting - natural history, trophy evaluation, shot placement, rifles, cartridges, accessories, trophy handling and more. Includes a colour map of Zimbabwe's buffalo population. This book is considered one of the best books on the African buffalo.