South Africa Travel
South Africa Travel - South Africa is at the southernmost tip of the African continent. It is bordered by Botswana and Zimbabwe in the north, Mozambique and Swaziland in the north-east and Namibia in the north-west. The Indian Ocean on the east coast and Atlantic Ocean on the west coast join forces on the south coast. South Africa completely surrounds Lesotho. South Africa is a country of stunning scenery, from mountains and deserts to dramatic coastlines.
South Africa Travel Facts
Formerly: Union of South Africa
Capital: Pretoria (administrative), Cape Town (legislative)
Area: 1,219,912 km2
Population: 48,782,756
Language: English, Afrikaans and 9 indigenous languages
Currency: Rand (ZAR)
Electricity: 220V/50HZ (Plugs Three round pins arranged in a triangle)
South Africa Map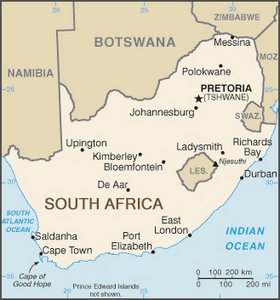 Getting To South Africa
South African Airways operates from Johannesburg worldwide.

Delta Air Lines operates from the US to Johannesburg, South Africa.
Lufthansa operates from Frankfurt to Johannesburg.

British Airways operates from London to Johannesburg.
KLM operates from Amsterdam to Johannesburg and Cape Town. Remember you will need the Dutch Consent document for transit in Amsterdam.
South Africa Travel Health
Vaccinations/boosters are strongly recommended for:
Prophylactic precautions are strongly recommended for:
Malaria for travel to Kruger National Park, Mpumalanga and northern KwaZulu-Natal.
Other health hazards:
South Africa Visa
South Africa visa and passport information includes all application instructions and visa application form downloads.
Visa and Passport Requirements For US & UK Citizens
No visa is required by US or UK citizens, provided....
The stay is no longer than 90 days, though the maximum period allowed will be decided by the immigration officer at the port of entry.
They hold a passport valid at least 6 Months
The passport must contain at least 5 blank pages total. Note: The last three pages in the passport are reserved for Passport Amendments and cannot be used as visa pages.
They hold confirmed onward/return tickets
They hold proof of sufficient funds
Should a person be of an nationality to require a visa and is applying from the US or UK....
Submit your Passport, must be valid at least 6 months beyond intended stay
1 Visa Application Form, fully completed in Black Ink and signed
2 Recent passport-type photographs in colour (black & white or scanned photographs are not acceptable)
Copy of current Medical Insurance Policy showing details of coverage
Copy of round trip airline tickets
Copy of hotel confirmation(s) for the duration of intended stay
Documentation supporting purpose and duration of visit.
If applying in the US:
Copy of U.S. Alien Registration (GREEN) Card -OR- proof of legal residence in the U.S.A. with valid U.S. visa, if returning to the United States.
If applying in the UK:
Proof of legal residence in UK
Consular Fee: $72.00 per visa - single-entry tourist visa
Consular Fee: £35.00 per visa - single-entry tourist visa
Application Forms
South Africa Embassies
South Africa Embassy in US
3051 Massachusetts Avenue NW, Washington, DC 20008
Tel: (202) 232-4400
Fax: (202) 265-1607
Website: http://www.saembassy.org
South Africa Embassy in UK
South Africa House, Trafalgar Square, London, WC2N 5DP
Tel: 020 7451 7299
Fax: 020 7451 7283
Website: http://www.southafricahouse.com
US Embassy in South Africa
877 Pretorius St., Arcadia 0083
Tel: (12) 431-4000
Fax: (12) 342-2299.
Website: http://southafrica.usembassy.gov
UK Embassy in South Africa
255 Hill Street Arcadia 0002 Pretoria
Tel: (12) 483 1200
Fax: (12) 483 1302
Email: media.pretoria@fco.gov.uk
Website: UK In South Africa: British High Commission, Pretoria
Recommended Reading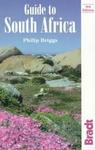 The Bradt Travel Guide to South Africa is full of information for making the most of a stay in South Africa. Game parks, coastal regions and cities are all covered.
South Africa Travel Resources