Warthog Hunting
Some hunters really love hunting warthog, taking as many as possible on a southern African hunt.
Warthog Trophy Minimums
Phacochaerus aethiopicus (Warthog)
RW Minimum
RW Record
RW Measurement Method
SCI Minimum
SCI Record
SCI Measurement Method
13"
24"
6
29"
342/16"
12
Warthog Facts
Habitat and Requirements
Warthogs have a wide habitat tolerance but prefer open woodland savannahs.
Social Structure
They are normally found in family groups.
Warthogs have the habit of kneeling on the front knees while feeding and foraging.
They shelter in burrows at night, which they enter tail first.
Socially, three main groups are encountered, namely solitary boars, bachelor groups and matriarchal groups.
Gestation Period
After a gestation period of 5-6 months, 3 or 4 piglets are usually born.
Warthog Gender Identification
Males are bigger than females in body and tusk.
Females only have 1 set of facial warts, closer to the nostrils.
Males have another pair of warts near the eyes which serve as protection during fights.
Warthog Hunting Methods
Spotting, walking and stalking the likely habitats.
A Good Warthog Trophy
Upper tusk length is the usual criteria for a good warthog which are easily seen. If you see at least 10" sticking out, go for it.
Remember about 1/3 of the tusk length is embedded in the jaw.
Check that both tusks are present and that one is not broken.
Warthog Hunting Shot Placement
Warthog Pictures
(Place cursor over photographs to enlarge)
Recommended Reading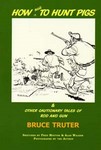 How Not To Hunt Pigs & Other Cautionary Tales Of Gun & Rod by Bruce Truter are stories from the pen of a true outdoorsman. They vary from the amusing through to the serious concerns about wildlife and wilderness issues.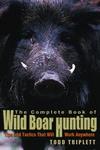 The Complete Book Of Wild Boar Hunting: Tips And Tactics That Will Work Anywhere by Todd Triplett. Covers hunting wild boar across North America and around the world. He hunts javelina in the southwest US and the warthog in Africa. Includes preparing wild boar for the table and the taxidermist, plus a host of tips for a successful hunt.
More African Game Animals
Related Topics