Terms And Conditions
For
How To Become A Professional Hunter In Africa
And
Run A Successful Hunting Safari Company
eBook by Steve Robinson
2nd Edition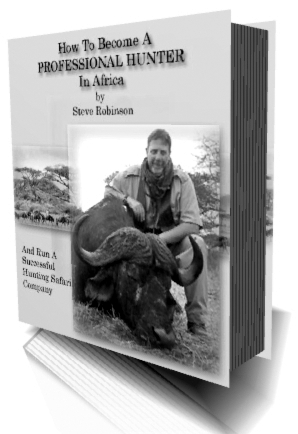 All the content in our own ebooks products - is copyright &copy Steve Robinson. All rights reserved.
You may not reproduce, in any form, any of the content, including photographic images, in our eBook products without our written permission.
All eBook orders placed directly from www.shakariconnection.com are completely secure and handled by ClickBank.
These third-party payment processing services use industry-standard SSL encryption on all personal and financial information submitted during the transaction - and we do not have access any of your financial data.
Immediately following payment you will receive a link which enables you to download your eBook, and start reading it within a minute or two.
Our eBooks are in the Adobe Acrobat file format (PDF file). If your computer doesn't have the Adobe software, you can easily download and install it for free from Adobe
Our eBooks are intended for informational purposes only and represent our experience and knowledge as of the date they are published.
We have made every effort to verify the content of our eBooks but we cannot be held liable for any omissions, errors, or inaccuracies in the content.
We cannot be responsible for the results readers may or may not achieve from applying the information published.