Mens Safari Shop
Thank you for visiting our new Men's Safari Shop
Shakari Connection is delighted to partner with The Safari Store, based in the UK, to bring you a range of the finest men's safari clothing. All the clothes have stood up to rigorous field testing in Africa, the insect repellent 'BUGTech' clothing range have been fully tested for their repellent qualities and the whole men's clothing range has been tested for sun protection and moisture wicking.
Not only are the men's safari clothes proven to work on an African safari - they look really good too.
Please note, this page contains affiliate links, which means Shakari Connection receives a commission if you make a purchase using these links.
Men's Safari Shop Clothes
Are lightweight.
Made of cool, strong Ripstop fabric.
Have anti-bacterial technology so smell fresh for much longer when unwashed.
Have various useful pockets, some with velcro closure for easy access.
Have a vent system to increases air flow around your body.
Have a feminine cut.
Are moisture wicking.
Are quick drying.
Have roll-up sleeve tabs (long sleeved shirts only).
SPF50+ sun protection.
Note: Insect repellent fabric is only used in the men's 'BUGTech' range.
Check out the range of men's safari shirts...Click here to choose your safari shirt size, colour and sleeve length.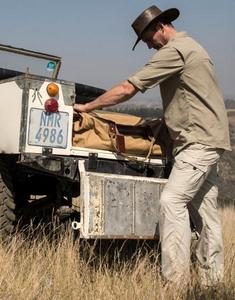 The men's safari trousers or pants are convertible - shorts and trousers in one. They have a comfortable elastic waist with belt loops and lots of pockets.
APU Boots
These Rufiji APU Boots were designed for, extensively tested by and used by the Anti-Poaching Unit of Hluhluwe-Umfolozi Game Reserve in South Africa. They are made of genuine wildebeest hide boots are perfect for long days of trekking through the African bush.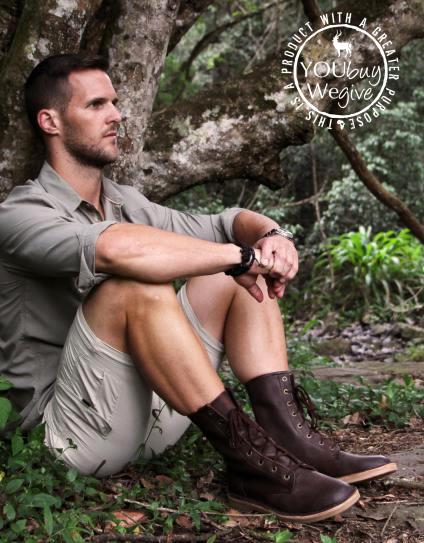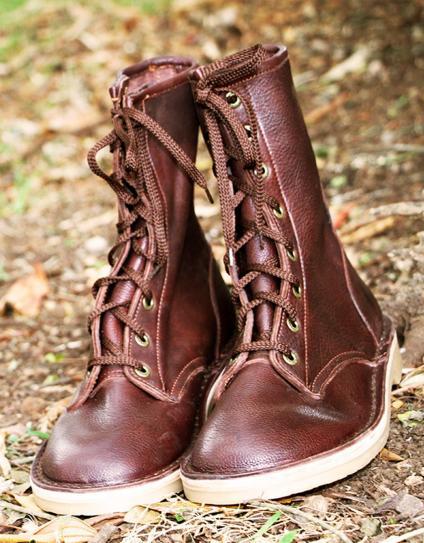 You Might Also Like...
Click images to enlarge
A Word About RID Insect Repellent
RID is an Australian medicated insect repellent that has been protecting Australian people from most types of insect bites since 1956.
However, it has been extensively tested in Africa (Tanzania, Mana Pools, Zimbabwe and Botswana) against tsetse flies by The Safari Store with interesting results.
RID Tropical Strength Roll-on was found to provide 100% protection against tsetse flies in those areas for one hour after application. One hour might seem a paltry length of protection time but, as all hunters in country thick with tsetse flies will attest, just one hour of relief wpuld be a godsend. Get the full details about RID Insect Repellent
Please Note...
Before you purchase, please check out your garment size carefully using The Safari Store size chart. UK sizing is used.
The Safari Store offers worldwide delivery on all their products.
Discount For Shakari Connection Visitors Only
If you buy anything from The Safari Store via Shakari Connection or directly, you will receive up to 10% off your purchases.
Just enter the unique discount code shakaricon in the promotion or voucher box in your shopping basket before you check out.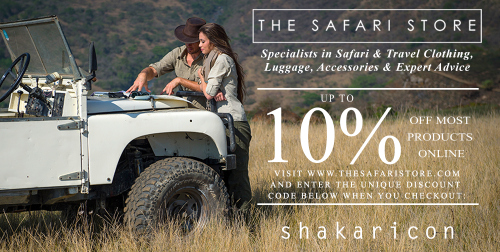 The Safari Store 'You Buy, We Give' Project
You might be interested to know about The Safari Store's supremely practical project to help local African communities and wildlife conservation...
If you buy a Mara & Meru The Everything Bag, they donate a 'Wonderbag' which is a simple but non-electric heat-retention cooker. This essentially frees up the time local women usually spend cooking on either open fires or electric hobs, thus saving on the amount of firewood, charcoal or electricity used. The 'Wonderbags' are also donated to Anti-Poaching Units (APUs) to use in the field to cook their food. Read more about 'Wonderbags'
If you buy a pair of Men's APU Boots which are ideal for hunting or just walking in the bush, a pair of the same boots is donated to an Anti-Poaching Unit.
In fact if you buy any of the Mara & Meru safari clothing range, any of Mara & Meru The Everything Bag attachments, SafariSUN sunscreen or a decorative wire acacia tree (made out of collected poachers wire snares), a percentage of the profit will go into The Safari Store 'Safari Impact' pot. This money will go towards communities or conservation where ever it is most needed - for example, new binoculars for the APUs or fences for the local game reserves, etc.
More From The Safari Store & Shakari Connection