Hello


Shakari Connection Bookshelf Newsletter
Issue 007 | November 2012
Here are my book choices for you in November...7 African hunting books and 1 great Indian tiger hunting book. I hope you enjoy them!
I'll soon be starting a Classic African Hunting Book section on the Bookshelf and would love to know your ideas on absolute 'must-reads' for anyone starting out on this addictive reading pathway. Please Email
Don't forget, we would really enjoy reading your African hunting book reviews.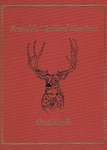 Around The World And Then Some by David Hanlin & Bill Quimby (2010) There is very little in Hanlin's lifetime he did not hunt and he was fortunate enough to take dozens of trips to Asia and Africa as well as many trips to Canada and the western United States. After you have shot a Grand Slam, a Super Slam, the Big Five, all the spiral-horn antelope of Africa and virtually everything in North America, you have a lot of stories to tell. Hanlin's book contains the highlights of his hunting career, the funny episodes, the mishaps and the unusual.
---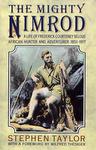 Mighty Nimrod: A Life Of Frederick Courteney Selous, African Hunter And Adventurer 1851-1917 by Stephen Taylor (1989) A fascinating biography of Frederick Courteney Selous 'The Mighty Nimrod' African Big Game Hunter and adventurer, his association with the likes of Cecil Rhodes and the great gold discovery, Theodore Roosevelt and his big game hunting adventures, the Boer war, commanding respect of African tribal leaders and more.
---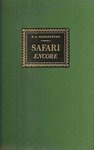 Safari Encore by Fred A Wardenburg (1950) is a diary of a trip the author made to a number of African countries in 1950. From French Equatorial Africa to Nairobi and south to Victoria Falls and South Africa.
Fred Wardenburg's earlier African safari book is...
Operation Safari (1948) which recounts a photographic safari to Kenya and Tanganyika in 1948 with Syd Downey.
---
Ku-Winda by Otto A Koehler (1956). Hunting in Kenya and Tanzania arranged through Bunny Allen. The PHs were Jack Blackwall and Lord Allen North. A step-by-step, nuts-and-bolts, guide to preparing for and going on a safari.
---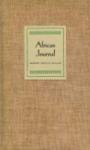 African Journal: 1953-1954 by Henry Philip Staats (1954). East African hunting with Syd Downey as PH. They visited Miles Turner and met a host of other notables from this golden era. Very scarce privately printed title.
---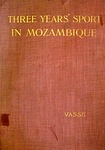 Three Years' Sport In Mozambique by William Vasse (1909) Translated from French by R & H M Lydekker. Guillaume Vasse (even his name was translated) sailed to Mozambique in 1904 to enjoy an extended hunting trip. In the foothills of the Drakensburg, he collected klipspringer and bushbuck, then travelled to the Zombi River where he bagged sable. Near the Pungwi River, Vasse hunted eland, hartebeest, waterbuck and buffalo. Numerous leopard were bagged in the region, as well as elephant. Continuing on to the Sungwi River, he also collected a number of lion. Entering the Zambezi, hippopotamus and kudu were hunted.
---
Call Of The Tiger by Col A N W Powell (1957) is an account of the author's numerous hunts for Indian big game including tiger and panther in the Siwalik Hills, goral, bear and panther in the Himalayas and the huge Asian wild buffalo as well as other game.
I've just finished this book and it is a fantastic read. Colonel Powell takes us through all his Indian hunts from when he was a raw beginner making 'glaring mistakes', his experiments using tiger calls because he hated using live baits, and ending the book with his opinions on 30 controversial, practical tiger hunting questions of his era.
---
Finally this month, a book that has been top of our bestseller list for most of this year....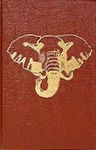 A White Hunter's Life by Angus MacLagan (1983) is the story of a professional white hunter in Africa in a time we will never see again. Hunting elephant, lion, leopard, buffalo, crocodile, plains game and more in Rhodesia in the early part of the 20th century. Angus MacLagan died in 1950.
---
If you like this newsletter, please do me a big favour and "pay it forward."
If a friend did forward this to you and if you like what you read, please subscribe by visiting Shakari Connection Bookshelf
Join us on Facebook...

Good Reading & Good Hunting