Hello


Shakari Connection Bookshelf Newsletter
Issue 001 | 24th January 2011
The Shakari Connection Bookshelf Newsletter brings you the latest additions to the African hunting bookshelf.
I first must tell you about the book that Steve gave me for Christmas which he bought via Abebooks from the US.
Having read and thoroughly enjoyed 'Legends of the Field' by W Robert Foran, I was keen to read more Foran books so I kind of hinted I'd like 'Kill Or Be Killed'.
An immaculate old copy arrived but what was more interesting was it was neatly embossed on several pages by the last owner with his name and initials. Even better, he had highlighted a few significant passages which indicated to me he was a hunter and sportsman in the true sense of the word.
I couldn't resist trying to find out more about this gentleman....
I found that he had passed away in March 2010 at the ripe old age of 88. He was born in Nebraska and lived his life in Oregon. He entered the Navy in 1940 and was commissioned to the U.S.S Phoenix during WWII. He was present at Pearl Harbor and every major naval battle in the Pacific. He was an avid hunter and fisherman who loved the outdoors.
I would love to learn whether he ever hunted Africa but I am proud to be the owner of his book and I'm sure he would be delighted to know his book has found its way to Africa.
I've been digging around for some 'new' old African hunting books to tell you about and I've picked out a mixed bag which may be of interest....
For those interested in historical Africana, we have Leo Walmsley
Leo Walmsley (1892 - 1966) was an English writer and sportsman. During World War I he served as an observer with the Royal Flying Corps in East Africa, was mentioned in dispatches four times and was awarded the Military Cross. After a plane crash he was sent home and eventually pursued a literary career.
TheSilver Blimp: A Story Of Adventure In the Tropics by Leo Walmsley (1921) is the author's uncommon first novel. British and natives with an unstoppable silver blimp versus the Germans in Africa.
---
Following on with the blimp/balloon theme, there is Anthony Smith's tale of his balloon expedition from Zanzibar to the Serengeti in the 1960s.
Throw Out Two Hands: Balloon Safari Over Africa by Anthony Smith (1963). The goal in this particular adventure was to prove that the observation of animals in the wild without frightening and sending them running for miles was best done from a balloon. However, what seemed simple in concept became a complicated and major effort of organisation. By 1962, the expedition was eventually ready for Anthony Smith and his colleagues Douglas Botting and Alan Root to take their place in their tiny basket. Apart from many other things the plan, executed despite all the dangers and complexities of pursuing any plan in the gigantic world of Africa, was to make a number of captive and free flights from Zanzibar in the east to the Serengeti plains of Tanganyika in the west. Reading a book like this, it is difficult not to want to become a balloonist immediately.
---
For the sporting firearm historians, you may be interested in a book by Roger Phillips & Jerome J Knap about the Ross rifle.
Sir Charles Henry Augustus Frederick Lockhart Ross, 9th Baronet (1872 - 1942) was an inventor and commercial entrepreneur who invented the often controversial straight-pull actioned Ross Rifle. Ross became a lieutenant in the 3rd Battallion, the Seaforth Highlanders and served in the Second Anglo-Boer War. He designed the Ross rifle, which was initially used by his own Machine Gun Battery during the Boer War. He was a captain in Lovat Scouts Yeomanry from 1904 to 1913 and an advisor on small arms to the Canadian Government. During World War I the Ross rifle was mass-produced for the Canadian army. Sporting rifles bearing the Ross name were also popular for a time after the First World War, as was the .280 Ross sporting rifle cartridge.
Sir Charles Ross And His Rifle by Roger Phillips & Jerome J Knap (1969) is a well-illustrated and authoritative booklet covering the Ross rifle and its inventor.
---
On the history of safari in Africa and the cinematic image of Africa, we have 2 books by Kenneth Cameron
Into Africa: The Story Of The East African Safari by Kenneth M Cameron (1990) traces the history of safari from its origins in trade to the extravagances of the safari's golden age in the 1920s and 1930s. It covers the safaris of Teddy Roosevelt, Ernest Hemingway, George Eastman, Baron Rothschild, the Prince of Wales and more.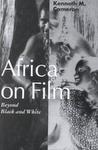 Africa On Film: Beyond Black And White by Kenneth M Cameron (1994) is a well-researched examination of the myths and misconceptions of African life and culture that have come to us through the movies. Cameron reveals how the cinematic image of Africa - from white hunters to mummies - tells more about the filmmakers than the continent, its people or its cultures.
---
For unusual African hunting read about the exploits of Charles Jesse 'Buffao' Jones by Robert Easton & Mackenzie Brown
Charles Jesse Jones, known as Buffalo Jones (1844 - 1919) was an American frontiersman, farmer, rancher, hunter and conservationist. In 1909 Jones persuaded the Massachusetts industrialist Charles S Bird to finance a game-catching expedition to Kenya. Along with two cowboys (Marshall Loveless and Ambrose Mearns), white hunter Ray Ulyate, several expert horsemen with their own American cow ponies and many porters, Jones travelled to Nairobi. They roped warthogs, elands, zebras, rhinoceros and a lioness, which lived at a zoo in New York until 1921. Jones also employed two filmographers who documented his activities. He then showed his films across the United States, including a performance at Carnegie Hall in New York City, in which he narrated the highlights of his hunting trip. In 1914, Jones organized a second but unsuccessful African hunting trip for a gorilla.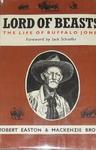 Lord Of Beasts: The Saga Of Buffalo Jones by Robert Easton & Mackenzie Brown (1961) is the tale of an extraordinary man - frontiersman, buffalo hunter (who later turned to their conservation and cross breeding them with domestic cattle), Indian fighter and more. He was an expert with the lasso and in his time lassooed rhino, lion, gorillas among many other exotic species in the wild. A most entertaining read about an extraordinary man.
---
Finally, for this newletter edition, we have the memoirs of a modern hunting client Daniel J Donarski Jr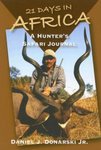 21 Days In Africa: A Hunter's Safari Journal by Daniel J Donarski Jr (2008) is a personal and chatty account of a three-week safari in contemporary South Africa. Entertaining narrative with much useful advice for hunters keen on following the author's example. It contains suggestions for planning your own African safari, with tips on rifle and bullet selection, travel insurance, clothing and pre-safari preparations, including physical fitness and filling out the numerous required forms. Includes hunting wildebeest, bushbuck, reedbuck, eland, gemsbok, impala, kudu, nyala, hartebeest, springbok, warthogs, genets, jackals, baboons and zebras. The author specifically does not deal with lion, leopard, elephant, rhino and Cape buffalo.
---
If you like this newsletter, please do me a big favour and "pay it forward."
If a friend did forward this to you and if you like what you read, please subscribe by visiting Shakari Connection Bookshelf
Good Reading & Good Hunting