Theodore Roosevelt Books
Theodore Roosevelt (1858 - 1919), also known as TR, and to the public (but never to friends and intimates) as Teddy, was the twenty-sixth President of the United States. In March 1909, shortly after the end of his presidency, Roosevelt left New York for a safari in east and central Africa.
Roosevelt's party hunted for specimens for the Smithsonian Institution and for the American Museum of Natural History in New York. The group was led by the legendary professional hunter R J Cuninghame and was joined from time to time by Frederick Selous. Among other items, Roosevelt brought with him four tons of salt for preserving animal hides, a lucky rabbit's foot, an elephant-rifle and the famous Pigskin Library, a collection of classics bound in pig leather and transported in a single reinforced trunk.
Roosevelt and his companions killed or trapped more than 11,397 animals, from insects and moles to hippopotamuses and elephants. These included 512 big game animals, including six white rhinos. The expedition consumed 262 of the animals. Tons of salted animals and their skins were shipped to Washington and it took years to mount them all.
Please note, this page contains affiliate links, which means Shakari Connection receives a commission if you make a purchase using these links.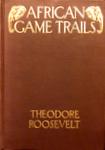 African Game Trails by Theodore Roosevelt (1910) is about the famed safari of the noted sportsman, conservationist and President. This book is one of the most famous of all big-game hunting books and was almost continuously in print until the 1930s. In British East Africa, Roosevelt hunted lion and plains game on the Kapiti Plains, while, in the Bondoni hill country, he collected rhinoceros and giraffe. On Juja Farm, his son Kermit hunted leopard, while Roosevelt bagged rhino and hippopotamus. On the Kamiti River, buffalo were taken, near the Sotik, additional rhino and lion were hunted, with elephant bagged near Mount Kenya. On the Guaso Nyiro, giraffe and a variety of plains game were shot. Further adventures included hunting elephant near Lake Nyanza, rhino and plains game in the Lado and eland on the Nile. Free eBook Kindle Version
Theodore Roosevelt with Kermit & Alfred Pease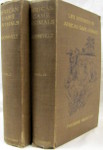 Life Histories Of African Game Animals by Theodore Roosevelt and Edmund Heller (1914) 2 Volumes. Hunting throughout Africa with information on nearly every species of game animal broken down by country. The most definitive hunting book authored by Roosevelt. Free eBook Vol I Free eBook Vol II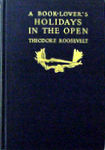 A Book-Lover's Holidays In The Open by Theodore Roosevelt (1916). Stories of hunting cougar in the Grand Canyon, ranch life and travel in Argentina, Brazil, Chile, Patagonia, hunting in South America and Africa, hunting moose in Quebec and chapters on native Americans. Free eBook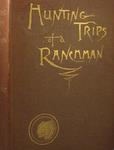 Hunting Trips Of A Ranchman: Sketches Of Sport On The Northern Cattle Plains by Theodore Roosevelt (1885) provides vivid portraits of the land as well as the people and animals that inhabited it, underscoring Roosevelt's abiding concerns as a naturalist. This book chronicles Roosevelt's adventures tracking a twelve-hundred-pound grizzly bear in the pine forests of the Bighorn Mountains. Free eBook Kindle Version
Through The Brazilian Wilderness by Theodore Roosevelt (1914). At the age of fifty-five, Theodore Roosevelt took part in an expedition to the far reaches of the Amazon. This book is Roosevelt's journal during the expedition into the unknown in the name of science. Free eBook Kindle Version
East Of The Sun And West Of The Moon by Theodore Roosevelt & Kermit Roosevelt (1926) is a very important Asian sheep hunting classic. Ovis poli, ibex, wapiti and bear hunting in the Tian Shen, Mountains of Ladakh. Free eBook
Theodore Roosevelt DVD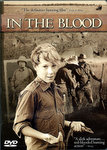 In The Blood is a film by George Butler of two hunting safaris separated by eighty years. The first, taken by Theodore Roosevelt in 1909, is captured through vintage footage and photography. The second is taken by Roosevelt's grandson in 1986, as he shoulder's the famed president's rifle and, accompanied by his young son, follows in the footsteps of elephants and crocodiles. R L Wilson was involved in the filming of this documentary. DVD 90 mins.
Theodore Roosevelt's African Safari, 1909 - Part 1 of 4
Theodore Roosevelt's African Safari, 1909 - Part 2 of 4
Theodore Roosevelt's African Safari, 1909 - Part 3 of 4
Theodore Roosevelt's African Safari, 1909 - Part 4 of 4
Books About Theodore Roosevelt:
Darrin Lunde
The Naturalist: Theodore Roosevelt, A Lifetime Of Exploration, And The Triumph Of American Natural History by Darrin Lunde (2016) is an account of how Theodore Roosevelt's lifelong passion for the natural world set the stage for America's wildlife conservation movement. The book draws on Roosevelt's diaries and travel journals which culminated in his triumphant expedition to Africa, a trip which he himself considered to be the apex of his varied life.
Chester R Stratton
Thrilling Adventures In The Wilds Of Africa: Including The Renowned Roosevelt Hunt by Chester R Stratton (1909) is from the time when 'thrilling adventure' books were very popular due to the exploits of Roosevelt and others travelling in unknown Africa, in search of lions, rhinos, elephants and other ferocious beasts. The descriptions include miraculous escapes, curious customs and marvellous discoveries.
R L Wilson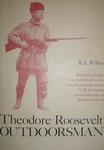 Theodore Roosevelt: Outdoorsman by R L Wilson (1971) is a biography written by one of America's foremost authorities on Winchester and Colt firearms. It covers not only Roosevelt's love of hunting and conservation but relates the planning for his African trip and the American rifles he arranged to use for his adventure.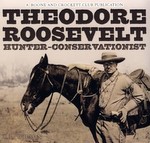 Theodore Roosevelt: Hunter-Conservationist by R L Wilson (2010) was published by the Boone and Crockett Club and is a sweeping view of the outdoor life of the rancher, explorer, soldier, statesman, author, 26th President of the United States.
All R L Wilson books
John Seerey-Lester
The Legendary Hunts Of Theodore Roosevelt by John Seerey-Lester (2015) contains full page paintings depicting the hunting adventures of Theodore Roosevelt in North America, Africa and Brazil.
Other books by John Seerey-Lester
Related Theodore Roosevelt Books:
Elliott Roosevelt & Anna Eleanor Roosevelt
Elliott Bulloch Roosevelt (1860 - 1894) was the father of First Lady Eleanor Roosevelt and the younger brother of Theodore Roosevelt.
Anna Eleanor Roosevelt (1884 - 1962) was Elliott Bulloch Roosevelt's daughter and Theodore Roosevelt's niece. In 1905, Eleanor married her fifth cousin, Franklin Delano Roosevelt.
Hunting Big Game In The Eighties: The Letters Of Elliott Roosevelt Sportsman by Elliott Roosevelt & edited by Anna Eleanor Roosevelt (1932) are a collection of Elliott Roosevelt's letters which deal mostly with hunting big game in Africa. His daughter published them at the time her husband was campaigning for and elected to the Presidency.
---
Theodore Roosevelt Books
Back to Top
Page Updated: Nov 2020