Brian Marsh Books
Brian Marsh (1928 - 2014) was a true hunting pioneer and gentleman. He was born in South Africa and in the 1950s he became a professional crocodile hunter in Nyasaland (now, Malawi) where he became friends with John 'Pondoro' Taylor. It was when he retired from hunting that his writing career began. He wrote articles for Man Magnum magazine and 4 hugely successful books.
Read Brian Marsh's article 'The .458 As A PH's Weapon' written for African Hunter Magazine.
Please note, this page contains affiliate links, which means Shakari Connection receives a commission if you make a purchase using these links.
The Hunting Blackbeards Of Botswana edited by Brian Marsh (2007) is the story of three generations of Blackbeards who have hunted and guided in Botswana. The Blackbeard name was brought to Africa by Francis Blackbeard, a silver and goldsmith from England who came to Africa with his family in 1820. In 1879, his son Samuel left to go to the Bechuanaland as a trader. Dennis Blackbeard was one of Samuel's sons who became a professional hunter running safaris in Botswana. Both Dennis's sons, Gavin and Ronnie, became professional hunters as did Gavin's son, Luke Blackbeard.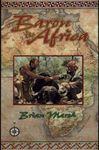 Baron In Africa: The Remarkable Adventures Of An Unusual Hunter by Brian Marsh (1997) is the biography of legendary hunter Werner von Alvensleben (1913–1998) who was a German aristocrat who was believed to have fled Hitler's Germany in 1935 and was interned in Rhodesia at the outbreak of World War II. He escaped to Mozambique and later started the hunting company Safarilandia, which went on to become the most renowned hunting outfit in the country. However, further research done by Rolf Baldus for his German language book 'Auf Safari' about German big game hunters, found Werner von Alvensleben's wartime activity while in Mozambique, was in fact, spying for the United States.
The Last Trophy by Brian Marsh (1982) is a novel which was reviewed by Peter Hathaway Capstick "as the best African novel since Ruark's 'Something Of Value'. Essentially it is about a professional hunter who arranges a safari for a wealthy Frenchman and his young wife which leads to illicit passion, dramatic conflict and violent revenge.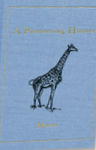 A Pioneering Hunter by Brian Marsh (2006) is the author's memoir including his early days hunting crocodiles for a living and game cropping, before becoming a professional hunter with a large international clientele. He associated with many of the major hunters of that era, John Taylor, Charles Askins, Jack O'Connor, Alan and Ian Henderson, Eric Rundgren, Peter Capstick and Harry Manners.
---
Brian Marsh Books
Back to Top
Page Updated: Jan 2021