Walt Prothero Books
Walt Prothero is an American writer and hunter. He has written several books and has had many articles published in magazines such as Field & Stream, Outdoor Life and Sports Afield.
Please note, this page contains affiliate links, which means Shakari Connection receives a commission if you make a purchase using these links.
Safari: A Dangerous Affair by Walt Prothero (2000) tells the stories of true encounters with dangerous animals in Africa, North America and Asia.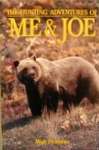 The Hunting Adventures Of Me And Joe by Walt Prothero (1995) is a collection of 30 hunting stories.
Mule Deer Hunting Strategies: A Handbook Of Hunting Techniques by Walt Prothero (1995) includes field-tested practical advice on how to bag the trophy buck of a lifetime. the author reveals all of the tactics that have helped him become a successful mule deer hunter from choosing optics and glassing, to picking the right gun, to the six prime methods of hunting: stand hunting, still hunting, driving, brushing, tracking, and rattling.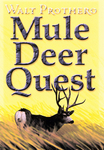 Mule Deer Quest: Thirty-Five Years Of Observation And Hunting Mule Deer From Sonora To Saskatchewan by Walt Prothero (2001) is a collection of mule-deer hunting stories, biology, management and hunting how-to's, on North America's top trophy.
Stalking Big Game by Walt Prothero (1992). Techniques for still hunting, ambushing, driving, tracking and stalking all major big game types - from pronghorn antelope to mule deer to bighorn sheep.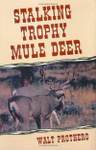 Stalking Trophy Mule Deer by Walt Prothero (1993) shows the novice hunter how to become a good hunter and offers experienced hunters many valuable suggestions which will help them bag bigger bucks next season. Written as the serious deer-hunter's guidebook, it is also a fireside entertainment book.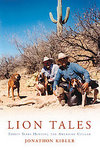 Lion Tales: Thirty Years Hunting The American Cougar by Jonathon Kibler & Walt Prothero (2008). Jonathon Kibler has been hunting cougars for over 30 years. This, his first book, contains some of the most interesting stories ever written on hunting mountain lions in the United States.
The Dangerous Game: True Stories Of Dangerous Hunting On Three Continents by Walt Prothero (2005) is the latest saga of modern day, true encounters with dangerous animals such as lion, leopard, Marco Polo sheep, grizzly bear and a lot more in Africa and elsewhere.
---
Walt Prothero Books
Back to Top
Page Updated: April 2021