Brian Herne Books
Brian Herne was the youngest professional hunter ever licensed in East Africa and had a career spanning thirty years. He is one of only seventeen individuals awarded the Shaw and Hunter Trophy.
Please note, this page contains affiliate links, which means Shakari Connection receives a commission if you make a purchase using these links.
White Hunters: The Golden Age Of African Safaris by Brian Herne (1999) is the story of seventy years of African adventure, danger and romance. It re-creates the legendary big-game safaris led by Selous and Bell and the daring ventures of early hunters into unexplored territories and brings to life such figures as Cape-to-Cairo Grogan, who walked 4,000 miles and Dinesen's lover, Denys Finch Hattan. Brian Herne has written a virtual 'who's who' of professional hunters, crammed with the details of hundreds of hunts and the dozens of men who led them. Free Audio Book Part 1 Free Audio Book Part 2 Audio Book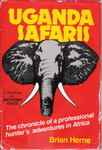 Uganda Safaris by Brian Herne (1979) tells of hunting Uganda as it was before the rise of Amin. Anthony Dyer, then President of the East African Professional Hunters' Association wrote the foreword and observed that..."there is far more to this book than pure hunting. There are vivid pictures of the country, its history and its people. Through all this is woven an intimate account of the professional hunters themselves." Read Review
Desert Safaris by Brian Herne (1984) describes the author's effort to retrace the steps of Count Teleki's expedition around Lake Rudolph, mounted on camels, into the unknown a hundred years earlier. It includes hunting and fishing for crocodile, dik-dik, cheetah, nile perch, gerenuk, Grant's gazelle, lion, elephant, greater and lesser kudu.
Tanzania Safaris by Brian Herne (1981) is a great title on hunting in Tanzania - a country that is still a popular big game hunting destination. It is the story of Tanzania and hunting safaris, professional hunters and a little history. Brian Herne says..."The story is an unashamedly personal narrative of experiences, personalities and places..."
---
Brian Herne Books
Back to Top
Page Updated: Jan 2021