European Sporting Firearms Books
The European sporting firearms books include general works on European rifles and shotguns, plus some individual European gun manufacturers.
Please note, this page contains affiliate links, which means Shakari Connection receives a commission if you make a purchase using these links.
Peter Arfmann and Rolf Kallmeyer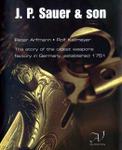 J P Sauer And Son: The Story Of the Oldest Weapons Factory In Germany, Established 1751 by Peter Arfmann and Rolf Kallmeyer (2004). The firm of Johann Paul Sauer and Son stands for innovation from tradition. The full history of the development of the firm, as well as the story of the family, is chronologically presented. Illustrated with profuse colour photos of its fabulous guns, this book on the history of the Sauer company has it all - pistols, rifles, shotguns and its famous drillings.
Dana Jones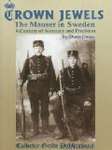 Crown Jewels: The Mauser In Sweden: A Century Of Accuracy & Precision
by Dana Jones (2003) is the first in-depth study of the Swedish Mausers.
James D Lavin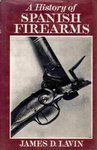 A History Of Spanish Firearms by James D Lavin (1965) traces the development of hand firearms through their golden age - the eighteenth century - to the death in 1825 of Isidro Soler, the last of the great Spanish gunsmiths. Includes a glossary of archaic Spanish firearms terms and more than 100 photographs and line drawings.
W Keith Neal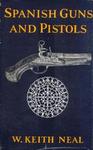 Spanish Guns And Pistols by W Keith Neal (1955) is an historical account of the gunmakers of Madrid from their origin until the present day.
Jon Speed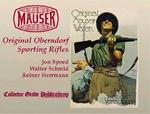 Mauser: Original Oberndorf Sporting Rifles by Jon Speed with Walter Schmid and Reiner Herrmann (1997). This remarkable book breaks new ground with a cornucopia of never-before-published photographs and data about Mauser-Werke itself, then offers the most exhaustive study ever produced of the design origins and manufacturing history of the original Oberndorf Mauser sporter, a rifle manufactured in limited numbers but in a vast number of calibres and variations, right alongside the military Gewehr 98(before WWI) and, later, the K98k. Includes many magificant Mauser sporters made up by the finest armsmakers in England, America, and Germany, using 98 actions supplied by Mauser, plus a comprehensive Serial Number/Date/Model/Calibre chart.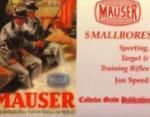 Mauser Smallbores: Sporting, Target & Training Rifles by Jon Speed (1998) continues the tradition established by celebrated author Jon Speed in his first book, 'Mauser-Original Oberndorf Sporting Rifles'. The history of all models of smallbore sporting, target and training rifles produced by the legendary Mauser-Werke of Oberndorf am Neckar. Fifteen chapters and two appendices full of previously unpublished photographs and original factory charts and drawings. Mauser's first .22's, produced after WWI in response to Allied restrictions on the further manufacture of military arms, were soon upgraded with improved triggers, better actions and longer barrels. Full coverage of the DSM34 and KKW training rifles; precision Olympic target models; .22 cartridge investigations; and postwar production (Models 45 and 46) for French forces.
The Mauser Archive by Jon Speed (2007). Hundreds of previously unpublished company documents have been located, which give us unprecedented insight into the workings of the Mauser firm almost from its inception right through both World Wars and the French occupation period. These include actual production and sales data, inventory lists, and cost and sale price calculations for all types of Mauser products - black powder arms, pistols, military arms (the Standard Modell, the K98k, the MG81 and MG151 and the Flak 38), centrefire hunting, sporting and target rifles, .22 sporting, target and training rifles, pressure test units, and more. Secondly, some 300 fragile glass plate negatives have miraculously survived, which depict a variety of hitherto unknown Mauser sporting models in their original configurations. Many embody features not often encountered, and include rare prototypes and in-the-white or low-serial-numbered examples of most early and later Mauser .22 rifle models, Schützen-style, Wehrmanns and Einheits target rifles, and some never-before-seen factory-engraved and custom rifles. The book ends with a selection of full-colour views of high-grade Mauser sporters, many with special features, from the worlds finest collections.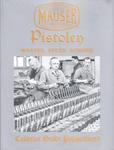 Mauser Pistolen: Development and Production, 1877 - 1946 by Jon Speed with W Darrin Weaver and Walter Schmid (2008) presents a comprehensive chronology of handgun development and production at the famous armsmakers Mauser-Werke of Oberndorf, Germany, from 1877 through to the end of the French occupation period which followed WWII. It is well known that Mauser manufactured a number of pistols of the firm's own design. These included the locked-breech, self-loading C96, blowback pocket pistols, models of 1910, 1914, 1910/34, 1914/34/ and 1934, two verisons of the WTP "vest pocket" pistol, and the double-action HSc pistols. Mauser also manufactured several handguns which had been designed elsewhere, including Reichsrevolvers, Parabellum (Luger) pistols, including lange Pistolen 08 ("artillery" Lugers) for Persia and Siam, and versions fitted with 120mm barrels for the Swiss and for Swedish trials in 1938, plus many P38's during World War II. In addition, a great many other pistol models were developed in the Mauser V-Abt (the Experimental Department) which for various reasons were produced as prototypes only or in extremely limited quantities." An important new book for collectors and historians.