Thomas McIntyre Books
Thomas McIntyre (1952 - 2022) was a hunter and an author of many sporting books and articles published in outdoor sports magazines such as Field & Stream, Sports Afield, Gray's Sporting Journal and The Field.
Please note, this page contains affiliate links, which means Shakari Connection receives a commission if you make a purchase using these links.
Seasons And Days: A Hunting Life by Thomas McIntyre (2003) covers such topics as stag hunting in Scotland, kudu hunting in Africa, hunting wild pigs in California, alligator hunting in Florida and much more.
The Field & Stream Shooting Sports Handbook by Thomas McIntyre (1999) is a guide to trap, skeet and sporting clays, as well as all the necessary information on five stand, cowboy action sports, metallic silhouette, benchrest competition, target shooting, free rifle and handgun games.
Dreaming The Lion: Reflections On Hunting, Fishing And A Search For The Wild by Thomas McIntyre (1993) is a collection of 23 hunting stories including woodcock in Ireland to Dall's sheep in Alaska to Cape buffalo in Africa, from chukars in Idaho to pronghorns in Wyoming to muskox, also sheep, goat, bear, jaguar, elk and lion.
The Way Of The Hunter: The Art And Spirit Of Modern Hunting by Thomas McIntyre (1988). From hunting small game to stalking Kodiak bears, from a boy's first .22 calibre rifle to the elephant hunter's powerful Nitro Express weapon, from the woods and duck marshes of America to the jungles of Africa, here is an expert hunter's unique and comprehensive guide to modern hunting. Excellent advice on techniques of finding furred and feathered game to best type of guns to use. McIntyre discusses the philosophy of hunting sportsmanship and the hunter's critical role in wildlife conservation.
Days Afield: Journeys And Discoveries In Hunting And Fishing by Thomas McIntyre (1984) is a collection of articles vividly describing McIntyre's hunting and fishing exploits around the world.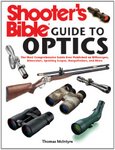 Shooter's Bible: Guide To Optics by Thomas McIntyre (2012). This book will help you figure out which optics best fit your needs, as well as your budget. The 'Shooter's Bible: Guide To Optics' lists every quality sporting optic on the market today. Loaded with colour photographs, this book features a new products section, listing all new riflescopes, binoculars, rangefinders, and spotting scopes, plus in-depth features on how to use binoculars, how to mount and sight in a rifle scope and much more.
Augusts In Africa: Safaris Into The Twilight: Forty Years Of Essays And Stories by Thomas McIntyre (2016) presents the stories the author has gathered from four decades of safaris in Africa. Kindle version only.
Field & Stream: The Complete Hunter by Doug Painter, Phil Bourjaily, Thomas McIntyre, Bob Robb, Jerome B Robinson & William Tarrant (2004). The editors and experts of Field & Stream contributed to this book which covers the topics hunters want to know about including - the best way to hunt white-tailed deer, how to choose bowhunting gear, firearm care and safety, how to hunt turkeys, the best methods for hunting pheasants, grouse, doves, quail and other upland birds, and how to shoot trap, skeet, and sporting clays.
Wild And Fair: Tales of Hunting Big Game In North America edited by Thomas McIntyre (2008) is a collection of stories about North American big game hunting, including moose and bear in Alaska, sheep, mule deer and musk ox. The writers include Stephen Bodio, David Petzal and Craig Boddington.
Thunder Without Rain: A Memoir With Dangerous Game, God's Cattle, The African Buffalo by Thomas McIntyre (2023) explores all topics related to the African buffalo. The author includes his own buffalo hunts and those of others such as Theodore Roosevelt, Robert Ruark, Craig Boddington, Robert Jones and Ernest Hemingway.
More books by Thomas McIntyre
---
Thomas McIntyre Books
Back to Top
Page Updated: 2023