Stewart Edward White Books
Stewart Edward White (1873 - 1946) was an American author of fiction and non-fiction about adventure and travel. In Africa, he was determined to penetrate westward beyond the Loita range, and in 1913, accompanied by R J Cuninghame, he set out from Nairobi with thirty porters and twenty donkeys.
Stewart Edward White (right) & R J Cuninghame (left)
Please note, this page contains affiliate links, which means Shakari Connection receives a commission if you make a purchase using these links.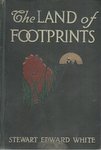 The Land Of Footprints by Stewart Edward White (1912). White hunts big game on the high veldt of the Serengeti Plain. Over 70 photographs taken on location and among the Masai and natives, document the vast expanse and the logistic difficulty of supplies and transportation. He writes extensively about the people, the towns, the food and the staples of the African life. Free eBook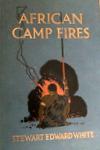 African Camp Fires by Stewart Edward White (1913) is probably the most well known of White's African big game hunting books. He was regarded as one of the finest rifle shots of the American sportsmen who hunted in East Africa during the Golden Age of safari hunting. Free eBook
The Rediscovered Country by Stewart Edward White (1915) is another account of White's African travels. This is widely considered the first definitive account of the Northern Serengeti. "In 1910-11 Mrs. White, R. J. Cuninghame, and myself, with a small safari of forty men, took the usual route via the Kedong valley, Mount Suswa, Agate's Drift to Vandeweyer's boma on the Narossara River. At this point we diverged from the usual route and pushed for some distance south into the Narossara Mountains." Free eBook
Simba by Stewart Edward White (1918) is fiction possibly based on reality. Simba was just an ordinary African boy until he became 'the lion, bravest among his companions'. For all those who are interested in the experiences of great game hunters, the first white man that Simba ever saw and later became his gunbearer, was a character probably based on R J Cuninghame, White's professional guide on his safaris in East Africa. Free eBook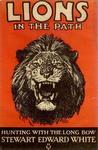 Lions In The Path: A Book Of Adventure On The High Veldt by Stewart Edward White (1926) is about Stewart White and Leslie Stimson hunting big game in East Africa with longbows. They bagged numerous lions, leopard, wildebeest and more. This book is the counterpart to 'Adventurous Bowmen' by Saxton Pope who was on the same safari.
Other Stewart Edward White Books
The Westerners by Stewart Edward White (1901) Free eBook
The Blazed Trail by Stewart Edward White (1904) Free eBook
The Claim Jumpers by Stewart Edward White (1901) Free eBook
Conjuror's House by Stewart Edward White (1903) Free eBook
Call Of The North by Stewart Edward White (1903) Free eBook
The Forest by Stewart Edward White (1903) Free eBook
Blazed Trail Stories by Stewart Edward White (1901) Free eBook
The Mountains by Stewart Edward White (1904) Free eBook
The Silent Places by Stewart Edward White (1904) Free eBook
The Pass by Stewart Edward White (1906) Free eBook
The Mystery by Stewart Edward White (1907) Free eBook
Camp And Trail by Stewart Edward White (1907) Free eBook
Arizona Nights by Stewart Edward White (1907) Free eBook
The Riverman by Stewart Edward White (1908) Free eBook
The Cabin by Stewart Edward White (1911) Free eBook
The Adventures Of Bobby Orde by Stewart Edward White (1911) Free eBook
Rules Of The Game by Stewart Edward White (1910) Free eBook
The Sign At Six by Stewart Edward White (1912) Free eBook
Gold by Stewart Edward White (1913) Free eBook
The Gray Dawn by Stewart Edward White (1915) Free eBook
The Leopard Woman by Stewart Edward White (1916) Free eBook
The Magic Forest by Stewart Edward White (1903) Free eBook
The Rose Dawn by Stewart Edward White (1920) Free eBook
Camp Fire Verse by Stewart Edward White & Joseph Le Roy Harrison (1917) Free eBook
The Forty-Niners by Stewart Edward White (1918) Free eBook
The Killer by Stewart Edward White (1922) Free eBook
On Tiptoe: A Romance Of The Redwoods by Stewart Edward White (1922) Free eBook
Daniel Boone by Stewart Edward White (1923) Free eBook
Back Of Beyond by Stewart Edward White (1927)
Secret Harbour by Stewart Edward White (1926)
Dog Days by Stewart Edward White (1930)
The Long Rifle by Stewart Edward White (1932)
Folded Hills by Stewart Edward White (1934) Free eBook
Rancheroby Stewart Edward White (1933)
Pole Star by Stewart Edward White (1935)
The Betty Book by Stewart Edward White (1937)
Across The Unknown by Stewart Edward White (1939)
Wild Geese Calling by Stewart Edward White (1940) Free eBook
The Unobstructed Universe by Stewart Edward White (1940)
The Road I Know by Stewart Edward White (1942)
Stampede by Stewart Edward White (1943)
Anchors To Windward by Stewart Edward White (1943)
The Stars Are Still There by Stewart Edward White (1946) Free eBook
With Folded Wings by Stewart Edward White (1951) Free eBook
Saga Of Andy Burnett by Stewart Edward White (1947)
---
Stewart Edward White Books
Back to Top
Page Updated: Nov 2020