Alexandrine Tinne Books
Alexandrine Petronella Francina Tinne (1835 – 1869) was a Dutch explorer in Africa and the first European woman to attempt to cross the Sahara. She also went by the names of Alexine Tinne and Alexandrine Tinné. She did not write a book herself about her extraordinary life and African expeditions.
Her first major journey to the White Nile was in 1862 accompanied by her mother and her aunt. They got as far as Gondokoro before Alexandrine fell ill and they were forced to return to Khartoum. In Khartoum they met Theodor von Heuglin and Hermann Steudner and the four of them planned to travel to the Bahr-el-Ghazal, a tributary of the White Nile, in order to reach the Niam-Niam country. During this journey, Steudner, Alexandrine's mother and two Dutch maids died of 'fever'. The remainder of the group reached Khartoum in March 1864, where her aunt died, having not even been on the journey. Alexine Tinne buried her aunt and one maid and brought the bodies of her mother and the other maid back to Cairo.
In 1869 Alexandrine made an attempt to reach the Touaregs of the Sahara desert. She started from Tripoli with a caravan, intending to proceed to Lake Chad, and via Wadai, Darfur and Kordofan to the upper Nile. En route she met the German explorer Gustav Nachtigal, with whom she intended to cross the desert but he planned to go elsewhere first, so she set off with her carvan across the desert alone. On 1 August 1869, on the route from Murzuk to Ghat, Alexandrine was murdered together with two Dutch sailors in her party, allegedly by Touareg people. Her body was never found.
Books About Alexandrine Tinne
Penelope Gladstone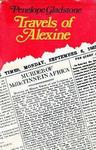 Travels Of Alexine by Penelope Gladstone (1970) is an account of the remarkable travels and experiences of Alexandrine Tinne in the Sudan.
Robert Joost Willink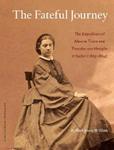 The Fateful Journey: The Expedition Of Alexine Tinne And Theodor Von Heuglin In Sudan (1863-1864) by Robert Joost Willink (2011) recounts the African journeys of the intrepid Dutch traveller Alexine Tinne. Heiress to a huge fortune, she was bored with the royal court in The Hague, so Tinne left for Egypt and Sudan accompanied by her mother Henriette Tinne-Van Capellen, ultimately settling in Khartoum. On her expedition in 1862-64, Tinne was joined by the German zoologist Theodor von Heuglin and the whole party set out for the as yet uncharted Bahr-el-Ghazal, hoping to explore that region and ascertain how far westward the Nile basin extended.
John A Tinne
Geographical Notes Of An Expedition In Central Africa By Three Dutch Ladies by John A Tinne (1864) is the account of Alexandrine's journey by her half brother, John A Tinne, from Liverpool. He visited Alexine in early 1865, after the deaths of her mother and maids during her first expedition and the later death of her aunt in Khartoum. He tried to persuade Alexandrine to come back home, but instead he left with two bodies to repatriate and a large part of her ethnographic collection. Her mother, Henriette Tinne-Van Capellen, was buried in a cemetery The Hague. John Tinne donated Alexandrine's ethnographic collection to a museum in Liverpool. Free eBook
William Wells
The Heroine Of The White Nile: Or, What A Woman Did And Dared by William Wells (1871) is a 'sketch of the remarkable travels and experiences of Miss Alexandrine Tinne' written for older children 'with a view of supplying the now loudly-expressed demand for a literature for our Sunday schools that will be both instructive and entertaining'. Free eBook