Purdey Firearms Books
James Purdey & Sons was established in London in 1814 by James Purdey who had previously worked as head stocker for Joseph Manton, the foremost gunmaker of his time. The name now is synonymous with the very finest sporting shotguns and rifles.
Please note, this page contains affiliate links, which means Shakari Connection receives a commission if you make a purchase using these links.
Richard Beaumont
Purdey's: The Guns And The Family by Richard Beaumont (1984) brings to life the colourful characters of the five generations of the Purdey family and follows the fortunes of the firm from 1814 to the present day.
Donald Dallas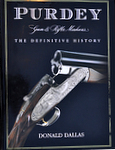 Purdey Gun And Rifle Makers: The Definitive History by Donald Dallas (2000). Established by James Purdey the Elder in 1816, Purdey built best-quality guns, rifles and pistols to the highest standards. James Purdey the Younger took over the running of the firm in 1858 and was responsible for developing the Express rifle to its pinnacle. In 1863 in the early breechloading period, he invented the most famous closing action of all time, the Purdey bolt. He was quick to see the advantages of the hammerless gun and was astute in purchsing and developing the Beesley hammerless action of 1880. He created guns of great style and elegance and established the form of the hammerless ejector for all others to follow. Athol Purdey guided the firm through the difficult World War I period and Tom Purdey and Jim Purdey took over during the 1930's depression and kept the firm on course during World War II and the post-war years. Purdey serial numbers are listed for the years 1816-2000 to assist with dating guns, production figures are given to show the rarity of certain weapons, all the Purdey patents are described, and of particular interest are the Purdey gunmakers, names to help identify initials stamped on the various parts of Purdey guns.
James Purdey & Sons: Gun And Rifle Makers: Two Hundred Years Of Excellence by Donald Dallas (2013) details the history of James Purdey & Sons, the British gunmaker known to the world over as makers of the finest quality guns. The author includes several appendices including serial numbers to assist with dating guns, as well as production figures to show the rarity of each. All patents are described, plus the Purdey gunmakers named to help identify initials stamped on the parts.
T D S Purdey and Captain J A Purdey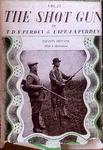 The Shot Gun by T D S Purdey and Captain J A Purdey (1936) is merely intended to be quite simple and possibly of interest to the younger generation and to those who have taken to shooting in later years.
James Purdey and Sons: How To Make A Handcrafted Gun