Charles Hugh Stockley Books
Lt Colonel Charles Hugh Stockley (1882 - 1955) was a British army officer and expert big game hunter and photographer.
"The sport of big game hunting lies in the means adopted to bring the hunter up to the game, not in the shot or the trophy secured. It lies in pitting one's own natural facilities and endurance against those of the game, and securing an easy shot by means of them....if a shot cannot be obtained without mechanical help, then leave the beast alone; if the animal is not fully adult or does not carry a sufficiently good trophy, then leave it alone."
Please note, this page contains affiliate links, which means Shakari Connection receives a commission if you make a purchase using these links.
African Camera Hunts by C H Stockley (1948). The author brings 40 years of big game hunting to this photographic account of East African wild animals as he exchanges the rifle for the camera.
Stalking In The Himalayas And Northern India by C H Stockley (1936). "This book has been written for the man of moderate means, and with the intention of showing that the camera and the rifle are not incompatible companions of a hunting trip. The telephotos of living animals, not one of which has been taken from a hide, are intended to give some idea of the country which they inhabit and the circumstances under which a sportsman is likely to see them; also to draw attention to the very interesting forms of animal life to be met with round the camp and on the march."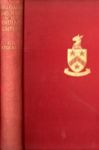 Big Game Shooting In The Indian Empire by C H Stockley (1928) covers the author's extensive hunting in the Himalayas, Kashmir, Ladakh, Sindh, Baltistan and elsewhere after ibex, markhor, tahr, shapu, bharal, tsine, bison, tiger, leopard, bear, sambhar, serow, nilgai and other game.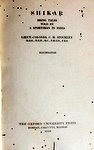 Shikar: Being Tales Told By A Sportsman In India by C H Stockley (1928). Hunting markhor, gooral, tahr, sambur, tsine, ibex, stag, bear, burhel and other game in northern India, with a chapter on hunting kudu in Somaliland in Africa.
A Shikar's Pocket Book With Hints On Preserving And Skinning Trophies In The Field by C H Stockley and Charles McCann (1927) is contained in brown wallet with an accompanying separate big game register. The register is divided into dates, species, locality, measurements and remarks. 13 sides are filled in a neat hand and there is also a section for notes. 1 side filled in covering the years 1931 to 1937. The game mentioned include crocodile, panther, sloth, bear, tiger and python. The author goes into detail on the hunt and shot.