Craig Boddington Books
Craig Boddington was born in Kansas and is a big game hunter, author and former US Marine. He has written over 3000 published magazine articles and is the author of over 20 books on hunting and shooting.
Please note, this page contains affiliate links, which means Shakari Connection receives a commission if you make a purchase using these links.
America: The Men And Their Guns That Made Her Great by Craig Boddington (1981) is a history of the men - famous and virtually unknown - who influenced the growth of America and of the guns they used. It includes such men as Timothy Murphy, Aaron Burr, Alexander Hamilton, Sam Colt, Buffalo Bill, Annie Oakley, Teddy Roosevelt and others.
Campfires And Game Trails: Hunting North American Big Game by Craig Boddington (1985) shares with the reader the thrills and satisfaction of a long stalk and a good shot.
From Mt Kenya To The Cape: Ten Years Of African Hunting by Craig Boddington (1987) covers the author's experiences from 14 African hunts over 10 years, for almost every species of African game and the rifles used to bag them are explained.
Deer Hunting Coast To Coast by Craig Boddington & Bob Robb (1989) is the account of the authors hunting white-tailed deer in eastern woods, southern swamps, Midwestern prairies and western riverbottoms; mule deer in badlands, deserts and high alpine basins; blacktails in oak grasslands and coastal jungles; and Coues deer in the desert mountains of Arizona and Sonora. So hunting North American deer from Atlantic to Pacific and from Alaska to Mexico finds the deer species are not all the same and nor are they hunted in the same ways.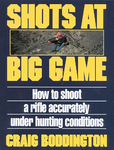 Shots At Big Game: How To Shoot A Rifle Accurately Under Hunting Conditions by Craig Boddington (1989) is a guide to how to become a better field shot and how to practice for field shooting. The author demonstrates basic shooting positions, tells how to select the appropriate rifle and ammunition and discusses scopes, stock fit, and safety precautions.
Safari Rifles by Craig Boddington (1991) is the author's first 'Safari Rifles' book which provides a wealth of expert information based on over thirty years hunting on the African continent, on historical and present day double rifle makers, ballistics for the large bores, what today's professional hunters use, the ideal one, two or three-rifle set up for safari, bullets, components, second-hand dealers and much more. This book was completely revised as 'Safari Rifles II' published in 2007.
The Hunter's Handbook by Craig Boddington (1992) looks into the specifics of various types of hunting from traditional stalking techniques to such specialties as high-tech deer hunting.
American Hunting Rifles: Their Application In The Field For Practical Shooting by Craig Boddington (1995) is a comprehensive book covering all the hunting rifles and calibres that are needed for North America's diverse game.
Whitetail Medicine by Craig Boddington (1995) is an easy reading and offers factual points of practice that can make you a better shot by making the right choice in a particular situation. From the 25-yard brush shot to 500 yards across a bean field, the author's attention to detail will guide you. He also details characteristics of various calibres and choices of ammunition.
Where Lions Roar: Ten More Years of African Hunting by Craig Boddington (1997) is the sequel to author's first book on African hunting 'From Mt Kenya To The Cape' ten years earlier. Since then he hunted extensively in several African countries from the jungles of the Congo to Danakil, the Great Rift Valley, Zambezi Valley, Namibia, Mozambique, Botswana, Eastern Cape and the Okavango Delta bagging an innumerable number of game from buffalo to hippo, leopard, kudu and various spiral horned antelopes.
Make It Accurate: Get The Maximum Performance From Your Hunting Rifle by Craig Boddington (1999) is full of information on rifle design, bedding, scope mounting, accuracy, sighting and tailoring both factory and handloads to your rifle. This book is a must-have for any hunter who wants to optimize his rifle's performance in the range or field.
Search For The Spiral Horn by Craig Boddington (2002) is one of the few hunters who has successfully hunted each of the major varieties and most of the subspecies of the nine spiral-horned antelope of Africa.
African Experience: A Guide To Modern Safaris by Craig Boddington (2002) will help you to figure out what to try for, what to leave aside, how to stretch your money into more hunting, how to plan a trip in a methodical and intelligent way, what to do and what to avoid. There is an 'African Experience' DVD to go with this book.
The Perfect Shot North America: Shot Placement For North American Big Game by Craig Boddington (2003) shows in the field photographs that visually indicate where on the animal you must shoot to get that perfect shot. The colour photographs of North American animals are overlaid with an 'inside view' of bone structure and organ location, to best locate the right place for the shot.
The Perfect Shot: Mini Edition For North America by Craig Boddington (2005) is a pocket-size, full-colour book features photos highlighting the heart, lungs, and major bones on whitetail, elk, mule deer, caribou and pronghorn antelope.
The Perfect Shot: Mini Edition II For North America by Craig Boddington (2012) is a handy and compact shot placement guide for North American black bear, brown bear, cougar, wolf, wild sheep, goat, muskox, and feral hog.
African Hunter II edited by Craig Boddington & Peter Flack (2004) is a complete revision of James Mellon's African Hunter. It offers in-depth overviews of hunting areas in 25 African countries with background information and best times to hunt lion, leopard, buffalo, rhino, elephant, spiral-horned antelope, game indigenous to only one region, game indigenous to most regions, the rarities and the plains game. There are hunting stories from each country and among the contributing authors are Tony Dyer, Rudolph Sand, Tony Sanchez-Arino and many more.
Fair Chase In North America by Craig Boddington (2004) shares his extensive experience hunting North America's game. Also available in a free audio format.
Life On Safari by Geoff Broom & Craig Boddington (2005) is the remarkable story of professional hunter, Geoff Broome who has hunted both for himself and professionally, across the African continent. He has explored and pioneered safari areas, established game-management programs and hosted generations of clients on the adventures of their lifetimes.
Buffalo! by Craig Boddington (2006) is an excellent book on hunting the African buffalo including stories and advice on numerous topics such as rifles, bullets and scopes. The author includes information on where to hunt an African buffalo, how and when to hunt and what a hunt will be like. He describes what it means to 'rush the herd' which is one of his favourite methods of hunting these animals. He also tell the tale of the great bull in Masailand that he almost got, of the perfect hunt he had in Zambia and of the charge he experienced in Tanzania. This book was revised as 'Buffalo! II', published in 2019
Leopard by Craig Boddington, Tim Danklef & Dave Fulson (2007) is the most in depth study on the history and hunting of this magnificent cat ever produced. The detailed book on leopard hunting includes chapters on natural history and behavior, tracking, blinds, baiting, rifles, cartridge, trophies, hunting technique and trophy care.
Tracks Across Africa by Craig Boddington (2008) chronicles the author's third decade of African hunting, following 'From Mount Kenya to the Cape' and 'Where Lions Roar'. He actually hunted in about twice as much territory and for twice as many days during the last decade than he did during his first decade. The animals pursued include mountain nyala, elephant, leopard, bongo and buffalo.
Safari Rifles II by Craig Boddington (2007) is a complete revision of Boddington's earlier book 'Safari Rifles' published in 1990. This new book was written with another 18 years of experience under his belt, plus the availability of an exceptional increase in the number of rifles, calibres, bullets and accessories for African hunting.
Big Game Argentina by Craig Boddington (2009) is the first and only book ever published on big game hunting in Argentina. This is a visual and written survey of the best hunting destinations in this South American country. An amazing journey chasing red, Brockett, axis and fallow deer, as well as water buffalo, wild boar, puma, white lipped and collared peccary, capybara, blackbuck, mouflon and himalayan tahr. This book will be invaluable for hunters who have not yet travelled to Argentina, offering information on the best hunting locations, lodges and outfitters from the province of Chaco in the north to the province of Rio Negro in southern Patagonia. This book is becoming hard to find.
Elephant! The Renaissance Of Hunting The African Elephant by Craig Boddington (2012). The subtitle 'renaissance of elephant hunting' refers to the fact (when the book was published) that each year the trophies have got better and the total elephant population kept on rising. The author describes his elephant hunts in Mozambique, southern Tanzania, Botswana and Namibia, how elephants are hunted today and where the best places are to find them.
American Hunting Rifles II by Craig Boddington (2014) is the revised and expanded companion book of 'American Hunting Rifles'published in 1995. The book covers all the rifles, calibres and accessories you will need for hunting javelina in Texas, brown bears in Alaska and all game in between. Long-range shooting, the magnum calibre (short and long), scopes, shooting aids and all other considerations are covered in a clear, concise and well-organised manner.
Deadly Encounters by Craig Boddington (2015) gives the facts and sometimes gory details of hunts which have gone fatally wrong. Includes lions, bull elephants in musth or elephant cows on the defensive, leopards, bears of all kinds and water buffalo that have taken over the neighborhood and now see humans as intruders. Boddington discusses and dissects the incidents and facts to tell you why something went wrong so that you, the hunter, won't make the same mistake.
The Accurate Rifle...And Rifleman by Craig Boddington (2016). The author goes through every single element that makes an accurate (or not so accurate) rifle. These elements include the different actions, stocks, bedding and vibrations, good-quality triggers and how to control them, the variables in cartridge design, factory ammo, handloading for serious accuracy, the accuracy of the various bullet designs, breaking-in a rifle, open sights and scopes and mounts. Boddington delves into good shooting positions, rests, how to shoot long range and a host of other topics that will improve your rifle shooting.
From the Cape to Kasserine: Ten years of African Hunting 2007-2016 by Craig Boddington (2018) is the author's book on his fourth decade of African hunting. Included are driven hunts for Barbary wild boar in Tunisia, elephants in Botswana, buffalo in Mozambique, lions in Tanzania, with hunts for giant eland in Cameroon as well as trips to Ghana, Burkina Faso and Liberia. Boddington revisits Zambia and Zimbabwe seeking unusual species he has not hunted before and makes his first visit to Uganda.
Buffalo II! by Craig Boddington (2019) is an update of the 2005 book 'Buffalo!' as much has changed in terms of buffalo hunting destinations, firearms and ballistics. In this latest book there is information on hunting swamp buffalo from Mozambique, the importance of buffalo sustainability for generations to come and looking for an aged buffalo bull with hard bosses. He also shares his experience with a full-blown, you-or-him buffalo charge, which is actually very rare. 'Buffalo II!' is a good resource for planning your first, second or next buffalo safari.
Favorite Rifles And Cartridges by Craig Boddington (2021) goes through each of the author's personal favorite rifles, from his varmint rifle, to his deer rifle and to his African buffalo rifle. The book focuses on eight calibers and eight rifles which have various actions and includes how he optimised each rifle and sights for best performance.
Craig Boddington's DVDs
For more details about Craig Boddington's DVDs, with video clips, please go to African Hunting DVDs
---
Craig Boddington Books
Back to Top
Page Updated: April 2021