Wynant Davis Hubbard Books
Wynant Davis Hubbard (1900 - 1961) was an American naturalist, hunter and researcher who spent many years in Africa. He was considered a leading authority on African animal life in his time.
Please note, this page contains affiliate links, which means Shakari Connection receives a commission if you make a purchase using these links.
Wild Animal Hunter by Wynant Davis Hubbard (1958) is about the author's 15 years of African big game hunting adventures.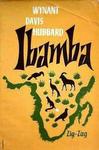 Ibamba by Wynant Davis Hubbard (1962). (Posthumous publication) Ibamba is the name of 13 square miles of glorious lion country in Northern Rhodesia (now Zambia), and also the African adventure of a young American couple who lived there for four years taming the land and its wild inhabitants as ranchers and zoologists.
Bong'Kwe: The Story Of An African Buffalo by Wynant Davis Hubbard (1930) is an authoritative story of animal psychology in the guise of an old hunter's story.
Wild Animals: A White Man's Conquest Of Jungle Beasts by Wynant Davis Hubbard (1926). Recollections of Rhodesian hunting early in the twentieth century.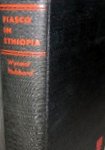 Fiasco In Ethiopia: The Story Of A So-Called War By A Reporter On The Ground by Wynant Davis Hubbard (1936). The author represented Universal Service in Ethiopia from August 1935 until January 1936. His amazing vivid story tells of the country, of the Emperor and his people and reveals the truth about one of the greatest fiascos of history.