Cogswell And Harrison Firearms Books
Cogswell & Harrison was established in 1770 and is London's oldest surviving maker of sporting guns and rifles. In the nineteenth century, under the direction of Edgar Harrison, Cogswell & Harrison became known for its ingenious innovations in gunmaking technology.
Please note, this page contains affiliate links, which means Shakari Connection receives a commission if you make a purchase using these links.
Francis William Blagdon
Shooting With Game And Gun Room Notes by Francis William Blagdon (1900) was published by Cogswell and Harrison Ltd. Includes chapters on how to shoot, gun fitting, modern guns, ammunition, grouse shooting, partridge shooting, pheasant shooting, live pigeon trap shooting and more. As is to be expected with a famous gun makers publication, there is much technical advise and information, with many of the illustrations being of Cogswell and Harrison products. This is a fascinating read for any shooting enthusiast or historian, with much of the information remaining useful and practical today.
Cogswell & Harrison Ltd
Shooting (Teach Yourself) by Cogswell & Harrison Limited (1970) is compiled by experts and is an introduction to all the different types of shooting - with rifles, pistols and shotguns. Clear guidance is given on the selection and buying of guns, followed by an account of rifle and pistol target shooting. There are separate chapters which discuss ground shooting, wildfowling, pheasant and other game shooting and finally a chapter on deer hunting. Illustrated throughout, this is an invaluable guide for anyone who wants to enjoy the sport of shooting, whether on the range or in the field.
Graham Cooley and John Newton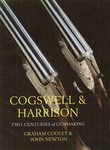 Cogswell and Harrison: Two Centuries of Gunmaking by Graham Cooley and John Newton (2000) charts the history of Cogswell and Harrison, London's oldest surviving gunmaker, who have manufactured an extraordinary diversity of sporting guns and rifles during their long and colourful history. A fascinating insight from their origins in 1770, through their bicentenary in 1970, and up to their restructuring in 1993.
Edgar Harrison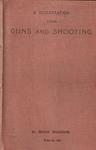 A Dissertation Upon Guns And Shooting by Edgar Harrison (1906) was published by the London gunmakers and includes chapters on guns and gunmaking, patterns, powders, cartridges, how to shoot and more.
John E Peskett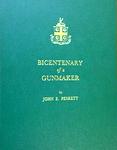 Bicentenary Of A Gunmaker by John E Peskett (1970) is a brief history of the development of Cogswell and Harrison and has been compiled from the voluminous notes carefully collected by John E Peskett who faithfully served the company in various administrative capacities from 1908 until 1969.