Bartle Bull Books
Bartle Bull (b.1939) was born in England and is an American attorney and author. He is a member of both the Royal Geographical Society and the Explorers Club and went on his first African hunting safari in 1959. He hunted with professional hunter, Robin Hurt but now no longer hunts. He is often confused with his son, Bartle B Bull, who is also a writer and journalist.
Please note, this page contains affiliate links, which means Shakari Connection receives a commission if you make a purchase using these links.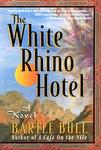 The White Rhino Hotel by Bartle Bull (1992) explores the lives of pioneer farmers and the natives they associated with, in this gripping novel. The author placed the Hotel in Nanyuki, Kenya. In fact the original White Rhino Hotel, which still exists, is situated in Nyeri, Kenya.
Safari: A Chronicle Of Adventure by Bartle Bull (1992) depicts both the hardships and the incongruous luxury of the classic safaris of the early 20th century and presents the legend of the great white hunter as seen by H Rider Haggard, Hemingway and Hollywood.
The Devil's Oasis: A Novel by Bartle Bull (2001) continues his romantic and eventful trilogy with a dose of wartime action, private revenge and seething passion.
A Cafe On The Nile by Bartle Bull (1999). The time is 1935, the place is East Africa. A cast of characters from all walks of life and a wide variety of places and life styles find their lives intertwined in an adventure/mystery while war years hover in the background and eventually explode into their lives. Kindle Version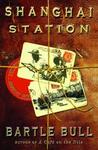 Shanghai Station by Bartle Bull (2003) is a compelling tale of political terror and personal vengeance that unfolds in China's colourful, turbulent port city of Shanghai. Kindle Version
China Star by Bartle Bull (2006) is the sequel to 'Shanghai Station'. Kindle Version