Sporting Firearm Engraving Books
Sporting firearm engraving books include works on the art of the finest Italian and British gun engraving.
Please note, this page contains affiliate links, which means Shakari Connection receives a commission if you make a purchase using these links.
Mario Abbiatico
Modern Firearms Engravings by Mario Abbiatico (1980). The primary focus of the book is engravings on European sporting arms and includes one short chapter on handguns.
Christopher Austyn
Gun Engraving by Christopher Austyn (1999) is the first overview of British twentieth century gun engraving. A fascinating archive relating to three influential early twentieth century engravers, notes on the work of contemporary engravers. Comparison of standard and specially engraved guns and their values.
Bill Janney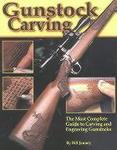 Gunstock Carving: The Most Complete Guide To Carving And Engraving Gunstocks by Bill Janney (2002) includes step-by-step projects and instructions, patterns, tips and techniques.
Douglas Tate
British Gun Engraving by Douglas Tate (2000). In this comprehensive book, Douglas Tate and master photographer David Grant bring us the most opulent examples of British gun engraving in existence. These handsome guns are from the greatest private collections in Europe and the USA and because of this, are rarely seen by the public.
Don't forget to look at the firearm engraving books by Marco E Nobili
Beretta Master Engravers