Frank C Hibben Books
In addition to being an archaeologist, Frank Cumming Hibben (1910 - 2002) was a big-game hunter, being awarded the Weatherby Hunting and Conservation Award in 1964.
Please note, this page contains affiliate links, which means Shakari Connection receives a commission if you make a purchase using these links.
Hunting In Africa by Frank C Hibben (1962) writes of his safaris through jungles, deserts, plains and mountains, hunting the most dangerous animals in the world.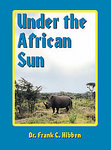 Under The African Sun by Frank C Hibben (1999). The author was a 'legend' in the hunting field. He went on a grand total of 36 safaris in Africa.
Hunting American Lions by Frank C Hibben (1948) in which the author hunts mountain lion, bobcat and jaguar. Kindle Version
Hunting American Bears by Frank C Hibben (1950) is an account of his experiences hunting grizzlies, black bears and Alaskan brown bears from Alaska to Mexico.
Related Book:
Eleanor B Hibben
Eleanor 'Brownie' Brown Hibben (1898 - 1992) was an American cinematographer who was one of the first women to take pictures of dangerous wild animals. Her films became part of a nature series created by Walt Disney Studios. She and her husband, Frank C Hibben, an archaeologist and big game hunter, had a network television series in the 1950s. Their expeditions took them to all seven continents and including 26 African safaris.
In Outer Places: Adventures With Frank C Hibben by Eleanor B Hibben (1983) recounts the author's adventures and travels with her husband, Frank C Hibben.
---
Frank C Hibben Books
Back to Top
Page Updated: Oct 2020