J A Hunter Books
All J A Hunter books are highly sought after classic African hunting volumes. John Alexander Hunter (1887 - 1963) was born in Scotland and became a 'white hunter' in Africa from the early 1900s through to the 1950s.
Captain A T A Ritchie, Game Warden of Kenya, wrote in his foreword in 'Hunter':
"It may well seem...that J.A. has always been given the 'dirty end of the stick.' This is true, and has been because he has wanted it, and because he has been fitted for it by his great qualities: unrivaled experience and knowledge of animal behavior, surpassing skill and speed in handling firearms, and most importantly perhaps, an equable temperament and iron nerve, a formidable combination..." "..I can pay no greater tribute to his prowess than is provided by the fact that he is still alive..."
Please note, this page contains affiliate links, which means Shakari Connection receives a commission if you make a purchase using these links.
Hunter by J A Hunter (1952) are tales of the extraordinary adventures of one of the last and greatest of Africa's white hunters. J A Hunter recounts his early life along with his decision to become a professional hunter in Africa. He hunted primarily in the region of the Serengeti and in Masailand after elephant, buffalo, rhino, lion and other game.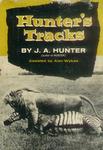 Hunter's Tracks by J A Hunter (1957) reflects the warmth and good-tempered philosophy of an uncommonly able Scot who respects the world of animals. Here too are the sounds, the smells, the sights and the lure of Africa. It includes an East African safari with an Indian maharajah, interwoven with attempts to capture ivory poachers and smugglers with tales of hunting elephant, lion, leopard and buffalo.Free eBook
White Hunter by J A Hunter (1939) are the tales of adventures and experiences of a professional big game hunter in Africa.
Tales Of The African Frontier by J A Hunter (1954). The early days and colourful characters of East Africa parade across the pages of this powerful book by J A Hunter and Daniel Mannix.
African Hunter by J A Hunter (1954) is the Young Readers Edition of 'Hunter'.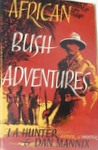 African Bush Adventures by J A Hunter and Dan Mannix (1954) is a collection of vignettes about the people who opened up Kenya, including gentleman adventurer Colonel Ewart Grogan, explorer Joseph Thomson, missionary The Reverend Arthur Fisher and pioneer doctor Sir Albert Cook.
Killers Of Kilimanjaro
(DVD) was a movie made based on the book 'African Bush Adventures' by J A Hunter and Dan Mannix, starring Robert Taylor. 1960.
---
J A Hunter Books
Back to Top
Page Updated: Oct 2020