Beryl Markham Books
Beryl Markham (1902 - 1986) was a British-born Kenyan horse trainer and adventurer. During the pioneer days of aviation, she became the first person to fly solo across the Atlantic from east to west. She befriended Karen Blixen during the years that Blixen was managing her coffee farm in the Ngong hills outside Nairobi and when Blixen's affair with Denys Finch Hatton was winding down, Markham started an affair with him herself.
She used to spot game, especially elephant from her aircraft for Finch Hatton and Bror Blixen and their hunting clients.
Please note, this page contains affiliate links, which means Shakari Connection receives a commission if you make a purchase using these links.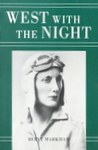 West With The Night by Beryl Markham (1942) is an exceptional autobiography filled with a strong spirit and fascinating events. Beryl Markham was raised by her father on a large farm in British East Africa in the early 20th century. As a child she preferred spear hunting with the natives to her school lessons. At 17, when her father lost their farm and went to Peru, she chose to stay in Africa and began a highly successful career as a race horse trainer. In her 20s she gave up horses and started flying airplanes, becoming the first woman in East Africa to be granted a commercial pilot's license, then the first woman to fly the Atlantic from east to west. West With The Night Audio Book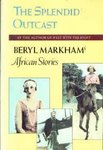 The Splendid Outcast: Beryl Markham's African Stories by Beryl Markham (1987). A collection of Markham's short stories previously published in magazines, about horses and horseracing, aviation and Africa. These stories were collected by Mary S Lovell and published posthumously.
Books About Beryl Markham
Mary S Lovell
Straight on Till Morning: A Biography of Beryl Markham by Mary S Lovell (1987). The life and times of Beryl Markham, the British-born Kenyan horse trainer and adventurer, described as the first person to fly the Atlantic East to West in a solo non-stop flight.
Errol Trzebinski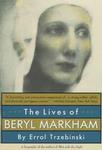 The Lives Of Beryl Markham by Errol Trzebinski (1993) is the biography of the hauntingly beautiful, tough as steel, totally amoral and immensely brave, Beryl Markham who inspired lust, resentment and admiration and was chased by scandal wherever she went. Married three times, she counted Edward Prince of Wales, his brother the Duke of Gloucester and Denys Finch Hatton among her lovers. Capping notoriety with fame, in 1936 Beryl Markham became the first woman to fly solo west across the Atlantic, the feat described in her bestselling memoir 'West with the Night'.
Find All Errol Trzebinski Books Here