Alexander Lake Books
Alexander Lake (1893 - 1961) was born in Chicago, Illinois and moved to South Africa with his family in 1908. Due to his great marksmanship skills developed at school in a shooting team, he was hired as a meat hunter by the trader Nicobar Jones. This job took him to Portugese East Africa, Tanganyika, Kenya, Uganda, Northern Rhodesia and German Southwest Africa. Within a couple of years he was a fully-fledged and licensed white hunter.
Please note, this page contains affiliate links, which means Shakari Connection receives a commission if you make a purchase using these links.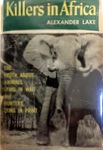 Killers In Africa by Alexander Lake (1954) is subtitled 'The Truth About Animals Lying In Wait And Hunters Lying In Print'. Alexander Lake wrote, "Don't kid yourself that you can hit a big-game beast just anywhere with a .600 Nitro-Express and drop him cold every time." "If deprived of my .303 (Lee-Enfield) I'd be perfectly happy with a 6.5 mm Mannlicher-Schoenauer and a 160 grain bullet; with a .270 Winchester and a 150 grained soft-nosed bullet; or, for that matter, I'd be satisfied with any good modern rifle of comparable size."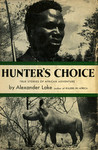 Hunter's Choice: True Stories of African Adventure by Alexander Lake (1954). Alexander Lake was a big game hunter in Africa during the 1940's and 50's who gave animals a fighting chance. It covers spiders, buffalo, fireside tales, debunking myths and other hunter's exploits. Free eBook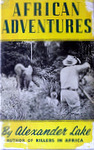 African Adventures by Alexander Lake (1954). Hunting in South Africa, Rhodesia, Congo and Kenya.
---
Alexander Lake Books
Back to Top
Page Updated: Oct 2020