Books About Early African Hunters
These books about early African hunters include collections of stories, anecdotes, tales of African expeditions, anthologies and biographies.
Please note, this page contains affiliate links, which means Shakari Connection receives a commission if you make a purchase using these links.
Doug Allan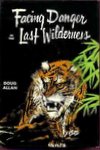 Facing Danger In The Last Wilderness by Doug Allan (1962) is a collection of stories from previously published sources on hunting and exploration in Africa
E H Baxter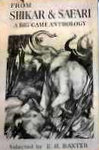 From Shikar And Safari: A Big Game Anthology by E H Baxter (1931) is a wonderful collection of the best writings by the best hunters including Selous, Neumann, Percival, Baillie-Grohman, Sutherland, Patterson and many others. Contents include hunting the Big Three and many other species in Africa, Asia, Europe, Arctic, Canada, Australia, New Zealand etc.
Michael Brander
The Big Game Hunters by Michael Brander (1988). Portrays the lives and expeditions of the principal big game hunters, from the days of the muzzle loading flintlock to the modern breech-loading express rifle. Short biographies of many of the early African and Indian big-game hunters including Walter Campbell, William Cornwallis Harris, Roualeyn Gordon Cumming, William Cotton Oswell, Sir Samuel White Baker, Henry Astbury Leveson, James Forsyth, William Rice, Alexander Kinloch, Arthur Neumann, Frederick Selous, John Guille Millais, Theodore Roosevelt, C H Stigand, James Sutherland, James Dunbar, Archibald Brander and W D M Bell.
Alfred Wilks Drayson
Alfred Wilks Drayson (1827 - 1901) was British military man who served in the Boer War and in India. He was also an astronomer and author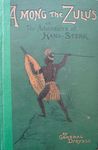 Among The Zulus: The Adventures Of Hans Sterk, South African Hunter And Pioneer by Alfred Wilks Drayson (1869) includes some elephant hunting with chapters, 'Introduction to the Hunters'; 'Following the Elephants'; 'The Bull Elephant' and 'Seeking the Dead Elephants'. Free eBook
Early Days Among The Boers: Or The Diamond Hunters Of South Africa by A W Drayson (1900)
Tales Of The Outspan: Or Adventures In The Wild Regions Of Southern Africa by A W Drayson
John Frost
Wild Scenes Of The Hunter's Life: Or The Hunting & Hunters Of All Nations by John Frost (1851). African and North American big game hunting, based in part on the works of R Gordon Cumming and Gerard. A collection of numerous accounts of hunting ranging from badger and hare, to elephant and lion. Free eBook
Geoffrey Haresnape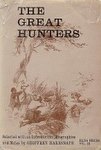 The Great Hunters by Geoffrey Haresnape (1974) is made up of passages chosen from some of the leading sportsmen pioneers in southern and central Africa who had the literary skill to make a permanent record of their experiences. Includes Selous, Chapman, Oswell, Wolhunter and more.
Ascott R Hope
Ascott R Hope (1846 - 1927) is the pseudonym of the Scottish author Robert Hope Moncrieff.
Wild Beasts And Their Hunting: Sport With Big Game by Ascott R Hope (c.late 1800s) is a collection of information, history and anecdote concerning the haunts, habits and hunting of big game and other wild animals worldwide. Much of the content is supplied by famous hunters such as Selous, Cummings, Baker, Sanderson and Gerard. Contents include lion hunting, grizzly and polar bear hunting, elephant, tiger and rhino hunting, buffalo, bison, gorillas, wolves, boar and kangaroos.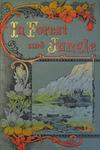 In Forest And Jungle: Or Adventures With Wild Beasts by Ascott R Hope (c.1900)
Kenneth Kemp
Tales Of The Big Game Hunters by Kenneth Kemp (1986) includes tales from Baldwin, Chapman, Gordon-Cumming, Harris, Kirby, Neumann, Selous, Sutherland, Baker, Burton, Demidoff, Radclyffe and more. One of the few books of this type with information on the rifles and projectiles used and preferred by these hunters.
Rawdon Malet
Unforgiving Minutes: A Book Of Dangerous Game by Rawdon Malet (1934) relates hunting elephant, buffalo, lion, leopard, rhino and plains game based both on the author's own experiences and on those of such noted hunters as Denis Lyell, Arthur Neumann, Frederick Selous and others
When the Red Gods Call: Being The Biography Of A Shikari In The Making by Rawdon Malet (1934) is an account of the hunting career of James Carmody Collinson. The son of a bank manager from Southampton, Collinson joined up in 1917 and was posted to Palestine. Following demobilisation, he sailed to India on the payroll of an Indian wine merchant. His travels took him to Baltistan, Tibet and Ladakh, where he hunted ibex and other game; journeying to India's Central Provinces, he successfully pursued tiger, sambur and bear.
Victor Meunier
Adventures On The Great Hunting Grounds Of The World by Victor Meunier (1868) is a collection of well-authenticated facts, illustrative of the nature, habits and various modes of capturing some of the largest and fiercest of the animal world, and to describe some of the numerous adventures, terrible fights and hairbreadth escapes which the hunting of these animals has give rise to. Victor Meunier availed himself of the writings of a great variety of travellers of different countries, ancient as well as modern. Contents include: The Gorilla, Bears, The Tiger, The Lion, The Musk Ox, Tapirs, The Hippopotamus, The Rhinoceros, The Elephants, The Ostrich, Crocodiles and more. Free eBook