W J Jeffery & Co Firearms Books
W J Jeffery & Co was founded by William Jackman Jeffery who was born in 1857. He learnt his trade with various gunmakers including Cogswell & Harrison and P Webley & Son. In 1887 he became the manager of Webley's London showroom at 60 Queen Victoria Street. Webley's eventually moved out and Jeffery stayed put and started trading as Jeffery & Davis. This partnership was shortly dissolved and in 1891 the firm was renamed W J Jeffery & Co.
By 1900 W J Jeffery & Co was operating as a full blown gunmaker with retail premises at 13 King Street and a workshop at 1 Rose and Crown Yard. The retail business was later moved to 26 Bury Street and the other two premises closed.
William Jackman Jeffery died in 1909 and his brother Charles took over the business until he died in 1920. His nephew F Jeffery Pearce took over and moved the company to Golden Square and then on to Pall Mall.
In 1957 Westley Richards (Agency) Co Ltd bought the business and moved it to 23 Conduit Street. In 1959 Holland & Holland took over and the company's address changed to 13 Bruton Street, they held the records of the company but these are now held by J Roberts & Son of London who also have a licence to manufacture under the Jeffery name.
W J Jeffery & Co was mainly known for its rifle expertise especially double barrel rifles, being the first to make the .600 Nitro Express in 1902.
However, it remains a bit of a mystery why W J Jeffery called his .500 Jeffery when the calibre is actually .505 and the .404 Jeffery is actually .423 calibre. Maybe these calibres had a better 'ring' to their names or he did not want to be confused with the .505 Gibbs.
Please note, this page contains affiliate links, which means Shakari Connection receives a commission if you make a purchase using these links.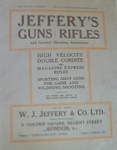 Jeffery's Guns, Rifles And General Shooting Accessories, High Velocity Double Cordite And Magazine Express Rifles, Sporting Shot Guns For Game And Wildfowl Shooting by W J Jeffery & Co (c.1930) is well illustrated throughout, mainly one gun to the page with specifications. In some cases showing cross section of cartridges, bullets, with a good section on big game rifles. One page shows a tiger buffalo and elephant shot with Jeffery .404. Also includes revolvers, pistols, air weapons, cases etc.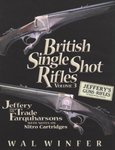 British Single Shot Rifles: Volume 3: W J Jeffery And The Trade Farquharson With Notes On The Development Of Jeffery's Nitro Cartridges by Wal Winfer (1999) relates the intriguing story of W J Jeffery and the Trade Farquharsons. He chronicles Jeffery's reintroduction of the Farquharson in England. The Trade Farquharsons cover all the Farquharson rifles made by the many firms excepting Gibbs. These rifles enjoyed a short period of importance from about the mid 1880s until 1905. Unlike other firearms of the day they became the poor man's big game rifles, the workhorse big game rifles, used to hunt in Africa and India.