Denis D Lyell Books
Denis David Lyell (1871 - 1946) was born in Calcutta into a Scottish family from Dundee. In 1893, Lyell went to Ceylon and then India as a tea planter. By 1899, aged 28, he went to South Africa and by 1913, he settled in Nyasaland. After World War I, he came back to Scotland and married Marion Brown. He was among the last big game hunters who hunted elephants for profit. From 1900 he was immersed in the hunting world and became a renowned author.
Please note, this page contains affiliate links, which means Shakari Connection receives a commission if you make a purchase using these links.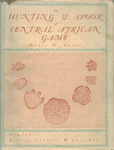 The Hunting and Spoor of Central African Game: With Life-Size Illustrations Of Most Of The Game Tracks by Dennis D Lyell (1929). The author provides rules for hunting big game, as well as chapters dealing with rifle selection and tracking game. The remainder of the text examines the natural history traits and methods of hunting, species by species. The illustrations consist of sketches of the spoor of game animals, many being life-sized. An essential work aimed at a generation of new hunters visiting Africa at the time.
Central African Game And Its Spoor by Denis D Lyell & C H Stigand (1909) is an important compendium of information by two extremely knowledgeable naturalists and hunters. It is a key book for both the novice and experienced hunter. It includes where game can be found, habitat, vital shots etc. There is also a chapter on rifles, the spoor prints illustrated are life size hence the large folding plate elephant fore foot. Free eBook
Hunting Trips In Northern Rhodesia by Denis D Lyell (1910) recounts his experiences in the big game lands of Rhodesia in exciting detail. All manner of game was collected, including elephant near Lake Chiuta, hippopotamus on the Shire River, rhinoceros on the Luangwa River and lion. In addition, sable impala, kudu, eland, lechwe, waterbuck and other antelopes were also taken. Free eBook
Wild Life in Central Africa by Denis D Lyell (1913) is an account of the author's ten years of hunting in Northern Rhodesia (now Zambia) and Nyasaland. He hunted along the Zambesi River, Luangwa and elsewhere for elephant, buffalo, lion, leopard and rhino plus sable and other plains game. Free eBook
The African Elephant and Its Hunter by Denis D Lyell (1924). This is one of the cornerstone books on African elephant hunting. It deals with the habits of the animals, some hunting adventures, notes on their ivory and gives much information regarding most of the pioneer hunters. Free eBook
Memories Of An African Hunter by Denis D Lyell (1923). As one of the truly great writers on African hunting, Denis Lyell was the center of the hunting world in the early 1900s. Lyell recounts his earliest travels in Mashonaland, heading into the interior after eland, nyala and lion. He continued in Nyasaland where he bagged kudu, lion, impala, sable and hippopotamus. He collected his first elephant using a Gibbs .303 rifle (which he had only fired three practice rounds through). Lyell includes a lengthy chapter about his elephant experiences with further hunts for buffalo, rhinoceros, eland and lion near Lake Victoria. Free eBook
African Adventure: Letters From Famous Big Game Hunters by Denis D Lyell (1935). Lyell corresponded with all the great hunters of his time. In this book are letters to him from Selous, Stigand, Cunninghame, Pease, Stevenson-Hamilton, Percival, Hunter, J G Millais, Norman B Smith, Chapman, Radcliffe, Bell, Dunbar-Brander and others. Free eBook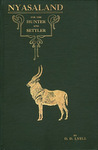 Nyasaland For The Hunter And Settler by Denis D Lyell (1912) is not a book of hunting adventures but does provide plenty of information on choosing a big-game rifle as well as the varieties of game encountered in Nyasaland. Lyell notes, "To spoor an animal for miles is far more interesting than killing it, for tracking game is the highest branch of good hunting." There are also advertisements at the end of the book depicting many British sporting firearms, ammunition and equipment.
---
Denis D Lyell Books
Back to Top
Page Updated: Oct 2020