Norman Carr Books
Norman Joseph Carr (1912 - 1997) was an elephant poacher turned professional hunter, game warden, conservationist and writer. He was married to Barbara Carr, also a writer, who was less than enamoured with their life in the bush. He was appointed as Elephant Control Officer then Game Ranger in the Luangwa Valley. He later was to develop the Kafue National Park, followed by further safari operations in Luangwa Valley.
Please note, this page contains affiliate links, which means Shakari Connection receives a commission if you make a purchase using these links.
Return To The Wild: A Story Of Two Lions by Norman Carr (1962). As warden of Kafue National Park, the author made every effort to ensure the wild animals led lives parallel to their natural existence. When he became a 'surrogate' father to two infant lion cubs, he was determined to preserve their normal instincts so when the time came for them to return to the wild, they would be equipped to survive. The result is the true story of the relationship between man and animal.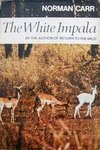 The White Impala: The Story Of A Game Ranger by Norman Carr (1969) is an autobiography where elephants dominate the picture. Once his quarry, they became the subject of some of Norman Carr's most rewarding studies. Above all it is the interdependence of men, animals and their habitat which is the theme of 'The White Impala' - it is not only autobiographical but prophetic.
Kakuli: A Story About Wild Animals, Their Struggle To Survive And The People Who Live Among Them by Norman Carr (1996) is the scarcest of Norman Carr's books which is taken from a series of newsletters Carr wrote in the late 1980s and early 1990s. It contains many anecdotes about the wildlife in Kafue Park.
Valley Of The Elephants: The Story Of The Luangwa Valley And Its Wild Life by Norman Carr (1979) is a collection of wildlife stories from the author who worked in the Luangwa Valley for over 40 years.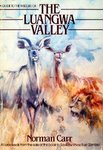 A Guide To The Wildlife Of The Luangwa Valley by Norman Carr (1987) was published with all the proceeds from the book sales going to Save The Rhino Trust, Zambia. The book is currently unavailable.
Some Common Trees And Shrubs Of The Luangwa Valley by Norman Carr (1978) contains superb, delicately drawn illustrations of vegetation, seeds, flowers, leaves, bark and also some wildlife scenes.
---
Norman Carr Books
Back to Top
Page Updated: July 2021