Peter Hathaway Capstick Books
Peter Hathaway Capstick (1940 - 1996) was an American professional hunter and author. He was born in New Jersey and left a Wall Street career shortly before his thirtieth birthday to become a professional hunter, first in Central and South America and later in Africa.
Peter Capstick On Hunting Dangerous Game
Please note, this page contains affiliate links, which means Shakari Connection receives a commission if you make a purchase using these links.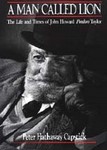 A Man Called Lion by Peter Hathaway Capstick (1994). Nothing is held back in this complete biography of John Howard 'Pondoro' Taylor. This is Capstick at his best on one of Africa's most intriguing characters.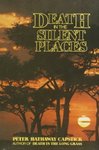 Death In Silent Places by Peter Hathaway Capstick (1981). Capstick now turns from his own exploits to those of some of the greatest hunters of the past. He describes the extraordinary careers of men like J H Patterson, Jim Corbett, Karamojo Bell and Sasha Siemel. Kindle Version
The African Adventurers: Return To Silent Places by Peter Hathaway Capstick (1992) is the sequel to 'Death in the Silent Places' in which Capstick recounts the stories of Frederick Selous, C J P Ionides, John Boyes and Jim Sutherland. Kindle Version
Death In The Long Grass by Peter Hathaway Capstick (1977) is based on Capstick's own experiences and the personal accounts of his colleagues. 'Death In The Long Grass' portrays the great killers of the African bush with separate chapters on lion, elephant, leopard, Cape buffalo, hippo, crocodile, rhino, snakes and underrated killers such as African wild dogs, hyenas, sable antelope, bushbuck, nervous clients and insane clients. Kindle Version
Death In A Lonely Land by Peter Hathaway Capstick (1990) is a compilation of two decades of his articles published in various sporting magazines. It includes tales about killer baboons, jaguar hunting, a deadly tree-climbing snake, Cape buffalo and Brazil's pugnacious red buffalo. It also includes technical pieces on guns and ammunition plus lively stories about fishing snook and salmon. Kindle Version
Death In The Dark Continent by Peter Hathaway Capstick (1983) takes us back to Africa to encounter the five most dangerous big game animals - lion, leopard, elephant, Cape buffalo and rhinoceros. Kindle Version
The Last Ivory Hunter: The Saga Of Wally Johnson by Peter Hathaway Capstick (1988) is the story of Wally Johnson who spent half a century in Mozambique hunting ivory. The book includes how Wally Johnson he survived the massive bite of a Gaboon viper, buffalo gorings, floods, disease, gold fever, 200 armed poachers and rocket attacks from Mozambique revolutionaries in 1975. At the age of 63, Wally continued his career in Botswana. Kindle Version
Last Horizons: Hunting, Fishing & Shooting On Five Continents by Peter Hathaway Capstick (1988) is the first of a two-volume collection of Capstick's hunting, fishing and shooting tales.He recounts what it's like to be charged by a Cape buffalo, have close encounters with lions and bow-fishing in the piranha-filled rivers of Brazil. Kindle Version
Maneaters by Peter Hathaway Capstick (1981) are accounts of the most notorious maneaters from around the world including sharks, lions, leopards, tigers, bears, wolves, hyenas and cannibals.
Peter Capstick's Africa: A Return To The Long Grass by Peter Hathaway Capstick (1987) is the account of when in 1985, Capstick retraced his earlier footsteps (from 'Death In The Long Grass') on safari in Botswana, Zimbabwe and Zambia with two photographers, Paul Kimble and Richard van Niekerk and professional hunter, Gordon Cundill. Hunting, photography, and some angling for tigerfish and bream. Kindle Version
Sands Of Silence: On Safari In Namibia by Peter Hathaway Capstick (1991) is an account of Capstick's safari through Namibia in 1989 to the stark landscape that makes up the Bushmen's tribal territories. Tales include his travels and observations on the Bushmen culture, their political persecution and their lives as hunter-gatherers. Kindle Version
Safari: The Last Adventure by Peter Hathaway Capstick (1984) explains everything you might want to know about how to plan and book a safari (at the time, several decades ago) with sections on the Big Five. It is an interesting, fast-paced and humorous look at the hunting world most of us will never see again. Kindle Version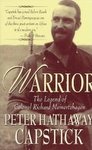 Warrior: The Legend Of Colonel Richard Meinertzhagen by Peter Hathaway Capstick (1998) is a vivid biography of Colonel Richard Meinertzhagen which includes his commando raids against German forces in Africa and the Middle East during World War I, covert missions to the USSR and Nazi Germany between the wars and work as an OSS agent during World II. The book was edited and prepared for publication by Fiona Capstick after Capstick's death in 1996. Kindle Version
---
Peter Hathaway Capstick Books
Back to Top
Page Updated: Jan 2021