Richard Sutton Books
Richard Lightburn Sutton (1878 – 1952) was an American big game hunter, big game fisherman and medical doctor, specialising in dermatology.
Please note, this page contains affiliate links, which means Shakari Connection receives a commission if you make a purchase using these links.
An African Holiday by Richard L Sutton (1924). Big game hunting in the Guaso Nyiro region of Kenya with the legendary white hunter Alan Black and Captain Hurst (immortalized by J A Hunter) as the guides. A well written account of hunting and hunting conditions in East Africa a century ago. Numerous rhinoceros were bagged, as were lion, leopard, elephant, buffalo, kudu and impala. Included in the author's battery was an Ithaca Auto & Burglar gun, a type of sawn-off double-barreled shotgun that was "the greatest hyena and snake gun ever built".
Tiger Trails In Southern Asia by Richard L Sutton (1926) is a book about tiger and big game hunting in Vietnam and India in 1926.
The Long Trek: Around The World With Camera And Rifle by Richard L Sutton (1930). The author and his son, Richard Lightburn Sutton Jr (1908 - 1990), embarked on a journey which took them to hunting fields in Southeast Africa and Southeast Asia where they took 1800 photos.
An Arctic Safari: With Camera And Rifle In The Land Of The Midnight Sun by Richard L Sutton (1932) is an account of a hunting and sight-seeing trip by the author and his family aboard a Norwegian sealer from Norway to Swalbard waters. Free eBook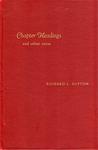 Chapter Headings And Other Verse by Richard L Sutton (1944) contains a number of short poems which appeared in various travel stories.
The Silver Kings Of Aransas Pass And Other Stories by Richard L Sutton (1937) is primarily tarpon fishing (including fly fishing) in Texas and along the Gulf Coast. Free eBook
---
Richard Sutton Books
Back to Top
Page Updated: Nov 2020