W S Chadwick Books
William Sydney Chadwick (b.1882) was born in England and emigrated to South Africa in the 1920s. He was a transport rider in Rhodesia, one time member of the Bechuanaland Protectorate Police and professional hunter in that he earned a living selling the ivory and lions skins from his trophies.
Please note, this page contains affiliate links, which means Shakari Connection receives a commission if you make a purchase using these links.
Giants Of The Forest: African Hunting Adventures by W S Chadwick (1929) has more than a generous dose of big game hunting between the covers of this work. Free eBook
Man-Killers And Marauders: Some Big Game Encounters Of An African Hunter by W S Chadwick (1929) is an acount of the author's adventures in the African bush, tracking down man-eating lions and rogue elephants.
Hunters And The Hunted: Some Glimpses Of Man And Beast In The African Bush by W S Chadwick (1931) contains stories of experiences facing rhinoceros, lion, leopard, buffalo, elephant and antelope. Among the people whose adventures he recounts is Arnold Wienholt. The book includes tales of the combat of a lion and a python, a buffalo versus a lion and the strength of an elephant. Also contains stories of witch doctors and black magic.
Sultan On Safari by W S Chadwick (1945) is the tale of 'Sultan' an orphaned elephant.
Sultan Of Sanctuaries by W S Chadwick (1947) more tales of 'Sultan' an orphaned elephant.
Buffo: The Baboon And Watchers Of The Wilds by W S Chadwick (1936) is a two part story of the adventures of a brave baboon and of the boy he saved from death.
Life Stories Of Big Game by W S Chadwick (1930) are stories about elephant, rhino, leopard, crocodile, lion and buffalo.
Mother Africa Hits Back: The Native Problem And Its Solution by W S Chadwick (1948)
Bred In The 'Blue' Or Ways Of The African Wildfolk by W S Chadwick (1936)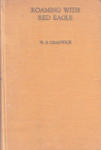 Roaming With Red Eagle by W S Chadwick (1940)
---
W S Chadwick Books
Back to Top
Page Updated: Oct 2020