Bolt Action Rifle For Africa
When buying a bolt action rifle for Africa there are a few measures to take to get optimal performance in the most common scenario of bushveldt plains and dangerous game hunting in Africa.
If you are not going to be buying a new rifle for hunting in Africa, there may be a few tweaks you can make on your rifle to 'Africanise' it.
"Today we have naming of parts. Yesterday,
We had daily cleaning. And tomorrow morning,
We shall have what to do after firing. But to-day,
Today we have naming of parts". Henry Reed, 1942
Rifle Stock, Wrist And Forend
It's really important that the stock is well designed and fits the hunter perfectly. An ill-fitting stock will make the rifle unpleasant to shoot by enhancing the recoil effects. If you can't afford a custom-made stock, it's an idea to try a variety of factory-made rifles to find one that fits properly, as there may be subtle differences between them. To add length, the adjustment can easily be made by either inserting a spacer or adding a recoil pad. To shorten, wood can be removed.
If you are primarily going to use a telescopic sight to hunt but there may be the chance you may need to convert to open sights, make sure you have selected a low cheek-piece design.
The fore-end is a matter of personal choice just as long as you have a good solid one to grip.
Good quality checkering on the wrist and fore-end is essential in the heat of Africa.
Try to avoid a high gloss finish - a dull satin or classic oil finish is ideal for a bolt action rifle for Africa.
It is worth mentioning, if you have a rifle that is so precious that you are afraid it will get dented or scratched by hunting in Africa, please don't bring it. Rather do this than fret about it and take extraordinary steps to protect it. It is not unheard of for a client to want to stalk game with his rifle in a padded slip, not daring to expose it until the last moment!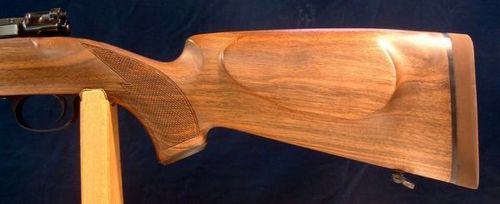 A stock suitable for open sight use with a slightly curved back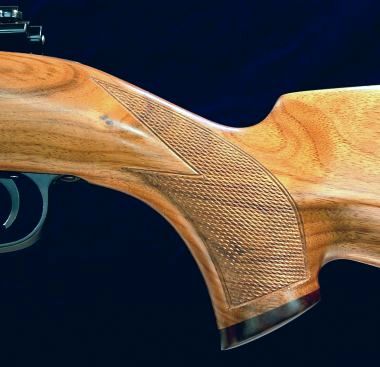 A standard checkering pattern
Rifle Action, Triggers, Safety Mechanism, Magazine & Floorplates
The main thing to consider with a rifle action for hunting in Africa is an excellent quality build with a smooth bolt throw.
The merits of controlled or push feed and extractor types can be discussed until the cows come home, with every hunter having a different opinion.
As for triggers, for all types of hunting, you want a good crisp let-off, not too much creep and a pull that suits you.
Use a safety mechanism which suits you and that you can operate quietly, especially when hunting dangerous game.
Some rifles have a greater magazine capacity than do others. Clearly having the availability of more shots is always an advantage, especially when hunting dangerous game.
If your rifle has heavy recoil, ensure the floorplate catch is strong enough to prevent an inopportune dumping of cartridges.
In summary, all you need in these working parts of your bolt action rifle for Africa, is flawless feeding and absolute reliability.

Mauser Model 98 with shaped trigger guard, bolt handle bent to clear low fitted telescopes & single stage adjustable trigger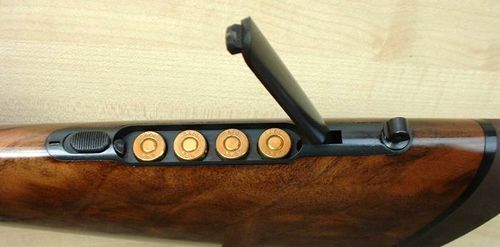 Rifle Barrel
A short barrel is preferable in bushveldt.
Non-reflective finish on the barrel is important.

.500 Jeffery with 19 1/2" barrel
Rifle Sights
The traditional sights for dangerous game rifles of all types is the shallow 'V' open rear sight called an 'express' sight, combined with a front sight featuring a large brass or ivory bead.
Fibre-optic beads are the best for light-gathering in poor light conditions however they are not as robust as other beads.


3 leaf sight fitted to the Quarter Rib
Rifle Scope Mounts
Quick detachable (QD) scope mounts are always useful in plains game hunting.
QD mounts should be considered mandatory for dangerous game hunting.
Telescopic sight on QD mounts
Detachable scope mount on Mauser 98
Rifle Swivels And Slings
If you do prefer to use a sling on your rifle, detachable swivels are the best option so you can take the sling off efficiently when the need arises, like follow-ups in thick bush.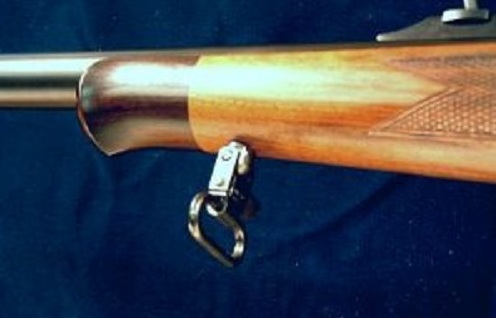 Rifle Recoil Reduction Solutions
The most useful measure to reduce the effects of recoil is a mercury filled, tungsten bead or oil & piston anti-recoil tube fitted into the stock of the rifle.
Muzzle brakes are to be avoided, despite their good recoil reduction properties. They can leave the hunter unable to hear properly for sometime after the shot, which is not ideal in a dangerous game hunt situation. They also can affect the hearing of the PH and other members of the hunt team.
All photographs by kind permission of Eugene Combrink of Sabi Rifles, South Africa.
More On Rifles For Africa
---
Bolt Action Rifle For Africa
Back to Top
Page Updated: Jan 2020