Watercolor Art | Dr Enrique Lacuesta
African Wildlife Watercolor Art of Dr Enrique Lacuesta
Take a look at the spectacular and original watercolors of African game animals created by Enrique Lacuesta...
Dr. Enrique Lacuesta, doctor and artist born in Spain has been dedicated to the artistic field in a self-taught formation from an early age. He has been investigating and using most of the well-known techniques like oil painting, watercolours, gouache, pencil on paper and inks. In addition, he developped his own techniques in illustrations, these being unique worldwide.
As a result of the combination of his medical and art professions, he has managed to transfer his knowledge of anatomy to his paintings in order to attempt a perfect harmony in his illustrations. This is as a result of a meticulous examination of proportions and anatomical features related to each species.
As a specialist in mammals, he primarily focuses on big game - the "Big Five", the big cats, antelopes, elephants and bovids.
He has worked for several hunting publications, most prominent being his work in Spain's first big game hunting magazine, 'Hunters' in which he has been an artist, cartoonist and writer since its founding in 1997. His illustrations created for the American editor of Safari Press are particularly remarkable.
Watercolor Galleries of African Wildlife
Take a look in the watercolor galleries and be amazed at the exquisite detail that flows from Enrique's brush and watercolor palette....
All the watercolors are original, signed and dated by Enrique Lacuesta.
All the pieces of watercolor art measure 21 x 30 cm
Please contact us if you are interested in purchasing any art by Enrique Lacuesta.
Please note Shakari Connection receives a commission if you make a purchase using this website.
Big Five Watercolor Art Gallery
Hippo Watercolor Art Gallery
Plains Game Watercolor Art Gallery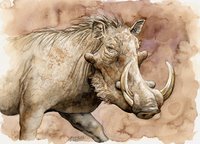 Plains Game Watercolor Gallery
Cheetah Watercolor Art Gallery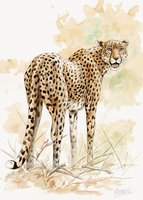 Dr Enrique Lacuesta's African Wildlife Oil Paintings
Not only an expert wildlife watercolorist, Dr Enrique Lacuesta also creates evocative oil paintings of African big game.
African Wildlife Oil Painting Gallery
---
Watercolor Art
Back to Top