Benin Travel
Page Updated: Mar 2020
Benin Travel - Benin is in West Africa on the northern coast of the Gulf of Guinea. It shares land borders with Niger in the north, Togo in the west, Nigeria in the east and Burkina Faso in the north-west.
Benin does not usually spring to mind as a top African hunting or travel destination. It is a relatively poor nation but is one of the more stable countries to visit in Africa.

TRAVEL ALERT
March 2020: The UK Foreign and Commonwealth Office (FCO) is advising against all travel to:
The Parc du W National Park and the contiguous hunting zones of Meêkrou and Djona. The Parc is tri-national and shares an open border with Burkina Faso and Niger. There is a risk of terrorist attacks throughout the Parc.
The area between the Parc du W and the border with Niger.
The Pendjari National Park and adjacent hunting grounds.
All other areas within 5km of the border with Burkina Faso.
TRAVEL ALERT
March 2020: US Travel Advisory on Benin recommends reconsidering travel to:
Park Pendjari, Park W and adjacent hunting zones, and other areas near Benin's northern border with Burkina Faso, due to terrorism and kidnapping.
The US government has limited ability to provide emergency services to US citizens in Benin's northern border areas.
Benin Travel Facts
Formerly: Dahomey
Capital: Porto Novo (Official) Cotonou (Seat of Government)
Area: total: 112,620 km2
Population: 7,862,944
Language: French and many local languages
Benin Money
The local currency is (West Africa Comunauté Financiere Africaine) CFA Franc.
No locations for Cirrus/Mastercard/Maestro ATMs in Benin
ATMs are the cheapest way to get local currency in Benin but be security aware when using an ATM. Also don't wholly rely on getting your local cash at an ATM in Benin - they are frequently empty or broken. Read more on money in Africa
There is only a Visa ATM available at Cotonou Airport.
Electricity In Benin

Voltage: 220 V | Frequency: 50 Hz | Power sockets: Type E
Benin Map
Getting To Benin
Air France
Non-Stop from CDG, Paris to Cotonou, Benin

Brussels Airlines
Non-Stop from Brussels, Belgium to Cotonou, Benin
Benin Travel Health
Vaccinations/boosters are strongly recommended for:
Note, you must carry the WHO Yellow Fever certificate when travelling to and from Benin.
Malaria In Benin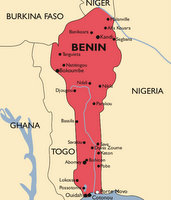 Malaria Map Of Benin
Malaria prophylaxis is recommended for all travellers to Benin at all times of year. The red area indicate substantial risk of malaria.
Other Health Hazards In Benin
All hepatitis strains are endemic.
Bilharzia is present in fresh water.
Meningitis may be prevalent in certain areas.
Food and drink contamination.
Please note, this page contains affiliate links, which means Shakari Connection receives a commission if you make a purchase using these links.
Getting A Visa For Benin
Go to Benin eVisa to apply for a Tourist eVisa, Business eVisa and Transit eVisa. This service allows any foreigner wishing to visit Benin to submit his eVisa application online. The process includes the payment online. The eVisa is sent directly to the email address supplied once the request is accepted by Benin authorities.
Alternatively you can use a visa service to apply for a Benin Visa online
Benin Embassy Websites
Recommended Reading For Benin Travel
The Bradt Travel Guide (2019) to Benin gives a lively and off-beat insight into this small but fascinating country, fast gaining popularity with safari hunters, adventurers and exotic travellers.
Useful Benin Travel Resources
---
Benin Travel
Back to Top