Benin Travel
Benin Travel - Benin is in West Africa on the northern coast of the Gulf of Guinea. It shares land borders with Niger in the north, Togo in the west, Nigeria in the east and Burkina Faso in the north-west.
Benin does not usually spring to mind as a top African hunting or travel destination. It is a relatively poor nation but is one of the more stable countries to visit in Africa.

Benin Travel Facts
Formerly: Dahomey
Capital: Porto Novo (Official) Cotonou (Seat of Government)
Area: total: 112,620 km2
Population: 7,862,944
Language: French and many local languages
Benin Money
The local currency is (West Africa Comunauté Financiere Africaine) CFA Franc.
ATMs are the cheapest way to get local currency in Benin but be security aware when using an ATM. Also don't wholly rely on getting your local cash at an ATM in Benin - they are frequently empty or broken. Read more on money in Africa
There is only a Visa ATM available at Cotonou Airport.
Electricity In Benin

Voltage: 220 V | Frequency: 50 Hz | Power sockets: Type E
Benin Map
Getting To Benin
Air France
Non-Stop from CDG, Paris to Cotonou, Benin

Brussels Airlines
Non-Stop from Brussels, Belgium to Cotonou, Benin
Benin Travel Health
Vaccinations/boosters are strongly recommended for:
Note, you must carry the WHO Yellow Fever certificate when travelling to and from Benin.
Malaria In Benin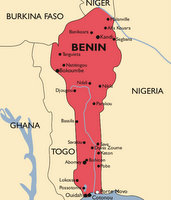 Malaria Map Of Benin
Malaria prophylaxis is recommended for all travellers to Benin at all times of year. The red area indicate substantial risk of malaria.
Other Health Hazards In Benin
All hepatitis strains are endemic.
Bilharzia is present in fresh water.
Meningitis may be prevalent in certain areas.
Food and drink contamination.
Getting A Visa For Benin
Benin visa and passport information includes all application instructions and visa application form downloads.
Visa & Passport Requirements For US & UK Citizens
Submit your Passport, must be valid at least 6 months beyond intended stay
1 Visa Application Form, fully completed and signed
2 Recent passport-type photographs
1 photograph must be glued on form
Copy of round trip airline tickets
Consular Fee: $100.00 per visa - tourist visa
Consular Fee: £55.00 per visa - tourist visa
Benin Visa Application Forms
Benin Embassy In US
2124 Kalorama Road, NW, Washington, DC 20008
Tel: (202) 232-6656
Fax: (202) 265-1996
Benin Embassy In US Website
Benin Embassy In UK
Millennium House, Humber Road, Near Staples Corner, London NW2 6DW
Tel: (020) 8830 8612
Benin Embassy In UK Email
US Embassy In Benin
Rue Caporal Bernard Anani, Cotonou
Tel: [229] 21-30-06-50
Fax: [229] 21-30-14-39
US Embassy In Benin Website
UK Embassy In Benin
There is no UK diplomatic representation in Benin. If you need consular assistance, you should contact the British High Commission in Accra
Recommended Reading For Benin Travel
The Bradt Travel Guide to Benin gives a lively and off-beat insight into this small but fascinating country, fast gaining popularity with safari hunters, adventurers and exotic travellers.
Useful Benin Travel Resources