Selecting An African Hunt
In selecting an African hunt, the answers to the questions posed in Planning An African Hunt are in more depth, so selecting an African hunt becomes more straightforward.
To get the maximum enjoyment from your African hunting safari you need to decide exactly what your criteria are and how you are going to make your selection and then ensure you settle on a company you can reasonably afford, that will meet your expectations and deliver the kind of product you want.
"There is a simple formula to successful safari. First, you must have enough money to go..... you must not wait until you get to Mozambique or South Africa to choose your Professional Hunter, on the off chance they will undercut one another in bidding for the job. You do that and you only wind up with some reformed locust control type, and all he will get you is lost. What you want is comfort; not unnecessary hardship, because even on the lushest, plushest safari, there will be discomfort enough. That's to say, you will crawl through bush, walk endless miles, bump on interminable trackless terrain, be scorched by sun, frozen by morning wind, be bitten by every bug ever created, go to the can in the bush, be frightened out of your wits, and bored to distraction in the long waits and perpetual dusty journeying." Robert Ruark
When To Go And For How Long?
You need to consider your own vacation/holiday times for the year and try to match them to the weather in Africa that you will find most congenial and the official hunting seasons which are stipulated in some African countries.
Where hunting can continue throughout the year, as in South Africa, you may prefer the cooler winter weather in June through to October over the scorching summer months of November through to May.
The more time you can spend hunting, the better. You'll have time to look around and be more selective about your trophy animals. Most hunting companies specify minimum hunt lengths particularly when specific animals are involved. For example, a 10 day hunt for a buffalo with plains game or 14 days for a buffalo with leopard in Mozambique. These are the minimum hunt lengths an outfitter believes are feasible to be successful attaining the species and making best use of his quota. In Tanzania the Government hunt licences lay down the minimum hunt lengths required for various species. For example, a full bag hunt (including the Big 4) requires a 21 day licence. It would be up to you whether you stay the full length of hunt but you will have to pay for a full 21 day hunt licence.
Other hunt timing considerations would be the 'peak' times of year for a specific animal especially in wilderness hunt areas. Certain factors like weather and vegetation growth usually make it considerably easier to hunt a buffalo, for example, in the Selous in October than in July. Also if you want to hunt a leopard over bait, you may want to come at a time when the usual leopard prey animals are not dropping their calves or lambs, providing easy leopard snacks.
What Level Of Travel And Accommodation Comfort?
Your level of travel to and within Africa is part and parcel of your budgetary and time considerations. Some hunts necessitate air charters into and out of the area just because they are so remote and any other mode of transfer would take possibly days. With other hunts in countries where there is good infrastructure like South Africa, road transfers are a good alternative. It is usually more convenient to take a domestic flight to the nearest town from where you are collected and driven to the hunt areas. If you prefer a longer drive, some companies will meet you at your main airport of arrival, like Johannesburg.
Careful attention should be paid to where you will be staying or acommodated during your hunt, especially if you personally or your non-hunting family/guests are liable to be uncomfortable with unfamiliar lodgings and facilities in Africa. On ranch hunts in southern Africa, most camps are permanent structures with chalets or rondavel dwellings with possible creature comforts ranging from air-conditioning to DVD and jacuzzi. It can be just as distressing to discover the modern trappings of ordinary daily life in a hunting camp when you all you wanted was to leave this all behind and 'go back to nature'. In wilderness areas you will mostly be accommodated in safari tents ranging from basic to 'Arabian nights' luxury with silver service. It's your choice...reflected in your daily rate costs.
Make sure you discuss all the camp facilities and services with your prospective outfitter and ask for photographs.
Do You Only Want A Variety Of Plains Game?
Most hunters new to Africa start with a plains game hunt before graduating to dangerous game. The southern Africa plains game species are the most popular and least expensive to hunt and so are a good starting point for your African hunting career.
Having got most of the 'common' species, you may want to continue hunting special plains game that only occur in specific regions/countries, for example, a mountain nyala from Ethiopia or a giant forest hog from Cameroon and possibly improve your existing trophy collection along the way.
Your plains game hunting pleasure may be heightened by choosing to hunt an area that is also populated with dangerous game. For example, some hunting areas in South Africa are home to a few rhino.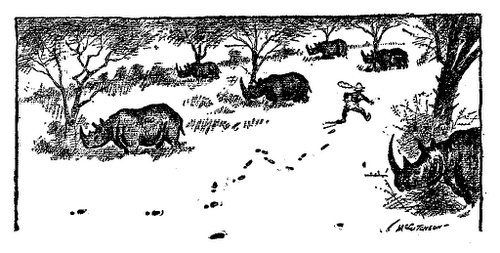 Check the trophy lists your prospective outfitter offers and doublecheck if you really have a burning desire for a particular species in case he has run out of them. For example, the last big blue eland bull may have already been shot and the outfitter may only have cows or young bulls to hunt or may have put a temporary halt on hunting eland while he builds up or re-stocks the herd.
It has become increasingly prevalent in southern African countries that hunters are given a comprehensive trophy list but are unaware that they have to travel to other farms to hunt some of the species. This may mean a day trip, losing hunt time travelling, or an overnight stay. This is may be OK if you know about it and only involves one or two special animals but not OK if it is sprung on you and you have to travel for 'common' game species that really ought to be on the one farm (kudu, impala, hartebeest). Get all the details and also check if you are going to be charged extra for fuel.
Do You Want A Dangerous Game Hunt With Plains Game?
Having said most hunters start their African hunting careers with a plains game only hunt, there is nothing wrong with plunging straight in with a dangerous game hunt. As long as you are a confident and competent shot with a modicum of hunting experience, you should have no problems. Without question the best dangerous game hunting is found in wilderness areas and if these areas of Tanzania or Mozambique, for example, suit your budget and other criteria, go for it. However, you may prefer to hunt dangerous game behind a fence which will narrow your choice of trophy animal but increase your success rate. What you may save financially in daily rate on a dangerous game ranch hunt, you may find you lose in the trophy fees.

Do You Want To Hunt Behind A Fence?
Some considerations about hunting an enclosed hunting area have been already addressed and provided the area is suitably large enough, a very successful hunt may be had, especially with plains game.
Do You Want A True Wilderness Hunt?
When selecting an African hunt in a vast wilderness area, the main thing to remember is that the animals are truly wild and can wander at will. So the prevailing weather, presence of good water and vegetation conditions will dictate the game numbers in your precise area and can possibly impinge on your hunt success.
Wilderness hunts are generally more expensive because the areas are usually very remote from civilisation and every single piece of camp infrastructure, food and fuel etc has to be flown or trucked in. In addition, you will more than likely have air charter costs to get there.
For the purest hunting experience, going to one of these areas cannot be beaten.
Do You Want To Hunt Alone Or With A Companion?
Most hunts are offered on the price basis of 1 hunter or 2 hunters with 1 Professional Hunter (1x1 or 2x1). You may find additional price differences if larger parties are booked like 4x2 but veer away from any company offering 3x1 or 4x1. Two hunters to one PH is the most reasonable maximum combination for the success for both hunters. Remember that the slightly cheaper 2x1 hunt price means you are effectively sacrificing half your hunt time. If you want the undivided attention of your PH, 1x1 is the only way to go.
It is a personal decision whether you want to hunt alone or not but it is important as the whole experience and/or friendship can be ruined by not having a 'suitable' hunting partner. Of course, the opposite is true - with a close hunting buddy the hunt can be a memorable triumph for both of you.
Do You Intend Bringing Non-Hunting Spouse/Family/Friends?
This is another important decision when selecting an African hunt. Hunting, by its nature, is a rather solitary and selfish pursuit, so demands on your attention by your non-hunting companions and worry about their well-being might not be welcome. Hopefully, an understanding spouse who is happy to amuse herself in camp or in the hunting truck while you are out hunting, is ideal.
Some non-hunters like to accompany the hunter on the trail and be there at the conclusion of the stalk. It is worth remembering that this could be a bit of a liability unless they are able to conduct themselves like a hunter and keep up with the pace. A extra person on the final approach is another source of potential distraction for game and an added responsibility for the PH and tracking staff, especially in a dangerous game area.
Do You Need Additional Activities Available For Non-Hunters?
Having a happy and occupied spouse/family reduces the pressure on you while hunting and can be an important consideration when selecting a hunt. Most wilderness hunts do not offer much for a non-hunter to do other than going out with you or reading and the like, in camp. Hunts in southern Africa possibly have more to offer. Permanent camps, for example in South Africa, often have swimming pools and are more accessible to local towns and tourist attractions. Some even have beauty parlours on site! Be prepared for additional costs for vehicle/driver usage and extra activities for your non-hunters and discuss availability with your prospective outfitter.
Reparation to your spouse for your hunt time can also be made by booking a separate sight-seeing vacation on either end of your hunt.
Do You Want Other Sporting Activities?
A lot of hunters are avid wing-shooters or fishermen too and often want to combine a hunt with these activities. Truth be told...once you are in the African hunting groove, you'll probably not want to stop to fish or birdshoot, despite any previous agonising of which rod to bring or carting a shotgun all the way to Africa.
If you do want to do other activities, check with the outfitter and see what's available in the hunting area or nearby.
Other Factors To Consider When Selecting An African Hunt
Taking your hunt species requirements into account, it's a good idea to also consider other factors when selecting the African country in which you want to hunt. These might include the prevailing political climate, personal security and safety, your home country trophy import restrictions on species from individual countries, convenient access and travel within a country and potential health risks.
More On Planning An African Hunt
---
Selecting An African Hunt
Back to Top
Page Updated: Jan 2020