Botswana Travel
Botswana Travel - Botswana is a landlocked country in southern Africa. It shares land borders with Zimbabwe in the north-east, South Africa in the south and south-east and Namibia to the west. Botswana is one of Africa's success stories with steady economic growth and remains a peaceful and stable nation of remarkable natural beauty.

Botswana Travel Facts
Formerly: Bechuanaland
Capital: Gaborone
Area: 600,370 km2
Population: 1,639,833
Language: English (official), Setswana
Botswana Money
The local currency is Pula (BWP).
ATMs are the cheapest way to get local currency in Zambia but be security aware when using an ATM. Also don't wholly rely on getting your local cash at an ATM in Botswana - they are frequently empty or broken. Read more on money in Africa
There are no ATMs at either Gaborone or Maun airports. You'll need to go into town to access an ATM.
Electricity In Botswana
There are 2 plug configurations in Botswana.

Voltage: 220 V | Frequency: 50 Hz | Power sockets: Type E & D
Botswana Map
Getting To Botswana

Non-Stop from OR Tambo, Johannesburg to Gaborone
Non-Stop from OR Tambo, Johannesburg to Maun

Non-Stop from Johannesburg to Gaborone, Botswana

Non-Stop Gaborone to Johannesburg, SA
Non-Stop Maun to Johannesburg, SA
Non-Stop Francistown to Johannesburg
Non-Stop Gaborone to Harare, Zimbabwe
Non-Stop Gaborone to Kasane, Botswana
Non-Stop Maun to Kasane, Botswana
Botswana Travel Health
Vaccinations/boosters are strongly recommended for:
Malaria In Botswana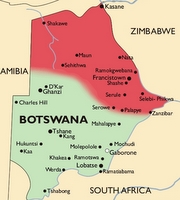 Malaria Map Of Botswana
Malari prophylaxis is recommended for all travel to the northern part of the country in the provinces of Central, Chobe, Ghanzi, and Ngamiland, including safaris to the Okavango Delta area. There is no risk in the city of Gaborone. Transmission occurs mainly from November to June. The red area indicates a substantial risk of malaria.
Other Health Hazards In Botswana
Botswana Visa
Botswana visa and passport information includes all application instructions and visa application form downloads.
Tourist visas are not required for UK or US citizens to visit Botswana for up to 90 days.
Passport must have at least 6 months validity
Tickets and Documents for return or onward travel must be available
Hold sufficient funds
Should you be of a nationality requiring a visa, the requirements are:
Submit your Passport, must be valid at least 6 months beyond intended stay
2 Visa Application Forms, fully completed and signed
2 Recent passport-type photographs
Copy of round trip airline tickets
Copy of travelers checks
Covering letter regarding the purpose of the trip
Consular Fee: $108.00 per visa - most nationalities
Botswana Visa Application Forms
Botswana Embassy In US
1531-1533 New Hampshire Ave, NW,Washington, DC 20036
Tel: 202-244-4990
Fax: 202-244-4164
Botswana Embassy In US Website
Botswana Embassy In UK
6 Stratford Place, London, W1C 1AY
Tel: 0207 4990031
US Embassy In Botswana
Embassy Enclave, (off Khama Crescent) Gaborone
Tel: 267 395-3982
Fax: 267 395-6947
UK Embassy In Botswana
Private Bag 0023 Gaborone
Tel: (267) 395 2841
Fax: (267) 395 6105
Botswana Embassy In UK Email
Recommended Reading For Botswana Travel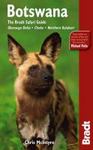 The Bradt Travel Guide to Botswana provides coverage of the wildlife, environment and history, as well as a thorough evaluation of when, where and how to go. Accommodation options for all budgets from lodges to camps and hotels.
Useful Botswana Travel Resources