Botswana Travel
Botswana Travel - Botswana is a landlocked country in southern Africa. It shares land borders with Zimbabwe in the north-east, South Africa in the south and south-east and Namibia to the west. Botswana is one of Africa's success stories with steady economic growth and remains a peaceful and stable nation of remarkable natural beauty.

Botswana Travel Facts
Formerly: Bechuanaland
Capital: Gaborone
Area: 600,370 km2
Population: 1,639,833
Language: English (official), Setswana
Botswana Money
The local currency is Pula (BWP).
ATMs are the cheapest way to get local currency in Zambia but be security aware when using an ATM. Also don't wholly rely on getting your local cash at an ATM in Botswana - they are frequently empty or broken. Read more on money in Africa
There are no ATMs at either Gaborone or Maun airports. You'll need to go into town to access an ATM.
Electricity In Botswana
There are 2 plug configurations in Botswana.

Voltage: 220 V | Frequency: 50 Hz | Power sockets: Type E & D
Botswana Map
Getting To Botswana

Non-Stop from OR Tambo, Johannesburg to Gaborone
Non-Stop from OR Tambo, Johannesburg to Maun

Non-Stop from Johannesburg to Gaborone, Botswana

Non-Stop Gaborone to Johannesburg, SA
Non-Stop Maun to Johannesburg, SA
Non-Stop Francistown to Johannesburg
Non-Stop Gaborone to Harare, Zimbabwe
Non-Stop Gaborone to Kasane, Botswana
Non-Stop Maun to Kasane, Botswana
Botswana Travel Health
Vaccinations/boosters are strongly recommended for:
Malaria In Botswana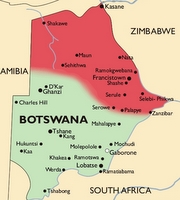 Malaria Map Of Botswana
Malari prophylaxis is recommended for all travel to the northern part of the country in the provinces of Central, Chobe, Ghanzi, and Ngamiland, including safaris to the Okavango Delta area. There is no risk in the city of Gaborone. Transmission occurs mainly from November to June. The red area indicates a substantial risk of malaria.
Other Health Hazards In Botswana
Please note, this page contains affiliate links, which means Shakari Connection receives a commission if you make a purchase using these links.
Getting A Visa For Botswana
Tourist visas are not required for UK or US citizens to visit Botswana for up to 90 days.
Should you be of a nationality requiring a visa you can make the application at your nearest Botswana Embassy or High Commission.
Botswana Embassy Websites
Recommended Reading For Botswana Travel
The Bradt Travel Guide (2018) is a guide to one of Africa's most popular safari destinations. It focuses on the Okavango Delta, Chobe National Park and the Northern Kalahari and includes a full-colour wildlife guide.
Useful Botswana Travel Resources
---
Botswana Travel
Back to Top
Page Updated: Mar 2020