Hunting South Africa
Hunting South Africa - This is the most popular hunting destination for first-timers to Africa, offering a splendid range of plains game species.
Almost all hunting in South Africa takes place on fenced private land.
South Africa Hunting Season
There is no fixed hunting season, however the hunting of some species may be restricted in certain provinces during particular times of the year.
South Africa Climate
The best time to hunt is from April to June, when the temperatures are around 25°C degrees during the day
January and February are the hottest months, when daytime temperatures in the interior can exceed 40°C
South Africa Current Weather Forecast
South Africa Map
South Africa Provinces Map
Hunting is conducted all over South Africa, in all 9 provinces, so a 'hunting areas map' is rather redundant. The most popular provinces for hunting are Limpopo and Eastern Cape. A map of the provinces maybe more useful to locate your hunting area within South Africa.
Getting To Your Hunt Area In South Africa
Most hunters will arrive at OR Tambo Airport, Johannesburg which is in the province of Gauteng. You will either be met there and driven directly to your hunt area or if it is more convenient, you can take a onward domestic flight to the nearest airport in your hunting province.
Hunting Accommodation In South Africa
You have a whole lot of choice with your hunting accommodation in South Africa which can range from luxurious lodges and chalets with top class facilities to the more basic or rustic.
South Africa Hunting Terrain
South Africa has a wide range of terrain to suit all levels of hunter fitness, from high mountains to sandy desert. In most hunt locations the terrain is flat and dry with savanna shrub, grassy plains and thorn trees.
The hunting areas in the Kalahari in the North West province are semi-desert and the soil is often sandy which can make walking challenging.
Terrain in some hunting areas of KwaZulu-Natal can be quite hilly which look fairly easy to traverse being covered with grass but can be tricky being strewn with concealed loose rocks.
South Africa Hunting Laws
South Africa's game laws vary according to the individual province but are generally similar when applied to overseas hunters.
All non-resident hunters must hunt under the supervision of a licenced professional hunter and the hunt must be outfitted by a licenced outfitter.
Professional hunters and hunting outfitters must be licensed in the province(s) where they operate. It is important to check this if you are possibly hunting in different South African provinces with the same PH.
If you intending to hunt dangerous game in South Africa, your PH must be in possession of an 'unlimited' professional hunter permit and be qualified to hunt dangerous game. If the PH has not got the requisite dangerous game hunting experience, his PH permit will be endorsed to exclude the hunting of elephant, rhino, lion, leopard, buffalo and hippo.
All trophy hunting to take place half an hour before sunrise and after sunset.
Hunting is allowed at night and with artificial light only for leopard, hyena or serval, with a special night hunting permit.
There is no official minimum number of days for a hunting safari based upon the species being hunted. Hunt lengths for some species may be set by outfitters.
Shooting from a vehicle is permitted in some provinces but generally there should be no hunting within 200 metres of a vehicle.
On privately owned land the owner decides the quota for each species.
Hunting permits must be issued prior to the hunt commencing.
A separate permit must be issued for each individual hunting client.
You may find most of the individual South African provincial game ordinances at PHASA
No sport darting of rhino is permitted as of 2010.
Most provinces do not have a minimum calibre requirement. Those that do, such as KZN, .375 is the minimum calibre requirement for dangerous game.
What Is The TOPS List In South Africa?
The TOPS List was introduced in South Africa in 2008 by the Department of Environmental Affairs and stands for 'Threatened Or Protected Species'. The TOPS List includes several popular South African hunting species, which are indicated on the South African Hunting Species list below...
If you want to hunt any of these designated species you must have a special TOPS Hunting Permit for each animal. You must tell your hunter in advance if you want to hunt a TOPS animal and he must get the permit(s) before you start hunting. The permit will specify the hunter's name & address, the location of the hunt and a permit validity period.
If you successfully hunt a TOPS animal, must sign the permit at the end of your hunt. If you don't, an export permit for your TOPS trophy will not be issued. When signing, carefully check all your contact details are exactly correct on the permit. If there is any discrepancy, the hunt may be investigated and your trophy shipment may be delayed.
It is illegal to hunt any TOPS Listed animal without a TOPS Hunting Permit in your hand. Do NOT hunt any of these animals if there is no permit present at the time of your hunt. Do not be lulled into a false sense of security with promises of getting the permit later.
South Africa Hunting Species
Travelling To South Africa With Children
It is a very special occasion when a parent can hunt with their child, particularly in Africa for the first time. South Africa has always been the perfect hunt location for children. Now, just like the issuing of a SA firearm import permit, it has become a tricky bureaucratic chore to travel to South Africa with your child.
As of June 2015, if you are travelling to or from South Africa with a minor under the age of 18, you must produce an unabridged birth certificate of the child reflecting the particulars of both parents of the child, at check-in for your flight.
The birth certificate can either be original or certified as a true copy of the original by a Commissioner of Oaths.
If you are one parent travelling alone with your child, you will need, in addition to the birth certificate, a consent document, in the form of an affidavit from the other parent registered as a parent on the birth certificate of the child, authorizing him or her to enter into or depart from the Republic of South Africa with the child he or she is travelling with. The affidavit must be no older than 4 months, dating from the time of travel. Affidavit Consent Form
If you are transiting in South Africa and remaining in transit at the airport, this regulation does not apply. If you are overnighting in South Africa en route or the child requires a transit visa, the birth certificate +/- the affidavit will be required.
If the other parent is deceased, you must produce the death certificate.
Recommended Hunting Outfitters In South Africa

Hunting South Africa Recommended Reading
Hunting In South Africa by Tony Sanchez-Arino (1998) are writings about big game hunting in South Africa by Harris, Cumming, Baldwin, Leveson, Holub, Bryden, Bulpin, Kirby, Findlay, Millais, Wolhuter and many others. A comprehensive and entertaining anthology, with brief biographies of each author at the rear.
Hunting South Africa Recommended Viewing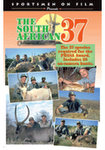 The South African 37 DVD by Ken Wilson includes hunting not just the more common species of South Africa but also the species that have made remarkable comebacks from near extinction including black wildebeest, bontebok and white rhino. 55 minutes. DVD.
Hunting South Africa Resources