Eland Hunting
Eland hunting may involve walking very long distances. Occasionally you can get lucky with a short stalk but don't be surprised if they make you walk your legs off.
Eland are a spiral-horned antelope, though is genus taurotragus not tragelaphus.
Eland Trophy Minimums
Just for the record, Rowland Ward have merged the Cape eland into the Livingstone's eland category because it is very difficult to distinguish between them geographically due to translocations. SCI still has separate categories for these eland and in addition has a 'Common Eland' classification for those only hunted on game ranches in the US.
The western giant eland subspecies has been excluded, though RW has historical trophy records for this eland. The populations of these eland, found in Senegal, Mali and Guinea, are under pressure and it has been designated as Endangered by USF&W, though unclassified by CITES as yet.
Taurotragus oryx oryx (Cape Eland)
RW Minimum
RW Record
RW Measurement Method
SCI Minimum
SCI Record
SCI Measurement Method
35"
471/2"
8
77"
1162/8"
2
Taurotragus oryx pattersonianus (Patterson's, East African Eland)
RW Minimum
RW Record
RW Measurement Method
SCI Minimum
SCI Record
SCI Measurement Method
33"
431/8"
8
74"
1113/8"
2
Taurotragus oryx livingstonii (Livingstone's Eland)
RW Minimum
RW Record
RW Measurement Method
SCI Minimum
SCI Record
SCI Measurement Method
35"
465/8"
8
79
119"
2
Taurotragus derbianus gigas (Central African Giant Eland, Lord Derby)
RW Minimum
RW Record
RW Measurement Method
SCI Minimum
SCI Record
SCI Measurement Method
447/8"
563/4"
8
101"
1433/8"
2
What's The Difference Between Cape, Livingstone's And East African Eland?
For hunters wanting to know which eland they are going to hunt and making sure they get charged the right trophy fee, it may be helpful to know the difference between the Cape and Livingstone's elands. Unfortunately the differences are quite slight and not 100% consistent.
Essentially all the non-giant eland are subspecies of the Common eland, Taurotragus oryx and used to have quite distinct geographical ranges - the Cape, Taurotragus oryx oryx, in southern Africa, the Livingstone's, Taurotragus oryx livingstonii, further north in Zimbabwe and Zambia and the East African/Patterson's eland, Taurotragus oryx pattersonianus, in East Africa. The only blurry bit only used to be where the ranges meet but now enterprising landowners have translocated Livingstone's and Cape eland all over southern Africa and can have herds of both on the same property.
So if you were looking at Livingstone's and Cape eland bulls, of the same age, side by side, you will see the Livingstone's has a heavier build with distinct stripes along a brown/tan body. The Cape is a lighter build with a tawny grey coloured body and less distinct stripes that fade almost completely with age. Sometimes in the field it is difficult to see the stripes at all depending on the light. The Livingstone's has larger horns than the Cape and has a more distinct black mark behind the knees, which is far less prominent in the Cape eland.
Fortunately the East African eland has remained put as far as translocation is concerned. The only areas of dispute would be if you were hunting the far north of Mozambique, Zambia and the far south of Tanzania where they overlap with Livingstone's eland.
The East African or Patterson's eland bull is a little darker and more rufus coloured than the Livingstone's. The East African also has distinct vertical stripes along the body but generally the horns are shorter than Livingstone's. In some cases the East African has a white chevron on the face which is minimal or not present on Livingstone's eland. These slight differences get even harder to determine in old bulls.
Click images to enlarge
Where To Hunt The 'Common' Eland
In Botswana, in the places still left open for hunting, only the Cape eland is available to hunt on private property. The Livingstone's eland occurs in Botswana in the far north-east.
In Namibia, it is the Cape eland that is mostly available to hunt. There are Livingstone's eland in the Caprivi area and on some private game ranches. SCI stipulate that all Namibian eland hunted south of the game fence that runs from the ocean to the Bostwana border, south of Etosha, are classified as Cape eland.
In South Africa you can hunt both the Livingstone's eland and the Cape eland. The Cape eland's natural home range is practically the whole of South Africa, however many game ranches have translocated Livingstone's eland and both are frequently available to hunt on the same property.
Except possibly in the far south of Zimbabwe where there may be overlap with the Cape eland, the Livingstone's eland is the main huntable species of eland.
Except possibly in the far north-east corner of Zambia, where there may be overlap with the East African eland, the Livingstone's eland is the main huntable species of eland.
In central Mozambique the Livingstone's eland is most commonly hunted. In the far south there may be an overlap with Cape eland and in the far north, an overlap with East African eland.
In Tanzania, you can hunt the East African or Patterson's eland and the Livingstone's eland...technically. Most outfitter's just have 'eland' on their trophy lists which is probably quite wise given the difficulties in telling them apart and there no difference in trophy fee between the two. However some experts believe that the Livingstone's eland range extends through most of the Selous Reserve. A few outfitters are listing Livingstone's on their Selous trophy list and East African eland on their Masailand or more northern concessions. This may be correct given the size of some of the eland trophies taken in the Selous. SCI considers all eland taken in Tanzania to be classified for their record book, as East African eland. This must be completely skewing the SCI East African/Patterson's eland trophy records, if they are in fact the much bigger Livingstone's eland. So if you want to sure to hunt a Patterson's eland, hunt it in Masailand, north Tanzania.
In Uganda, there is no range overlap and you can hunt only the East African or Patterson's eland. Having said that, experts claim it could be possible that the giant Lord Derby eland is present in the far north-west corner of Uganda at the edge of it's Sudan range.
Where To Hunt The Giant Eland
The Lord Derby giant eland is up there with the bongo and mountain nyala as a truly prized African game trophy and you have 2 options of where to go to hunt one...and unlike the other eland there is no doubt as to the species of eland you are hunting.
In Cameroon you can hunt a giant eland on a savanna hunt where it may be chosen from the Group A list of animals.
In the Central African Republic (CAR) where again the Lord Derby eland can be hunted on a savanna hunt.
Click image to enlarge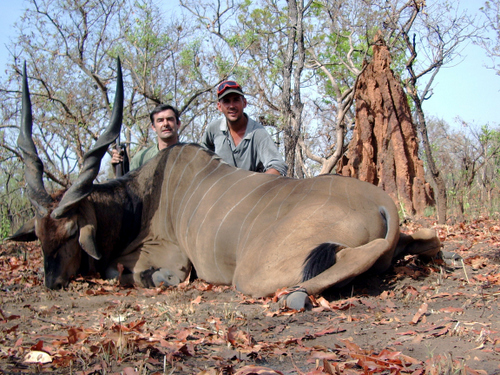 Giant Eland / Lord Derby Bull, CAR | Photo courtesy of JB de Runz
Eland Hunting Prices
In Botswana the trophy fee for an unspecified eland goes from US$1320 to Us$2500. You can hunt a cow eland in some places for a trophy fee of around US$620. There are some all inclusive hunt packages available which include an eland in the price. For example a 7 day plains game hunt for 6 animals including eland, can be found for US$5900.
Remember some trophy fees are listed in Euros in Namibia. A Cape eland bull trophy fee will be between US$1250 and US$2000. A Cape eland cow is about US$850. Again there are quite a few package hunts available in Namibia which include an eland bull and/or eland cow. If you are hunting a Livingstone's eland bull in the Caprivi area, the trophy fee will be around US$2000.
In South Africa there is quite a bit of difference between the trophy fees for Cape and translocated Livingstone's eland, so you will be well advised to know which type of eland you want and are actually hunting. As mentioned earlier both elands can be found on the same property and the actual differences between the two can be very slight, especially in old bulls. The trophy fee for a Cape eland varies from US$1900 to US$3000 with an eland cow at around US$1500. There are numerous package hunts available for eland - for example, a 7 day 'spiral horned' package including eland, kudu, bushbuck and nyala costs around US$13900 - now there's a challenging hunt in just 7 days. Always check out the outfitter's refund policy on hunt packages should you not get an included animal. Read more about package hunts. If you are going for a Livingstone's eland bull in South Africa, you will find 'POR' on quite a few trophy lists. However, the Livingstone's eland trophy fee is generally around US$4000 to US$4500.
In Zimbabwe, the trophy fee for the Livingstone's eland bull ranges from US$1500 to US$2850, with an eland cow at about US$400. There are many package hunts available in Zimbabwe which include eland.
In Zambia the Livingstone's eland bull trophy fee is around US$3000 and US$3500.
In Mozambique, the specified Livingstone's eland trophy fees, including the non-refundable licence fee, range from US$4000 to US$5500. Many outfitters do not specify the type of eland, so depending on the hunt area location, these could be either Livingstone's or Cape eland.
In Tanzania the basic Government trophy fee for any eland, either Livingstone's or East African eland, is US$1700. After your outfitter has added a percentage for community development/anti-poaching, the trophy fees can range from US$1900 to US$3300.
In Uganda the trophy fee for the East African or Patterson's eland runs from US$1500 to US$2500.
On a Cameroon savanna hunt, the Lord Derby eland is the main trophy and you can find for example, 14 day package hunts which include the hunt licence and giant eland trophy fee for US$48000. Excluding the LDE, the package prices depend on length of hunt and area, such as 12 days at US$32000 or 15 days at US$42000. Commonly hunt lengths quoted often include travelling time so you may only get 12 days hunting on a 14 day hunt - always check with the outfitter. Cameroon trophy fees are usually quoted in Euros and the Lord Derby giant eland is between 3500 Euros and 4000 Euros.
In CAR most of the hunts and trophy fees are priced in Euros. A 12 day hunt is between 27500 Euros and 39000 Euros. A full bag 26 day hunt will be in the range of 47900 Euros. The trophy fee for the Lord Derby giant eland is between 3500Euros and 9000 Euros.
Eland Hunting Methods
Eland are the largest and heaviest of the African antelope species and they run very long distances without stopping, often even feed on the move, so hunting them involes at lot of walking on tracks - for often miles and miles. Eland are very sensitive and skittish so extremely skilled stalking is required when you are closing in. One false move and the bull will be off again and you'll be off on another long bush walk to catch up again.
A mature bull weighs more than a cape buffalo, so large calibres and slow expanding/deep penetrating bullets are the order of the day.
A Good Eland Trophy
Look for thick bases, clearly visible spiral ridges and worn horn tips if you want an old bull. A younger bull may have longer, more spindly horns but thinner bases.
Eland cows also have horns which can be quite long but thinner than those of a bull and often splay outwards.
A huge bulging neck, a large prominent dewlap, blue/grey colouration of the body with areas of hair loss are all indications of a mature trophy bull.
Most mature eland bulls grow a brush of hair on their forehead. However occasionally they don't have a brush of hair despite being mature.
In proportion to it's body, the horns of an old eland bull may look rather short but in reality they are probably not short at all.
Eland Hunting Shot Placement
Eland Bull Vital Statistics
Note that the Lord Derby giant eland is not significantly different in body weight or height from the common elands. It is the extraordinary horn size that makes it a giant among elands.
Eland Bull Vital Statistics
Cape
Livingstone's
East African
Giant/Lord Derby
Shoulder Height
67"
1.7m
59-67"
1.5-1.7m
67"
1.7m
59-67"
1.5-1.7m
Weight
1540lb
700kg
1014-2204lb
460-1000kg
882-2204lb
400-1000kg
970-2000lb
440-900kg
Eland Habitat And Requirements
These antelope are found in grassland, mountain, sub-desert, acacia savannah and miombo woodland areas.
Eland Social Structure
Usually older, dominant males are solitary, while other adult males form small groups of three or four.
Adult females associate in much larger groups, whose size and membership vary from day to day.
Several hundred eland sometimes gather and males may spend a few hours or even weeks with a female group before becoming solitary again.
Eland Gestation Period
After a gestation period of around 9 months, one offspring is born.
Eland Gender Identification
Mature bulls are usually darker, with a gray or bluish tinge to their coat, and have a distinctive dark 'rug' of hair on their foreheads. Cows do not have the forehead brush of hair and retain their brown colour with age.
Bulls have a pendulous, black-tufted dewlap on the lower throat. This is absent in cows.
The slightly diverging horns are found in both sexes and are virtually straight, with 2 tight twists.
Horns in females are longer, thinner and can be more splayed out at the tips than in bulls.
Eland Trophy Permits (2015)
All Eland Species

CITES

USF&W

EU

AUS

N/A
N/A
N/A
N/A
Eland Trophy Taxidermy
An eland full mount is a little too big for most hunters' trophy rooms so the next best thing would be a shoulder or skull mount. The back skin, particularly if it has quite distinct stripes, makes a good rug and the hooves can make attractive lamp stands and bookends.
Don't forget to tell your taxidermist not to blacken and polish the horns, if you want the horns to look natural.
Click images to enlarge
So what's In The Name?
The word 'eland' is Dutch for elk or moose and was named by the Dutch settlers in the Cape of South Africa. The Cape eland, Taurotragus oryx oryx, was named after the range it inhabited.
Obviously Livingstone's eland, Taurotragus oryx livingstonii, was named in honour of the missionary and explorer David Livingstone by Philip Lutley Sclater in 1864.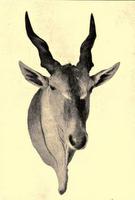 The Very First Patterson's Eland
Patterson's eland or East African eland, Taurotragus oryx pattersonianus, was named after Lt Col J H Patterson of the maneaters of Tsavo fame. He shot an eland on the Laikipia plateau of Kenya which looked a little different from the southern eland and while the taxidermy was being done by Rowland Ward, Richard Lydekker of the British Museum, spotted it and declared it to be a new subspecies in 1906. The head was donated to the museum.
The first giant eland seen in out of Africa was a western African giant eland, Taurotragus derbianus derbianus, collected as a live specimen by a Mr Whitfield who ran the menagerie at Knowsley Hall which was the home of Edward Smith-Stanley, 13th Earl of Derby. The menagerie contained many rare, previously unknown animals such as the korrigum and crowned duiker. It was named in honour of Lord Derby by John Edward Gray of the British Museum in 1847, originally naming it as Boselaphus derbianus.
Eland Hunting Recommended Reading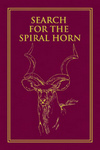 Search For The Spiral Horn by Craig Boddington (2002) who is one of the few hunters who has successfully hunted each of the major varieties and most of the subspecies of the nine spiral-horned antelope of Africa.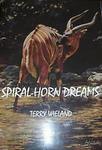 Spiral Horn Dreams by Terry Wieland (1995) is about a subject that arouses as much excitement and emotion as any big game. Kudu, bongo, Lord Derby eland, sitatunga, mountain nyala and bushbuck. These animals cause any big game hunter both pain and joy - sometimes simultaneously. If you're not 'mad keen' about hunting these animals before reading this book, you will be afterwards.
Giant Eland Hunting Recommended Viewing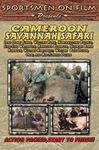 Cameroon Savannah Safari. With the help of native trackers and water-bearers near the Chad border, the hunters divide the licensed species and successfully hunt 16 animals including the highly-prized Lord Derby Eland, Western Roan and Northwestern Savannah Buffalo. 60 minutes.
Hunting Other African Animals
Big Five Hunting
Waterside Hunting
Other Plains Game Hunting
Spiral Horned Antelope Hunting
Large Antelope Hunting
Medium Antelope Hunting
Small Antelope Hunting
African Pig Hunting
Other Cat Hunting
Animals Of Opportunity